Miguel Herrera, The Real Star of the World Cup
Forget James Rodríguez, Arjen Robben or Thomas Müller. Miguel Herrera was by far the most entertaining character of this summer's FIFA World Cup. Here we profile the mad Mexico manager.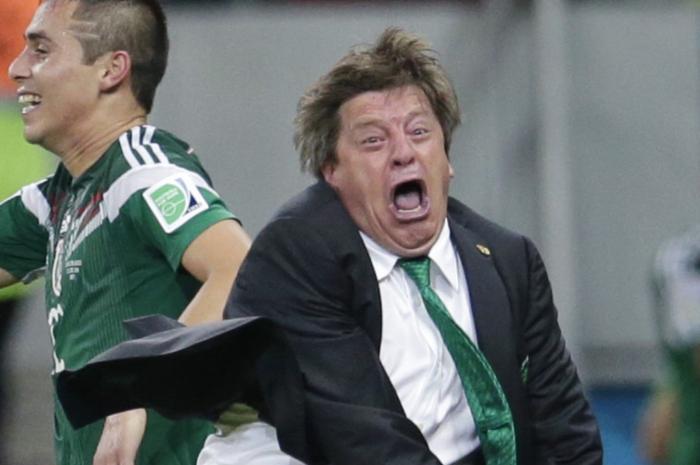 Despite all of the world class talent on show at the 2014 FIFA World Cup, one of the stars of the tournament applied his trade not on the pitch, but along the touchline. That man was Miguel Herrera, coach of the Mexico national team, and quite frankly the most entertaining character of the World Cup.
Herrera's unbridled passion captured the hearts of the British media in particular, along with social media users all across the world. Images of him in ecstatic celebration were spread across Twitter by celebrities and fans alike, sparking creative users to create 'memes' and GIF images which earned retweet after retweet. It reached a point where most neutrals were swayed towards supporting Mexico in their (ultimately unsuccessful) tie against the Netherlands in the hope that they could see more of Herrera's comical antics.
Having had a fairly successful playing career, Herrera took up management in 2002 with Atlante, a Mexican club who also handed him his debut as a player. His first managerial honour didn't come until 2013 though, when he guided Club América of Mexico City to the Liga MX title. Following this success he became interim head coach of the Mexico national team, and after securing qualification to the World Cup, was granted the full managerial position. During the tournament he successfully managed Mexico through a tricky group (also containing hosts Brazil, as well as Croatia and Cameroon), and came within two minutes from progressing past 2010 finalists Netherlands to take Mexico to the quarter-final stage.
Along the way, Mexico played some fantastic football during the tournament. Yet, when looked back upon, victories against Croatia and Cameroon will only be remembered for one thing – the pure elation of Herrera whenever his team scored. After his team went 1-0 up in a must-win tie against Croatia, Herrera turned to face his coaching staff with a completely straight face - which could have easily been interpreted as anger. Then, instantaneously his expression transformed to euphoria as he let out a roar and began pumping his fists in the air with joy. After Andrés Guardado put Mexico 2-0 ahead, Herrera charged onto the pitch and wrestled one of his players to the ground in celebration. Goalkeeper Guillermo Ochoa then ran fifty yards to jump into the arms of his manager, who at this point looked like he was about to explode. Following the match, #Herrera was the top trend on Twitter in the UK for almost twenty four hours.
Herrera himself is a keen user of Twitter, and now has over one million followers. Also known for his love of 'selfies', he has posted pictures of himself with fans, players and even the Mexican rock band 'Moderatto'. He has also tweeted about his love of Monster Trucks and parachuting in the past. The mad Mexican, often referred to as 'Piojo' (Pest) is also not shy to poke fun at himself on social media, and likes to share pictures of the dreadful mullet haircut he sported during his younger years as a player.
One video has emerged online showing highlights from a game he played for the Mexico national team against Honduras (with the mullet) in which he was sent off a reckless tackle. A second video shows him being interviewed, only for him to run off and begin quite aggressively kicking somebody just out of shot. Many theorise that is was because of his temperament that he was not selected to play for Mexico in the 1994 World Cup, as he was a fairly controversial figure in his youth.
As a manager he has also caused upset, labelling Bosnia's team 'dirty pigs' after his first defeat as Mexico manager in June of this year. The videos are evidence that he has always been a highly-charged personality, and it seems that with age he has learned to channel his combativeness into passion.
When looking at photos of his celebrations during the World Cup, it can be hard to tell if he is happy or furious. Mexican historian and World Cup commentator Enrique Krauze sums Herrera up perfectly, saying "he is so authentic and so genuine... he's becoming the representation of the Mexican's ability to celebrate and party".
Miguel Herrera was the lowest paid manager at the 2014 World Cup; but by a million miles, had the highest entertainment value.
Link for some of the online GIFs and memes made using Herrera's celebrations:
http://www.mlssoccer.com/worldcup/2014/news/article/2014/06/23/world-cup-mexico-coach-miguel-herrera-becomes-worldwide-celebrity-after-side
Having withstood years of international criticism, Chavez may need a...