Monica Puig: Tossing a Curveball to the Tennis World
In our first in a series profiling up-and-coming sports stars of Latin America and Spain, we present the 21-year-old Puerto Rican, currently number 61 in world rankings, storming her way to the top of women's tennis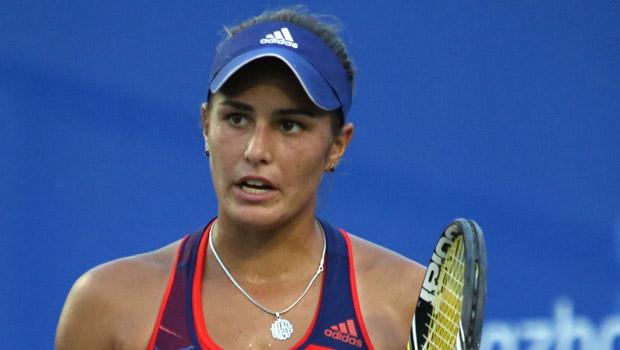 You only have to visit East London this week - the O2 to be precise, where the world's Top Ten tennis players are battling it out to be crowned 'the best of the best' - to realise that, when it comes to tennis, it's the Europeans - Rafael Nadal, Roger Federer and Novak Djokovic – that are dominating the top spots.
Not even the formerly omnipotent US is getting a look in these days. But let's shift the focus southward for a moment, where Latin America is booming with tennis potential and has more players in the top 100 than the United States. You might be surprised to know that Argentina is ranked 3rd in the world (shared with Germany), for producing more players in the top 100 (four) than any other country. Even Colombia, with two players in the top hundred, beats the UK, which has the great Andy Murray. But that's it. Not one more.
This year's US open featured Latino men and women from five different countries. Dominican Republic' s Victor Estrella Burgos fought a brave quarter final against Canada's Raonic. And Monica Puig, the young Porta Rican player surprised us all with her victory over Tereza Smitkova, the 4-time ITF singles champion and , on paper, way out of the young Puerto Rican's league.
And this was not the first time Monica has dethroned one of the best. In 2013 at Wimbledon she won in straight sets (6-3 6-2) to fifth seeded Sarra Errani of Italy. This is all the more impressive considering it was her first grass court tournament as a professional and she was only 19.
Puig was handed a tennis racket for the first time by her mother at age 6, but until the age of 14 she dreamt of becoming a vet or a paediatrician. Who would have thought just 5 years later she'd be climbing the notoriously tough ladder of the world's top 100 tennis rankings.
Even from the very beginning, Puig was full of surprises. As a qualifier in the 2008 Costa Rica Bowl (Grade 3), she reached the final, losing out to Eugenie Bouchard. However, her real breakthrough was in 2009 when she began competing in bigger tournaments. This culminated in her winning her first doubles title at the end of 2009. Since then she has gone from strength to strength, and is currently number 61 in world rankings. And at only 21, she still has a long way to go.
Trained in Florida, Puig considers herself wholly Puerto Rican. 'In my mind, soul, heart, body, everything, I am really proud representing them, representing the country. To anybody who asks, I am 100 percent Puerto Rican'.
Her success is particularly causing a storm on a small island which, in terms of sport, has only read the 'b' section of the dictionary. Boxing, basketball and baseball reign supreme. Tennis – an elite sport - is often inaccessible to most of the population. However, thanks to Puig and her continued success, this is beginning to change. In 2013 she reached the top 10 most influential Puerto Ricans list. As Puig continues to climb in the WTA rankings, so tennis media coverage is beginning to catch up, and little by little, its accessibility to the public. As one Puerto Rican resident says, 'the change is clear, you can see tennis courts popping up all over the place'.
More recently, Puig won the first-ever WTA Rising Stars Invitational event, defeating China's Zheng Saisai in October. This recent success is bound to continue her popularity drive and she hopes it will serve as a springboard for bigger things next season.
So listen out for the name Monica Puig, you heard it here first.