Moqueca de Peixe – Brazilian Fish Coconut Stew
Moqueca (pronounced mo-KEH-kah) may sound exotic but it's incredibly easy to make and you probably have most of the ingredients in your cupboard already! This is one of the most famous dishes in Brazil, from a region called Bahia, and it is undoubtably one of the best. "Moqueca" refers to a stew made with Fish which is cooked in Coconut Milk… Traditionally it is made with Coconut Milk but I make mine with CoYo as it makes it that bit creamier and it's still dairy-free!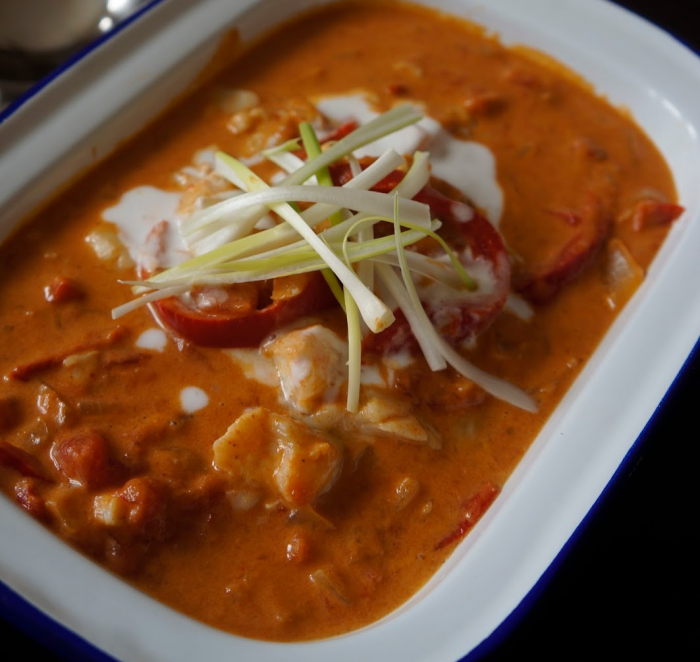 My housemates who had never tried it before said it tastes like a cross between a Thai and Indian dish, and truly they are right… it's probably the closest thing we Brazilians have to a curry, but I find it's a much lighter dish. We eat it with Rice, Sweet Potato and Couve (that's Kale to you) but sometimes I find myself eating it on it's own as a soup. All the ingredients for Moqueca de Peixe are as fresh as can be and its an incredibly nutritious dish, but mostly it's just plain yum!
Ingredients
(Serves: 4)
Time: 35 Mins
400g CoYo (or coconut milk)
400g Chopped Tomato
500g Cod
250ml Fish Stock
Method
Sprinkle fish with a little lime & salt & pepper and leave in fridge to keep firm.
Add chopped onion and sliced pepper to a pan on a medium low heat with 1tbs of coconut oil (or olive oil) until onions are transparent for around 8 minutes.
Add the garlic & all the spices to the pan and cook for 2 more minutes, taking care the garlic doesn't burn.
Add in the fish stock, tomato and 350ml CoYo and juice of 1/2 a lime. Let reduce on a low simmer for a further 10 minutes. Add salt and pepper to taste.
While the broth is cooking, chop fish into 1inch pieces and cook in a separate pan for 3-5 minutes each side until cooked through.
Add fish to broth, and cook for a further 5 minutes.
To serve, drizzle with remaining CoYo (I added a little hot water to make it the right consistency) and sprinkle over the chopped spring onions.
After a debut La Ciénaga (The Swamp 2001) that shook the world of...
Ciro Guerra's El abrazo de la serpiente/Embrace of the Serpent takes...