Most Beautiful Island (2017 Dir. Ana Asensio)
This Polanski-esque penetrating thrilller, set in New York, is a fantastic debut from a new female multi-talented Spanish director, screenwriter, actor and producer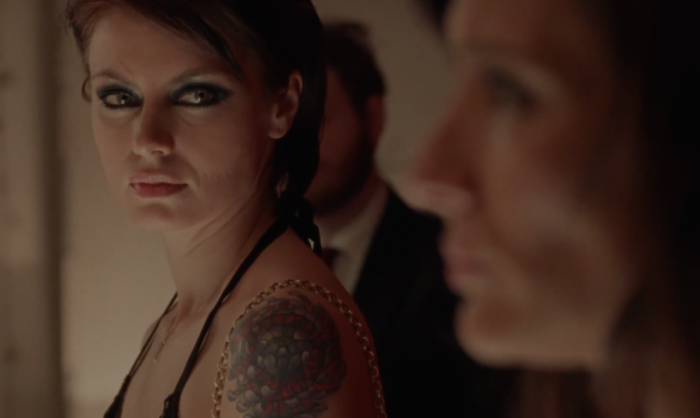 MOST BEAUTIFUL ISLAND (2017) is a dark thriller that reveals the chilling experiences of a young Spanish immigrant in New York City trying to survive without papers. Vulnerable, as she is threatened with eviction from having her rent in arrears, she is lured into accepting an offer of work and, as a result, finds herself in a nightmarish situation. This taut thriller is actor Ana Asensio's first feature. It is loosely based on her own experiences, and reveals a phenomenal talent & future potential, as one critic said: "…strong evidence of a cinematic juggernaut in the making." It is all the more remarkable to learn that the two central stars, Luciana (Ana Asensio) and Olga (Natasha Romanova) did their own stunts.
This is a dark, emotional story that brings to light what some undocumented people in New York have to endure. Ana Asensio not only directed, but also wrote the screenplay, produced the film and acts in it. In the production, she worked alongside the well-known art-horror producer Larry Fessenden (The House of the Devil. Weny & Lucy). Being her first feature, this is no mean feat, and it has been rightly rewarded with "Best Life and Liberty Film" at the 2017 Sidewalk Film Festival and the Grand Jury Award at the 2017 SXSW Film Festival. It was also nominated for Best Feature, Sutherland Award, at the London Film festival and the FIPRESCI Prize.
On screen, Asensio has a compelling presence and this thriller has a surreal quality as it penetrates the dark metropolitan underbelly of New York. The film opens with the camera picking out many different persons, who seem to be selected for a reason: it begs the question of what are their stories, what fates await them. Luciana, (Ana Asensio) is freshly arrived having left behind an undescribed painful past that torments her. She has one friend she trusts, Olga (Natasha Romanova). Luciana has been obliged to accept work wherever she can find it. These end up being a series of humiliating short-term jobs that are never sufficient for her needs. She babysits two unpleasant and uncontrollable children and has to don ridiculous costumes to advertise fast food.
There are takes that bring to mind Polanski's 'Repulsion' with shocking and nightmarish images: Fetishistic? Dreamed? Or real? There is an overpowering intensity to the whole film, beautifully shot and edited so that nothing is over the top. It is taut and minimal, and all the more powerful for it. The imagination runs wild as the film takes us on a surreal journey, creating a world within a world.
In a brief conversation with Ana, she told me that she was very aware of the effect she is creating, nothing is accidental:
"You can say it is unnerving … but you cannot say that it is a straight forward thriller, or a pure drama… I am clear that I wanted to create anxiety."
This is a film that does not fit neatly into any genre box and defies cataloguing, it is part thriller, part horror, fantasy? It even has a docudrama feel at times. Is it a parable? It certainly takes us on an surrealistic and unpredictable journey.
The film has been taken up by Bulldog Film Distribution, and will come to our UK cinemas on Dec 1st 2017.
Director: Ana Asensio
Writer: Ana Asensio
Producer: Ana Asensio/ Larry Fessenden/ Noah Greenberg / Chadd Harbold /Jenn Wexler
DOP Noah Greenberg
Music Jeffery Alan Jones
Cast:
Luciana Ana Asensio
Olga Natasha Romanov
Dr Horowitz David Little
Official Trailer
A book which tells the story of the Amazon and its ports-towns near...