One Tray Spanish Style Chicken
This affectionately titled "Spanish Style" chicken dish is a great one for when you are cooking for friends and family on a Sunday and can't be bothered with a full roast or making a huge mess with lots of pots and pans. The chorizo is what makes is Spanish, but really its a hodgepodge of flavours…. I love anything that requires chorizo and only washing up one tray. This is an idea I adapted after seeing tons of "One Pot" recipes online…. they are all pure genius if you ask me.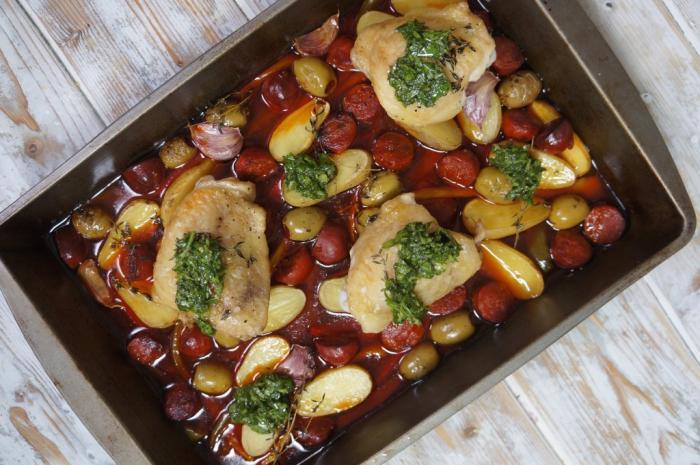 Ingredients
(Serves: 3-4)
Time: 1hr
* 250g Spanish cooking chorizo
* 500g baby potatoes
* 3-4 chicken thighs
* 250ml chicken stock
* 1 red pepper, 1 yellow pepper, and 1 green pepper.
* 3-4 sprigs thyme, 30g Flat leaf Parsley
* 1 lemon, 4 garlic cloves, 50g Olives
* Olive oil, Salt & Pepper.
Method
1. Preheat the oven to 180°C.
2. Slice your peppers into strips and spread across the base of a large, deep, baking tray.
3. Slice the baby potatoes into halves and scatter over the peppers along with the olives, garlic cloves (you can keep the skin on the garlic) olives and chorizo. Cut the chorizo into manageable chunks if needed. Mix the light olive oil with the sliced potatoes, seasoning them lightly, and put the slices in a single layer in a large, deep roasting tray.
4. Season everything with olive oil, salt and pepper and dot the thyme leaves over the tray.
5. Top with the chicken thighs (season these with olive oil and salt and pepper also.)
6. Pour chicken stock into the tray and finally pop it all into the oven to roast for around 45 minutes. (I like to put foil on top to stop the chicken from burning.)
7. To make the green sauce mix the 30g parsley, lemon zest, juice and 2tbs olive oil in a small bowl.
8. Once the chicken is cooked remove the tray from the oven dot green sauce over the chicken thigh and serve.
For more recipes from the Latin Cook visit www.thelatinacook.co.uk
Corina Poore talks to Gustavo Salmerón, who made a unique film about...
Can Venezuela's new state-sponsored cinema live up to its Cuban and...