THE OUTSIDER
Few people thought that Reggaetón - the famous "Dembow" beat with the Latino twist that exploded 15 years ago – would stand the test of time. Yet today almost every big artist, from Shakira and Enrique Iglesias to Drake, Sia and Justin Bieber, relies on that urban Latin sound to make hits. All the same, when it comes to pure Reggaetón, Puerto Rican artists like Daddy Yankee and Don Omar ran the airwaves and other Latin Reggaetón denied access to global stardom…until, that is, a young kid from Medellín, Colombia, started to make waves. J Balvin has now become only non-Puerto Rican to join the small crew of best-selling Reggaetón artists, with Ginza being one of the most talked about singles of 2016. Ahead of his debut in London, the Paisa with attitude talks exclusively to Latinolife.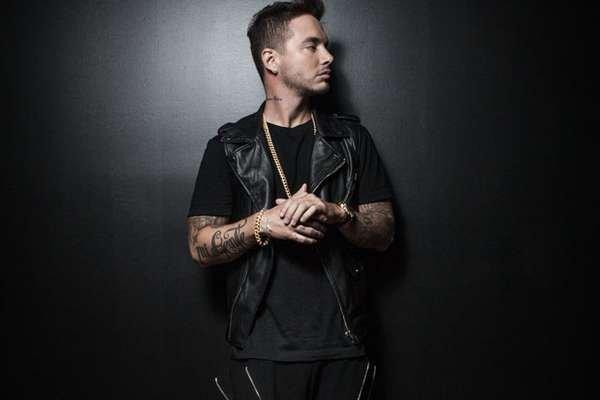 Latinolife: How did you get into the whole Reggaetón thing?
J Balvin: From a very young age, I loved Hip hop, Dancehall, Champeta and Bachata. But Actually my first band was a rock band doing covers of Nirvana! When I was 17 I went to the US and living in New York, I got really inspired by Hip Hop. Reggaetón was still very in Colombia but it felt natural to me. I wanted to be a Reggaetón artist and put all my energy into that. I worked very hard between the US and Colombia to develop my style and started getting a name for myself around the urban scene in Medellín, performing in night clubs. My mixtapes and singles started to create a buzz in the industry and then my performance at the 2013 Premios Juventud just kicked everything off. So, the beginning of my career was very nice. I made a lot of sacrifices but if it hadn't been for those years of struggle, I would not be enjoying the fruits of those sacrifices now.
Latinolife: Was it harder back then than it is now?
J Balvin: Absolutely, we had to pretty much make our own way in Colombia, you know, with machete in hand, opening paths everywhere! Reggaetón was not the main music in Colombia, and abroad, the industry had never taken Colombian Reggaetón seriously. People just would not accept that a Reggaetón artist could be from Colombia. So, you know, I had to prove myself.
Latinolife: Yes, in fact you're the first non-Puerto Rican to become an elite Reggaetón artist, which is a major achievement since the Puerto Rican media is notorious for refusing to play non-Puerto Rican Latin music...
J Balvin: Thanks! Yes, I really value the respect and acceptance I got from the pioneers of this movement. We recently did a concert in Puerto Rico and the public reaction was fantastic. It just shows you should never stop dreaming; if I changed those paradigms through hard work and tenacity, anyone can.
Latinolife: Talking about Puerto Rico, you seem very close to Nicky Jam.
J Balvin: Nicky Jam is one of the true pioneers of this genre. I grew up listening to his music, he inspired me. For a while he disappeared from the market but now he has come back stronger than ever. I love him as a friend and he has all my respect and admiration. We are working on some projects together.
Latinolife: What are your expectations with your new album Energia
J Balvin: This album is 100% Reggaetón, but it has sounds from all over the world. I took influences from everything I like to listen to. We did it our way and it was totally worth it. The reviews have been great…it's one of the best albums of 2016 they say!
Latinolife: Ginza has become one of the most listened songs in the world in 2016. We've even seen your video on Turkish TV! For a Latino artist singing in Spanish that's not easy to achieve…
J Balvin: Our music is reaching places never reached before. Reggaetón and other Latin popular music now has an unprecedented global reach. In countries like Russia they are listening to my music: that is unheard off! Songs like 'Safari' by Pharrel Williams is spreading like wildfire across the world. It's the first Latin music video to hit the Number One spot on the general iTunes chart. It's impressive to see how we are breaking down both language and cultural barriers.
Latinolife: Another refreshing thing about you is that your music and you as a person have nothing to do with the negative stereotype the media have created about Reggaetón. You seem a regular kind of guy.
J Balvin: The foreign media is very eager to stereotype and pigeon-hole Latin artists and Latin culture in general, which is why we have to show that we are real people. I'm not a gangster and don't intend to become one. I come from a country that has been hit hard by the drug trade and mafias, so I keep myself grounded, like most Colombians do, even though this never makes the news. It is not a pose, this is who I am, always has been. I do respect and enjoy the malianteo (the more gangster/street orientated side of Reggaeton), because it is part of the whole urban culture, but I cannot pretend to be something that I'm not.
Latinolife: So, London… what have you got for us!!??
J Balvin: London whao!!! I dream of going there, man. It's going to be a phenomenal experience. The media tend to hype artists and sometimes you go and see them, and they're not as good as you expected. But in my case, I thrive on stage, that's why I try to perform as much as I can. We are coming to give the best we possibly can to our fans in our debut show.
Latinolife: You'll be happily surprised at the number of Latinos there are here…and also non-Latinos enjoying your music.
J Balvin: We are so looking forward to this show, this will be an unforgettable experience, for everyone!
J Balvin will be performing at the O2 Shepherds Bush Empire on Sunday 13 Nov 2016. Tickets are sold out. Subscribe to our newsletter to find out about future concerts
Corina Poore talks to Gustavo Salmerón, who made a unique film about...
Eddy Vents has been surrounded by Lusophone music from the early...