Portugal's Evita
Ever since she was six years old Lisbon-born Madalena Alberto dreamed of being an actress. Like Eva Perón, her character in Evita, which returns to the London stage next month, Madalena was strong-willed and persistent young girl who never stopped until her name was in lights. But who is Portuguese star of the London stage, under the blond wig, pearls and frothy white dresses? Camille Beglin finds out.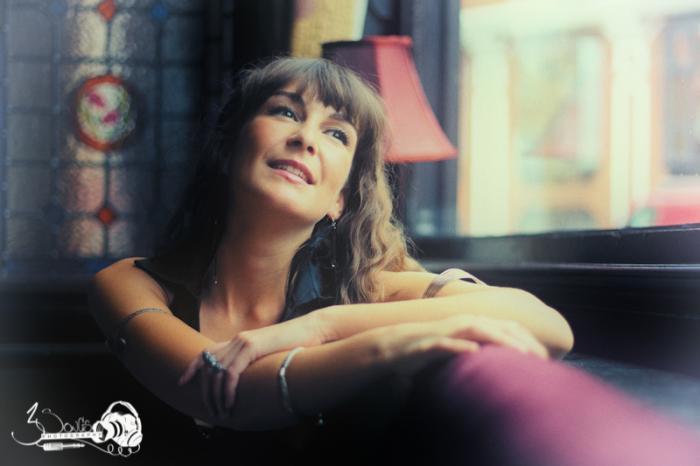 The story itself is quite Evita-like. How does a girl from a small village next to Lisbon make her London debut at the prestigious Old Vic with Sir Ian McKellen, and then go on to become the star of the London stage, performing Fantine in Les Mis at the Barbican, Lucy in Jekyll and Hyde, Carmen in Fame and Hunyak in Chicago?
Even Madalena could see the similarities when she went for the role of Evita:
"The first thing that happened, for me, is that I realised that she was just a 15 year old girl, from a very poor family. And all she wanted was to be a movie actress. So when I discovered that, it was easier for me to empathise with her and follow her journey."
Madalena had a simple upbringing in a small village next to Lisbon, by the sea. Like Evita, Madalena left her family when she was 16 years old. Targetted by recruiters from Bird College, she was offered a place to learn singing, acting and dancing in Kent.
Yet, Alberto insists she is not quite like the provincial girl who came to Buenos Aires to become an actress, married an Argentine President, and ended up becoming the world's most famous first lady in history.
"I always wanted to be an actress since I was six years old," she says. "But I wasn't confident about it. I was embarrassed to tell people, it was my secret. I think Eva would have been a lot more forward about it and say: I'm going to go to London and they're going to love me. Whereas it took me a long time to grow into my skin and try to make it as an actress. It hasn't been easy for me. But if its hard being an actress now, it was even harder in Evita's time, at the time being an actress was considered being a prostitute. This makes what she achieved even more formidable"
It is that mixture of being determined and feisty and vulnerable that makes Evita so interesting. As Madalena explains, when one seems so daring and brash to others, one can feel much less confident than the image:
"I didn't know I could sing before I came to England. All that was very new for me: the musical world. And I love it, I feel so privileged to have had the chance that I've had. Even though I've never felt confident, my confidence is growing now that I'm becoming an adult and sometimes I look back and think 'Actually, maybe I was confident, maybe I was ambitious, because I'm still here'. It is a very competitive world and you have to be resiient and obviously I am because I persisted.You look back and see, you get to know yourself better.
Now Madalena has landed one of the most iconic roles in musical theatre, BBC Radio 2 "Number One Essential Musicals". The Andrew Lloyd Weber musical, Evita, stages Eva Duarte's life: her rise to success, becoming Argentine dictator Juan Peron's wife, which suddenly ends with her death at 33 years of age. Eva's path is narrated all along by Che Guevarra, the revolutionary icon, played by ex-pop star (Wet Wet Wet) Martin Pellow.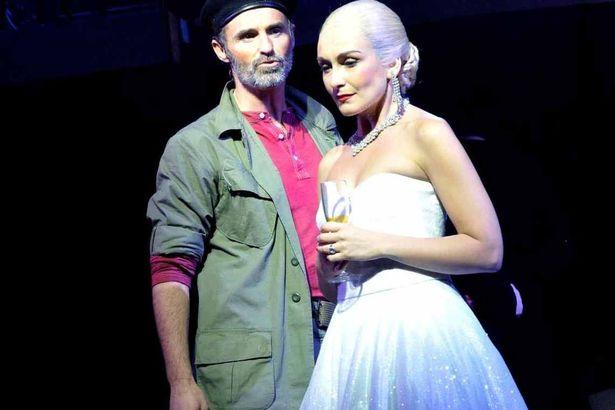 In the Lloyd Weber version of Evita, Perón is a fascist dictator. Many Argentinians do not see him like this, populist maybe, but politics and its leaders in Argentina, indeed South American is not as simple as the way Europeans might perceive it. What does Madalena think?
"It is a one-sided story, and perhaps not all accurate. For me I try to put myself in the perspective that time and the country: South America was, and still is, quite different from us here in Europe. They are very religious, and very spiritual. So someone like her could become an icon because she was one of them. I try to put myself in her shoes It is like a Cinderella story, where she was very poor, from a working-class family. So that was an example that everyone could make it, and that we should all be equal. I just think she was very ambitious. Regardless what they did what they were in power: I just believe they just did what they thought was best. For us right now, we don't see things like that but...she did a lot of good things. I like to think that I can contribute in a good way to people, maybe when I'm older. She was pretty important and pretty special."
Does coming from Portugal, what would be considered a 'Latin' culture, give you a different perspective towards the role of Eva?
"I understand more easily how different they are from us. When I started researching, I saw a lot of documentaries made by English or made by Americans and they were so negative towards her. When I saw Argentine documentaries that was when I could really get to know her, or at least know why the people loved her so much. It's a phenomenon: how they could love this crazy, power-hungry woman. I think that helped me a lot more. I don't speak very good Spanish, but I understand it enough so that I could watch these documentaries."

I think there is something 'latin' that we all share. Portugal has become quite 'tame'. My friends say that Portuguese girls are the hardest girls in Europe to get. But I don't know how scientific that is. It's true we're not as 'out-there' as the Spanish, the Italians or other Mediterranean countries. Certainly, Brazilians and other people in South America are a lot more outgoing and joyous. They love singing, they love dancing, they love celebrating. In Argentina, the tango is all about passion. I learned flamenco from a job in Spain and it's all about passion, too. Portuguese traditional music is as well, but it's a little more dramatic, and more about sorrow rather than celebrating. I think being Portuguese gives me a little edge. The fact that I didn't grow up with musicals has also given me an edge. Because I come to things with a new take on it, so it has helped me a lot."
Have you been to Argentina?
No! I want to. I've never been to South America, actually. But I have been to Cuba. So my next trip will be to Argentina. Now there's a lady president and so they're bringing back all these values that Eva had. They have her face on the 100 pesos bills.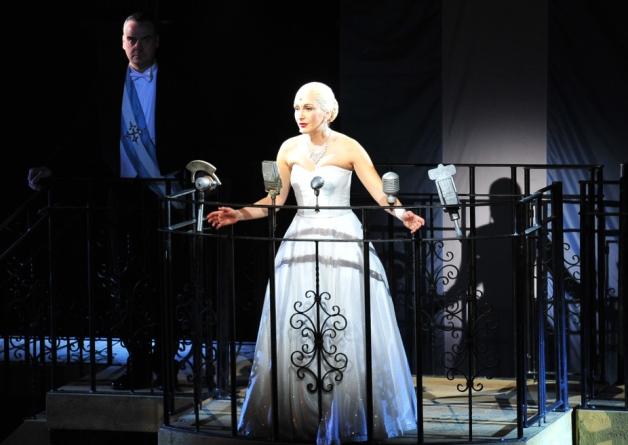 How is it like to live in London for you?
It's not easy. London is a very big city. It's difficult to meet with your friends if you don't live right next to each other. Mostly the social life is at work. I do tend to go back home a lot to see my family, and travelling. When I don't have work in London, I try to be away. But it is a wonderful place of different cultures. They welcome people from all over the world, which is really special. I've been very welcome. I've never felt like an outsider because I'm foreign, which is very important. The drinking culture is very different from where I come from. I don't go out as much as my friends would want me to. All friendships become quite temporary because you become close to people on the job and then you get a family somewhere else on a job. It's very transient, but I love that. I'm lucky that I came to be here.
Do you see signs of Portuguese culture in London?
No, but it's my fault because I know that there are some areas in London which are very populated by Portuguese people and Portuguese restaurants, so I should take myself out to these places more actually. The only hint of a Portuguese thing I see is Nando's. It's simple, I love going there.
Which part of London is your favourite part to go out?
I think Soho and Leicester square, the South bank is beautiful. I was walking out for a taxi and went by the South bank with all the colours and the river. It makes you realise you're somewhere really special.
Is it easy to become a Londoner?
I don't feel like I'm a Londoner. But the thing is I don't feel like I'm a Portuguese girl when I'm at home either. I feel like I am foreign wherever I go, but it's not in a bad way. Because of the Internet we've become so connected, the boundaries of countries and cultures are getting really thin now. I don't feel that I have an identity and somewhere I belong. But I feel that I can belong anywhere so that's really important. Internet is the key network structure. It's nice to adapt anywhere else where there isn't your own culture. I wouldn't say that I am a Londoner, but I would say that I adapt.
Why do you sing in English?
I've always sang in English because I have learned to sing in England so it always feels more natural to sing in English. Actually, I was with a friend the other night and I know very few Portuguese songs and it's something I want to correct. I want to learn more, especially traditional Portuguese music: fado. I went to a fado house where my friend was playing Portuguese guitar and my friend made me stand up and sing a fado. Once I finish Evita and have some time to myself it's definitely one of the things I want to do: sing in my own language. But I've also written in my own language. There are a few songs on the Internet. Even though I grew up in Portugal, I was very young when I moved here so the culture and music and singing would always be in English.
What is a typical day as Madalena Alberto?
When I am doing a show when I do a show in the evening, I have to save my voice as much as possible. I do things that don't make me talk too much. I practice guitar, I write lyrics, projects, ideas. In a normal day I would probably go up late, go out for a walk and go to the theatre early. Me and Marti Pellow, who is going the Che, we talk a lot before the show, it's a thing we have. The show is at 7:30 so latest 5 o'clock. Then straight home, maybe I watch movies. I don't have much of a social life, but it's very rewarding. I feel I need to be my best for the show. When I have rehearsals during the day sometimes I pick up my guitar and go to a bar in Camden. I never have a routine. I've been to a few, I did the circuit surf of bars in North London, doing as much as I could. It's really good fun, different from doing a show. I really enjoy it. The Troubadour at Earl's Court, to go watch music is my favourite.
What is the next step after Evita?
I would like to have a couple months off. Vocally it is quite demanding. I absolutely love the role and I'm comfortable with it, But I'm never content a hundred percent, so it makes it fresh all the time. If you become too content, then you stale, because you have to do it every day. So you have to look for ways to better yourself, to improve, and to help others with what they do onstage. It's really exciting.There are a few projects that I have, one is maybe being part of a new musical that has just been written, based on a french novel: Thérèse Raquin by Emile Zola, and other projects related to cinema, and we will see if it happens. We'll see!
The Latin-UK Awards (LUKAS) is the only awards ceremony to recognize...