In Praise of The Bandeja Paisa
Latinolife's Latina Cook basks in the glory of a full Colombian Breakfast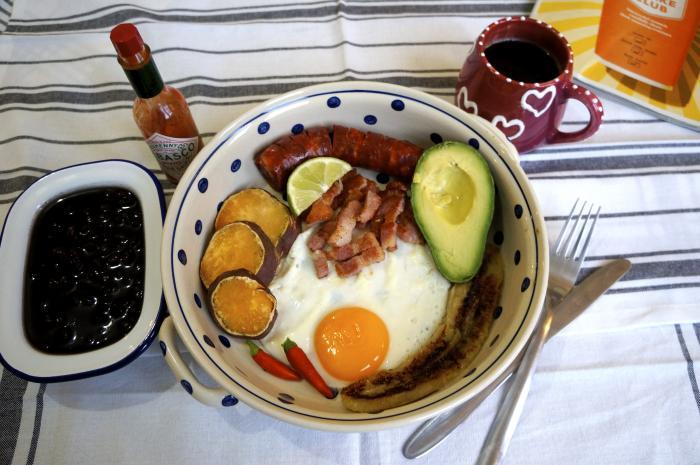 What came first the English Breakfast or the Bandeja Paisa? Strange as it is that two such similar concepts of breakfast dining should originate from totally different cultures, one can only assume it is the breakfast of two very hard-working nations, for it takes a day to burn this dish off.
Whatever the origins, the Bandeja Paisa is to Colombia what the English Breakfast is to the British – both in substance and symbolism - a greasy feast that is the pride of the nation.
The Colombian version is served on large platter, which is usually oval, and topped with steak, pork crackling (chicharrón) and chorizo sausages. Add a fried egg, slices of avocado, and plantain on a bed of rice and beans. Garnish with lime and you have there a full Paisa breakfast; the full English, with a Spanish, Afro-Caribbean, indigenous Latin American twist. Instead of toast, it's accompanied by the indomitable arepa.
The Bandeja Paisa is thought to originate from Colombia's Andean region, namely Antoquia, where Paisas hail from and Medellín being the capital of. However, other regions heavily dispute this, each claiming its own unique version with differing ingredients is the correct one.
In 2005, the Colombian government announced it planned to make the Bandeja Paisa the country's national dish, with the name changed to Bandeja Montañera to make it applicable to everyone in Colombia. This, of course, caused outrage among Paisas, who argued that, beng unique to the Antioquia region it could never represent all of Colombia.
This mutiny of the Paisas (known amongst Colombians for their enlarged view of themselves) paid off as, rather than provoke another civil war, the government backed down. Now, whenever you find a brochure boasting the merits of this Colombian national dish it is invariably referred to as the Bandeja Paisa.
HEALTHY PAISA BREAKFAST RECIPE:
Serves 2
Ingredients:
● 2 eggs
● 1 banana
● 250g lardons or chopped bacon
● 2 chorizo sausages
● 1 avocado
● 1 lime
● 1 sweet potato
● 350g black beans in water
● Fresh chilli
● Pinch maldon salt
● 1 tps olive oil
● 1 tsp butter
Method:
1. Preheat oven to 200C, slice the sweet potato into 1/2 cm rounds and place in a roasting tin with a sprinkle of maldon salt and olive oil. (Should be fully cooked in 20 minutes, which gives you time to make everything else.)
2. Cook the lardons in a large pan for around 7 minutes on a medium heat and set aside, fry egg in the pan you used to fry the lardons. Place all in oven to keep warm.
3. Cook beans on stove for 5 minutes until piping hot and keep warm in oven.
4. Slice banana in half and fry in a new pan in the butter for around 4 minutes each side on a medium heat, leave to warm in oven.
5. Score chorizo and slice avocado in half, set on plate, squeeze lime over avocado to stop it from going brown while you finish the breakfast.
6. Remove everything from oven and arrange on plate, for the finishing touch garnish your plate with the chilli and a lime wedge!
Where try Bandeja Paisa in London:
Head over to La Bodeguita in Elephant & Castle Shopping Centre, Walworth Rd, London SE1
If in Brixton try El Rancho de Lalo, 94-95 Brixton Village Market.
Elswehere in London:
La Fonda de Maria, 273A Clapham Rd, London SW9 9BQ
Donde Carlos 143 Goldhawk Rd, London W12 8EN,
Leñas y Carbon 113 Elephant Rd, London SE17 1LB
North or the river head for Pueblito Paisa in Seven Sisters Indoor Market
Cuba's natural setting, with its own historical and cultural...
From garage parties in Panamå to the awards ceremonies of Miami, how...