In Praise of Latin Erotica
A rare screening of FUEGO, one of Latin America's best examples of erotic cinema, has been chosen as part of the Barbican's Cheap Thrills season of bold and outrageous films. Corina Poore praises one of the hottest cinematic represenations of female sexual desire (revolutionary for its time), directed by Argentine Armando Bó and starring his captivating muse Isabel Sarli, one of Argentina's most potent cinematic icons.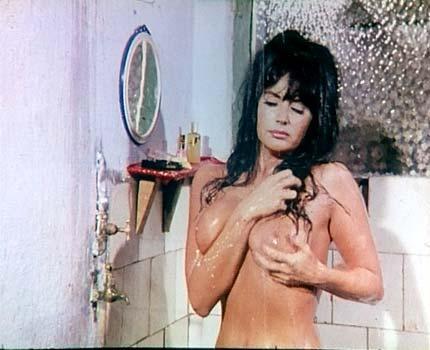 The period from the late 50s and right up into the early 70s, was a time when women began to openly express their sexual desires on screen. Previously, where women were shown with a predatory nature, it was usually for other motives, money or power, (Double Indemnity and others).
Things changed in the cine world after Roger Vadim's 'AND GOD CREATED WOMAN' burst onto the screenin 1956 with Brigitte Bardot. It influenced a wave of films that developed well into the early 70s that finally allowed the woman to express strong sexual desires, and above all act on them. The sexual goddess was born, and no number of talented directors has found inventive ways to bring this new woman onto our screens.
In Argentina, after already having use the first nude scenes in Argentine films in 1957, with "Thunder Between the Leaves," Armando Bó responded to Vadim in 1959 with "And the Devil created Man." Bó then created another 27 melodramatic, 'soft porn' sexploitation films in which he wrote, directed, and co –acted with his muse (La Coca) Isabel Sarli. These films broke the accepted ranks of decency in Argentina. His films are hot, lurid and sexually suggestive in a manner that was revolutionary at the time. They were immediately banned for their sexual content and yet they managed to be huge successes, with many admirers not least John Waters.
FUEGO has been rarely seen outside Argentina and was selected by John Waters to be included in his top ten favourite films, in a series of programmes called "John Waters Presents".
In FUEGO, Sarli is consumed by her own sexuality; she is literally "on Fire", not surprising that it is included among films that John Waters insist "will corrupt you. In one scene, she literally wallows in the snow, vainly trying to calm her desires The film is full of excess, Sarli's amazing breasts, her perfect body, her politically incorrect lesbian maid and nudism . She has been described as a cross between Elizabeth Taylor and Divine, with her (apparently pre-silicone) breasts. As John Waters says: "You think that gays are mad about sex? Wait till you see how demented heterosexuals can be!"
In FUEGO, Sarli plays Laura, who lives in some intimacy with her lesbian maid Andrea, (Alba Mujica) who loves her desperately. Laura, in turn, meets and falls in love with Carlos, who worships her, but her insatiable desire for any man that crosses her path threatens to destroy their relationship. The film has been described as 'the height of kitsch', as it bursts with torrid energy and melodrama. It is interesting that her appetite threatens to devour her too, as she struggles in some pain, to contain her carnal feelings so as not to lose the one man she truly loves.
There are wonderful unforgettable scenes of sex in the snow, and Sarli, in her fur coat and little else, wandering the streets and woods in search of a satisfaction that she can never find. Bó's films have a unique flavour of their own. They contain also an element of innocence in the portrayals and lack of subtlety that are totally kitsch, but also have their charm. There are other examples, as in " Fever" (Fiebre 1971) where Sarli falls in love with a horse, or "Meat" (Carne 1968) where she goes to work at a meat packing plant in all her regalia, with high heels and her cleavage in full view she caresses the carcases hanging from the ceiling.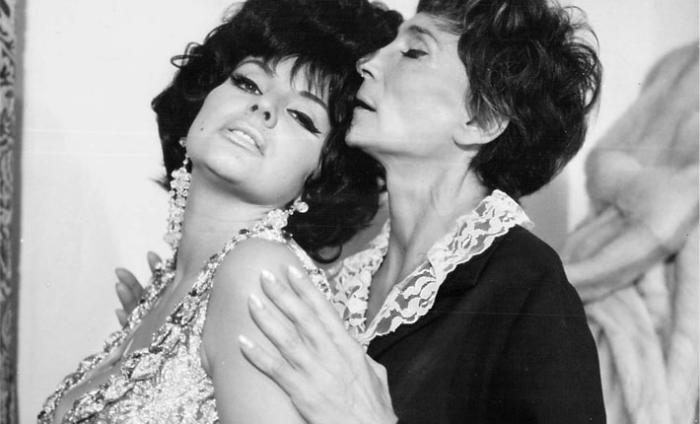 Armando Bó has been compared to Russ Meyer, and there is no doubt that they share many elements of high melodrama and obsession, but here, there is also very different dynamic. Sarli plays the untameable 'goddess', just out of his reach; he desires her but can never really own her in this world, she is her own woman.
Bó's films are primarily character driven; they are designed as an outlet for Isabel Sarli's extraordinary exhibitionism. She dominates the screen, in any environment, be it the streets where she can leave a man speechless with a gaze and where nobody can escape her intense predatory sexuality, or with people who are closer to her who become totally obsessed. It reminds us that Sarli is a sexual being, and that she "possesses ingredients that can even make ice burn, with the simple touch of a woman in a way that we all secretly envy "(Diego Pino Anguita-Chile).
It was widely believed by many that Isabel Sarli was Bó's off-screen lover as well, however, recently, when his grandson, Armando Bó, (widely known as the director of 'Birdman') described her as his grandfather's lover, she responded furiously that this had never been the case, and insisted that she had been his 'love' and his 'muse' but never his lover.
Now, there is a unique opportunity to view this film's beautifully restored copy, courtesy of Gotika, at the Barbican as part of the "Cheap Thrills: Trash, Movies and the Art of Transgression" film season.
Fuego, directed by Amando Bó and starring Isabel Sarli will be shown at the Barbican, Cinema 2, Fri 28 Oct 8.45pm Book tickets here
Director Armando Bó
Screenplay Armando Bó
Production Armando Bó
Music Armando Bó/ Humbero Ubriaco
Cinematographer Ricardo Younis
Cast
Laura Isabel Sarli
Carlos Armando Bó
Andrea Alba Mujica