The Real Girl from Ipanema
With an urban pop repertoire that glides through Portuguese, Spanish and English, and the looks, moves and charisma to match, it's no wonder that Anitta is pipped to be the next global female superstar and dubbed as the next Jennifer Lopez / Shakira. An electric entertainer, who has already penned anthemic hits with the likes of Alesso, Iggy Azalea, J Balvin, Major Lazor and Maluma, the Brazilian has released three chart-topping studio albums, performed at the opening ceremony of the Olympics, reached #1 on Billboard's Latin Airplay chart and won Best Brazilian Artist (twice) and Best Latin Artist at the MTV Europe Music Awards. She's recently been in the studio with Rita Ora, and Pharrell Williams, in a quest to bring Funk Carioca to the world. Will she do for Funk Carioca what Daddy Yankee did for Reggeaton? And who IS this uber Garota? As she lands in Sao Paulo before she heads to London this week as part of her World Tour, Latinolife finds out….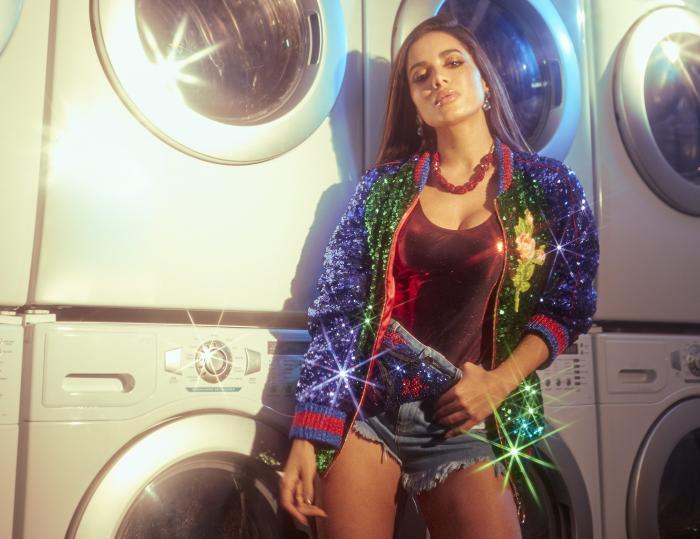 Latinolife: You are one of the hottest female acts in the world right now, doing so much that we cannot keep up. Tell us more about what's going on in your life.
Anitta: THANK YOU! For me at the moment it's like a new beginning. I have been singing for a year in English and Spanish and I never knew it would have such great success globally. For example my music with J Balvin we decided to make it in Spanish and it is getting a lot of success in many countries, for example Machika is getting a lot of love around the world.
LL: So you did Machika and Downtown with Balvin and the collaborations with Maluma..what's next?
A: Well I was with Pharell Williams recently and I have been working with some very nice people. I will keep the names secret because I like giving surprises but I have been recording some really nice music which will be out soon!
LL: Funk Carioca is a genre that has been around for a while in Europe and you started as a Funk artist, and now you seem to have gone back to it…Do you think Funk Carioca will be the next Reggaeton?
A: I do! People are starting to discover it and I believe it is the next rthytym that is going to pop.
LL: The funny thing is that Funk Carioca hit Europe more or less at the same time as Reggaeton, but there was no face to it, which always helps to sell a genre, but now there is a new generation of funk artists and you seem to be the face of the movement.
A: My whole beginning was with Funk in the favelas, I came from one and that is my music. Musically, I don't like to be labelled, but now that I have more access to audiences I can show more of who I am and expose my music to more people. When I like a song from other artists even if it has nothing to do with me I would sing it in my show. Now with the internet Funk Carioca is going to be bigger and bigger and has a chance to be come the next big global riddim. In Spanish speaking countries Funk artists are big and in Portuguese speaking countries these acts are huge, so they have a lot of numbers.
LL: Is Reggaeton popular in Brazil?
A: Very! A while ago it wasn't but then Maluma started getting traction and then Despacito came, Chantaje with Shakira and Maluma and now people like Nicky Jam and very big here.
LL: And who would you tell me is the next big thing coming out of Brazil…apart from you obviously!
A: Kevinho, he is a funk artist that mixes a bit of Reggaeton in to his Funk. We have a song together coming out and he is really great ..I call him the Brazilian Bad Bunny ( laughs)
LL: That is very catchy the Brazilian Bad Bunny, we will promote him under that name now! And how did you get into the Reggaeton?
A: Well I like doing new things with my music, I was looking for something new to do and I decided to travel for a bit and figure out what to do, in Brazil they were playing the same thing all the time and I was in Spain and I listed to J Balvin's Ginza which was super popular but in Brazil nobody knew it so my first Reggaeton project was a Ginza remix with Balvin in Portuguese, because I wanted Brazilian Funk to meet Reggaeton…and that was my first adventure with that genre.
LL: Well that relationship with J Balvin has become very successful.
A: He has become family to me.
LL: So…J Balvin or Maluma!?
A: OMG (laughs)..i love them both but Jose (Balvin) is like a brother!
LL: On more serious matters at the moment there seems to be a new wave of female urban latin singers being as popular as your male counterparts. Yourself leading the way with Karol G, Becky G and Nati Natasha. How do you feel as part of what was a very male dominated scene?
A: I think we are the future and we are getting powerful. We kinda empower each others careers and the collaborations that are happening are not only nice but a vehicle to help each other. It gives the audience the chance of see women collaborating like guys do. We need each other, and we need to show that we have each others back, so I think it is a very positive thing.
LL: Listening to your lyrics there is a recurrent subject which is female empowerment…
A: Yeah, Brazilian Funk has the same history as Reggaeton, the urban male dominated kinda of genre, being mysoginistic, talking about women in a derogatory way, but what I try to do is provide the female perspective: singing good things about being a woman, being confident, standing up for yourself, not being put down. That is what I am about; in Spanish or English I try to do the same as I do in Portuguese.
LL: I think it is inspiring for young Latin women to see women being confident amongst all these guys and being as successful as they are.
A: Well women have been judged by society for so long. The future is us being successful and confident, but also being sensual and not being afraid of being judged for that either. So I think when women see that, they get empowered to be whatever they want to be.
LL: This is your first time in the UK, tell us about your show
A: Yes, my first time in london, and my show is going to be a mix of my whole career and I will mix that with an extra touch of Brazil! I will incorporate some other Brazilian hits to the repertoire so it will be a big show!
Anitta will play at the Royal Albert Hall, tomorrowon Thursday 28th June at the Royal Albert Hall in London. Tickets https://www.royalalberthall.com/tickets/events/2018/anitta/
A book which tells the story of the Amazon and its ports-towns near...