The Reggaetón Boss
Back in 2005, Daddy Yankee became the only Reggaetón artist ever to chart in the UK, with 'Gasolina' at #4. Now the same artist has again hit the spot and broken another record with his current song 'Despacito,' featuring Luis Fonsi, which is now the longest reigning foreign language number 1 in the UK charts, having been there 7 weeks. Few artists are so linked to a genre as Daddy Yankee is to the development of Reggaetón. We took time out of The Boss's busy schedule to have a chat ahead of his appearance at Wembley on Sunday.
by:
William Apunte and Amaranta Wright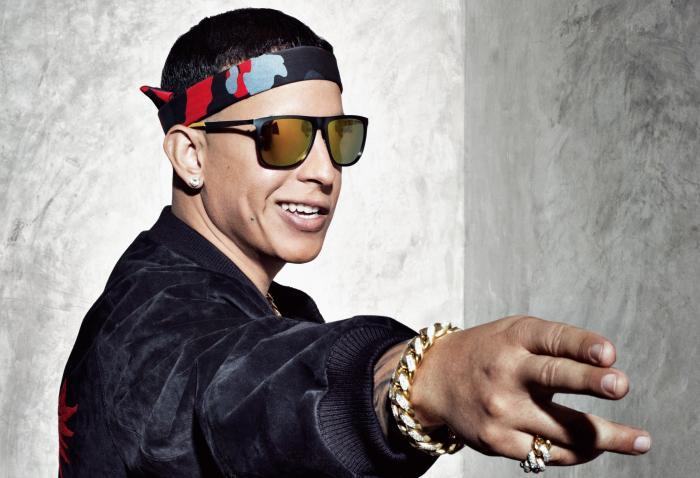 There are few musicians who epitomize their genre. Yankee is one of them. Not only has he been the only Reggeatón artist to have broken the language barrier and make truly global hits, penetrating countries like the UK which are fickle when it comes to foreign language, but he has done so whilst being an original artist of the genre, having emerged with Puerto Rico's golden Reggeatón generation, alongside the likes of Tego Calderón, Nori and Don Omar, which introduced the beat that is now conquering the world.
"I feel blessed." Yankee says, "it has been a while but now it is an epic moment in my career so I am feeling pretty good about being back."
Indeed, it's difficult to believe that 13 years have passed since 'Gasolina' shook the world (remember the kids of post-invasion Iraq who sold petrol on the side of the road with that track blasting out of their ghetto blasters?). Everyone was singing it, from Tokyo to Santiago de Chile via Johannesburg and Berlin.
Yankee reminisces, "Gasolina became a global anthem, it transcended culture, genre and language. I enjoy performing it as if I made it yesterday because the reaction of the public is so great. Even now, even at big EDM festivals, DJs play it and it's one of the highlights of their sets so I am very proud that Gasolina has become a timeless classic."
Perhaps just as surprising, almost 15 years on, is how the Reggaetón beat has become the undisputed soundtrack to global dance floors, even though many of those dancing to it still don't even know its name.
From DJ Snake and David Guetta (All The Way up Remix) to Lethal Bizzle's (Fester Skank) and Clean Bandit (Rockabye), few artists can resist its soulful (and commercial) pull, and the likes of Justin Bieber have eagerly jumped on the bandwagon of the Puerto Rican street beat in order to remain relevant.
Yet, in a pop world where grassroots beats are matched to pretty faces and slick production, quickly discarding the music's roots, it's an achievement in itself that an original like Yankee represents the true genre of Reggaetón at the top of global culture. Hits such as 'Rompe', 'Lo que pasó paso', 'Limbo', 'La Despedida' and 'Shaky Shaky' have earned him a Grammy, 2 Latin Grammies, 14 Latin Billboard Awards, 8 Lo Nuestro Awards, an MTV award, and many more.
"For me it is a dream coming true and it's an honour to represent our community, our race and our language," says Yankee. "It's great that our music is flying high and that Reggeatón is being enjoyed and recognised around the world as a musical culture."
The truth is that Yankee's success is no coincidence. He has the whole package. Of all the acts of his generation, he brings the swing, swagger and sabor of the street, the good looks, combined, many say, with more business savvy and focused of that Reggeatón generation.
Even Yankee insists that a combination of staying true to your roots whilst having focus and ambition are the key. "In order to make relevant music you need to connect to your people. If you lose that, it is hard to re-connect and make relevant music again. It is important to keep yourself grounded for the sake of my music and my work. When you go to the studio you will be very aware of what you need to do, but a chat with regular person might inspire you to create a new song. All those things you must keep them in perspective so you keep your connection with your people…"
Once a budding baseball player, Yankee credits an accident in which he was caught in a crossfire for his change of career recovering from a serious gun wound injury, which he says forced him to focus entirely on music. But it is clear that the boy from the San Juan housing estate saw the opportunities and has taken them when they've come along.
Even before his global hit 'Gasolina', Yankee made waves in Puerto Rico as a top rapper. But he took the chances collaborate with some of the world's most successful music acts – Nas, G Unit, Snoop Dogg, Nelly Furtado, N.O.R.E . and since then has been on a 15-year hit stretch in Latin America, collaborating with the likes of Enrique Iglesias and Carlos Vives to sell 18 million albums.
With no signs of slowing down, DY's current hit 'Despacito', featuring yet another collaboration with fellow Puerto Rican pop star Luis Fonsi, has been at #1 in the US and the UK for over 7 weeks, having accrued 2 billion views on YouTube.
"This kind of success was never ever something that crossed our minds," Yankee says. "We never planned to do a crossover song. We sat down to make good music, we did not imagine the success and we are enjoying everything that's happening to the max, especially the success in the UK where it Spanish language songs don't have a history of doing well."
No doubt Yankee's modesty is genuine; his likeability, focus and ambition have helped make him one of the most successful Latino artists ever. He's teamed up with the right people and is well known for his professionalism. And in doing so, Yankee has helped give global recognition to a genre that was once banned in its native island of Puerto Rico.
In a way the journey of 'Despacito' in the UK reflects that of Reggeatón. Only after 'Despacito' became no.1 in the UK, did the hitting-making radio establishment (Radio 1 and Capital) begin to play the tune. Much like Hip Hop, Reggaetón's unmistakably hypnotic beat was for years dismissed by industry chiefs as a ghetto phase, given no radio play, until consumers' insatiable appetite for it proved unbreakable.
US Urban music producers such as Diplo were instrumental in taking Reggaetón to the mainstream and songs like Shakira's 'Hips Don't Lie' made US music history by getting Urban, Latin and Pop radio stations to play the same track. And now Reggaetón has proved that it is very much here to stay, and so have its more savvy proponents like Daddy Yankee.
"I feel great about all the singles that we've released so far: Shaky Shaky, Sigueme y te sigo, Vaiven...all of them have been hits and that is why as an strategy we have held back on the release of the albums because people are reacting so well to the singles so we are just working song by song and making sure that each one tune is special, and soon we will get all these singles and add 5 new songs for the release of the whole album."
And the message to Londoners?
"We are really grateful to Londoners and everyone over there, who'se listening to our music. We'll will be there very soon with our show, we hope you see you there all of you to see the big boss with all my hits!"
Daddy Yankee will play on Sunday 9th July at the SSE Wembley Arena. The Reggaetón Summer Fest 2017, featuring Daddy Yankee and Ozuna
Tickets at https://www.axs.com/uk/events/334132/daddy-yankee-ozuna-tickets
See Latino Life's definitive Reggeaton Timeline here