The Reggeatón Evolution – Three Decades of Flow
When quintessentially English band Clean Bandit was recently rocking X Factor with their latest hit 'Rockabye,' few watching would have known that the country that invented its catchy beat was banned from playing it for years. Not many even realise that the beat has a name and a history. Only those that recognise the Reggeatón rhythm will know how far it has come since it burst out of Puerto Rico in the early Nineties. Latinolife looks back at a genre that has arguable had more infuence than any other on global pop.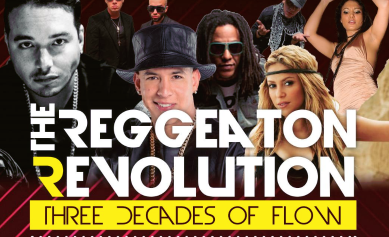 From the slums of Panamá to the celebrity clubs or Grime dance floors of London, people who've never heard of Reggeatón are now dancing to it, when the hottest tracks from Major Lazer (Lean on), DJ Snake & Justin Bieber (Let me Love you), David Guetta (All The Way up Remix), or even Lethal Bizzle's (Fester Skank) start playing.
It's not presented as Reggeatón, and no one says its Reggeatón, but it's the same unmistakable beat.
The good news is that the Urban Latin scene, which was once underground, dismissed as a ghetto phase of an irrelevant Caribbean island, is now well and truly over ground and, because of it, Latin music in the UK is bigger than ever.
"Fifteen years ago people thought Reggeatón was a Jamaican thing," says DJ Jose Luis, who broke Reggeatón in the UK ten years ago with the legendary La Bomba party at Ministry of Sound. "Now, you get East European, Indian or Turkish partiers in clubs asking DJs to play J Balvin."
US Urban music producers such as Diplo were instrumental in taking Reggeatón to the mainstream. From Shakira's 'Hips Don't Lie' to Justin Bieber's 'Cold Water' it's the Reggeatón beat that made American music history by getting Urban, Latino and mainstream Pop radio stations play the same song.
It was just a question of time before these tracks spilled over the Atlantic. "The bad part", says Jose Luis, "is that there is no official recognition of what Reggeatón has done for the music industry. They call it tropical pop now, but its not tropical, its not Jamaican, it's Latin."
That aside, having already proved itself to the industry that once brushed it aside, Reggeatón is still moving onwards an upwards. And as La Bomba celebrates 10 years of pioneering Reggeatón to the UK with a party at the O2 Academy Islington on 30th March, we thought its about time Latinolife spelled out exactly what happened when, with a comprehensive time chart detailing 30 years of Latin Flow.
La Bomba celebrates ten years at the O2 Academy Islington on 10th March. get tickets here
Thurst Years of Latin Flow; check out our Reggeaton Time-Line
A book which tells the story of the Amazon and its ports-towns near...