Register for Ruby
Recently diagnosed with a complex form of blood cancer, friends of Ruby, a Salvadorian mother of two, have started a campaign to find a bone marrow donor of Salvadorian or Latin American descent to save her life. Elspeth Fuller makes a personal plea to the Latin American community to register as a donor.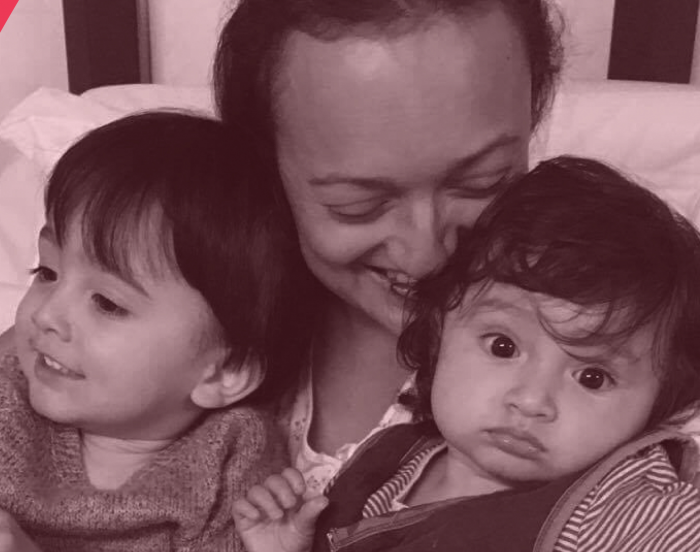 In October, my friend Ruby cancelled a play date between my daughter and her two children (Daniel, 2, and Sofia, about to have her first birthday) because she was going to the GP about a worrying lump. Now, in January, we're looking for a bone marrow donor to save her life. That's how quick her life changed.
Ruby, originally from El Salvador and now living and working in London, was diagnosed with a complex form of blood cancer Acute Lymphoblastic Lymphoma-Leukaemia over the course of a few months. She's soldiered through two rounds of chemotherapy. At times she has been unable to see her children because of the combination of toddler colds and a compromised immune system - she heard her daughter say Mama for the first time through FaceTime. Throughout it all she has been so positive but she needs that bone marrow donation.
In January she shared this with her friends on Facebook:
"HAVING SPOKEN TO MY CONSULTANT THIS MORNING IT LOOKS LIKE FINDING A MATCH REALLY IS GOING TO BE A CHALLENGE SO PLEASE REGISTER AS A DONOR, SPECIALLY IF YOU ARE SALVADORAN/ LATIN AMERICAN/ MALE/MIXED OR ANY OTHER ETHNIC GROUP OTHER THAN WHITE EUROPEAN.
I'm a mother of two young children currently in the process of trying to find a bone marrow transplant donor to cure my lymphoblastic leukaemia-lymphoma. However, as a Salvadoran/ Latin American woman I am not in a good position to find a matching donor here in the UK or in the international registry.
I'm humbly asking if anyone is or knows someone of Salvadoran or Latin American origin here in the UK to please register with the bone marrow registry below as soon as possible. I would also like to take the opportunity to encourage those of mixed or none white northern European ancestry to also join, as donations are very low internationally for all of us not belonging to this group. Males are also particularly needed."
Ruby's immediate family aren't a match. There is currently no match for her on the international registry and so we desperately need to encourage people with a Latin American heritage here in the UK to register very quickly. It costs nearly $800 to be tested for donation in El Salvador (whereas it's free here) so the donor is most likely to be found here in the U.K.
Please register. This can help both Ruby and many other people who are also waiting for donors. The bone marrow donation process is extremely straightforward and is similar to giving blood.
Registering is even easier - sign up online and then you get sent a couple of swabs to run inside your cheek - seal them up - send them off - lie back and wait to be matched and save a life!
Please help. Register for free at
https://www.dkms.org.uk/en/register-now
https://www.anthonynolan.org/8-ways-you-could-save-life/donate-your-stem...
Support us on:
Facebook: Register For Ruby
Instagram: registerforruby
Twitter: @registerforruby.
Together, we're hopeful we can give Ruby and her children (and many other Latin American people waiting for donations) a happier ending to this story.

Corina J Poore marvels at an enchanting documentary about the...
Discover the Latin history of Hollywood, as we turn the spotlight on...