Renaissance Man
Doctor, poet and musician, Jorge Drexler has taken the long and winding road to global success. Winning an Oscar at 41 – the first ever for a song not sung in English – was just the beginning. Now recognised as one of the finest singer-songwriters of his generation, the Uruguayan's career is blooming. Amaranta Wright talks to the man in his musical prime, ahead of his second show in London in two years.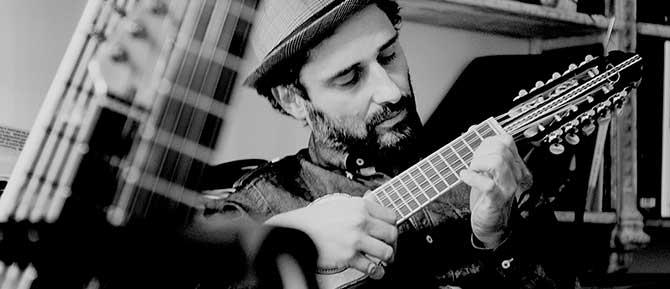 When most pop-stars are looking back nostalgically, lamenting how their music was so much better than music is now and how no one appreciates real talent any more, Jorge Drexler was just getting on a train of delightful surprises; an unexpected Oscar, several Grammies, and an ever expanding global audience.
But then, despite a Facebook page adorned with posts of love and affection, Drexler probably isn't a pop star. Singer-songwriter? "I don't like that word," he says. Latin artist? Even worse. Drexler doesn't do stereotypes. In his case, however, resisting them has paid off.
He could even write a text book about 'how to have a long and upwardly-curving career in music':
"I'm a slow person," he says."But I am stubborn and determined."
Another amazing fact in 'Jorge's Unlikely Guide to Success in Music' is that he was a full time practicing doctor until he was 30. While many musicians dream of stardom, Jorge never even expected to earn from his art: the joy was in the playing
A chance encounter with legendary Spanish singer Joaquín Sabina, however, ended Jorge's career in medicine and defined his destiny. After Joaquín heard Jorge while on tour in Uruguay, Jorge recalls: "he said to me, 'what are you doing here. You need to come to Spain, the way you sing is going to go down very well right nw."
"At that time I didn't consider myself a musician. I was completely unknown in Uruguay. When people told Joaquin that I was a full-time doctor, he said…"Doctor my arse.'"
I'm curious as to why someone so musically talented would study medicine. "Were you bowing to parental pressure to do the sensible thing?' I ask.
"No, it was quite a natural thing, because my parents were doctors and they had passed down a lot of their knowledge to me. I liked medicine. For a while, after I became a successful musician I wondered if it would have been better to have started my career earlier. But in retrospect, I realise those years as a doctor had a big impact on my music. Working in a hospital, dealing with situations of healing and suffering, joy and pain, power and impotence, taught me a lot about relationships and people, and influenced my lyrics and my performances."
Indeed, when Drexler sings about emotion, love, and relationships, you hear about membranes, cells and kinetics -"Dulce magnetismo, dos cargas opuestas, buscando lo mismo" (Deseo 2010) - not the kind of banalities you'd hear from a 19-year-old. And in concert his relationship with his audience is unusually natural and intimate.
As an interviewee, his curious smile arrives on my Skype screen with the spontaneous comment "Ah! a blond Amaranta," as if I have just walked into his consulting room and he's about to add 'what can I do for you?'
In Spain, on Sabina's invitation, Jorge began writing for famous Spanish singers, but it took a while before his own solo career took off.
"I didn't really fit in to the Spanish idea of cantautor, you know the guy with the guitar, singing about love and politics, intense, meaningful and a bit humourless, I don't like to be boxed in. I didn't play the role I was supposed to. I wanted to be free to do what I wanted without being told what I should be."
Strangely, though signed to Virgin in Spain, it was Argentina that his music drifted back to and he started to play his first big gigs. "I finally got to play to an audience that understood me." With the financial crisis in Argentina in 2001, Argentines flocked to Spain. His audience came to Spain and his Spanish audience began to grow.
Then, in 2004, came the Oscar, awarded to Drexler for his song El Otro Lado del Rio from The Motorcycle Diaries, in not uncontroversial circumstances. Because the Uruguayan was unknown in the US, the producers of the show didn't want to let him sing his song at the ceremony, as is customary for the nominees for best song.
"At first they asked Marc Anthony and J-Lo to do a duet of the song. Then, to my relief, they ask Santana and Antonio Banderas; at least he rang me and asked me how I felt about it," recalls Jorge. "Anyway, I was absolutely convinced I wasn't going to win until the last day. I knew Hollywood wasn't happy with the fact I was nominated. That year Mick Jagger had a song in a film and people were shocked he didn't make it, so they ordered a recount of the votes."
"It was only when I was in the limousine on the way to the ceremony I realised I may have a chance of winning, because if I'd been border line I would have been pushed out in that recount. So I thought, if I win, what will I do?"
What happened next surprised everyone. On receiving his award on stage from Prince, the Uruguayan sang 30 seconds of the song he hadn't been allowed to sing, then said thank you and left the stage. The following day it was voted the best acceptance speech of the Oscars.
"I didn't want to make a speech about being the Latin American victim not allowed to sing his song etc. I hate that attitude, I was happy to be there, so why would I complain? That would be hypocritical. I was standing in front of Jack Nicholson, Meryl Streep, everyone I'd ever seen in a movie, like in a wax museum, but it's actually them. And I did what came naturally to me, which was to sing."
It was inevitable after this elegant slap that Jorge would be hailed a hero across the continent.
"In Uruguay it was as if we'd won the World Cup. It was the only time that I felt uncomfortable in the streets in Uruguay, because I didn't do that as some act of heroism."
And the moment when you bowed and kissed Prince's hand on stage…?
"Yeah, I think he thought that was really weird!" Jorge laughs.
Prince may not have known who Drexler was, but the two had more in common than most, belonging both to that rare breed of highly idiosyncratic song-writers. Although, meeting at this juncture, one of them was gravitating towards recognition and stardom, the other away from it. The latter recently lamented that there is nobody currently doing anything interesting in music, no one for young people to copy, like there was when he was young. Does Jorge agree?
"No I don't agree, but it doesn't surprise me that Prince has that view because, while he was at some point a revolutionary, he has cut himself off from the world and stopped listening. That is the way a closed and narcissistic person sees the world, and it has happened throughout history that when people get older, they think that the only good things happened in the past, when they happened to be at the centre of things."
"I don't think these times are better or worse. I think they are different and you have to be careful with what you do with your music and some people may say that there has never been a wider spectrum of musicians being able to release what they do, but of course if you live inside your fortress and you've been living like a star for 40 years and you don't open your doors to people doing things differently, then you are not going to know that."
The irony of the song that won the Oscar was that it was the quickest song Drexler ever wrote, one morning, between 6 and 10am
"In general, I don't have many hits." He confesses, "I have a lot of songs that keep coming back to me over the years, that have an intense slow-burning relationship with the public. 'La Milonga del Moro Judio' (The Ballad of the Arab Jew), for example. That was never a single but it keeps coming back. In fact I am recording it again with an Israeli singer; I sung it with a Palestinian recently in Mexico. It's about putting yourself in your enemy's shoes. And I guess it keeps being relevant"
One could say the long and winding journey of Drexler and his songs reflect his own history. The son of German Jews who fled the Nazis and were given refuge in Bolivia (one of the few countries who did at the time), Jorge spent some years as a teenager in Israel, a country he has conflicting feelings about. He has not yet refused to play there, but works with an NGO that takes musical instruments to Gaza.
"I find Israel more distorted every time I go. I have a love for Israel, and my criticism of it comes from that place. I've been to Hebron and I think the occupation is a terrible burden, not just to the Palestinians, but also to the Israelis."
It's not surprising that with such a complex background Jorge resists the simplistic labels of the music industr
"People say to me, what are you doing putting electronic music into songs of a cantautor? And I'm like, well the problem is with the word cantautor not electronic. I'd prefer to take that out and leave the computer in."
And then there is the dreaded term 'Latin artist'. And yet, Jorge's affinity with Latin music in all its diversity is clear; his latest album, 'Bailar en la Cueva' (Dance in the Cave), recorded partly in Colombia, is a testament to this.
"I love the extrovert and happy music of Colombia and Panama. In Uruguay and Argentina we are melancholic and intellectual. For me this album was an attempt to kill what Uruguay's dictatorship left in me in me, 30 years later. What I couldn't do in my youth, dance and be happy, I'm doing now."
And of course one thing that Jorge has in common with Latin America's great artists – the likes of Charly Garcia, Caetano Veloso, Milton Nascimento, Gilberto Gil - is his love of English music, especially The Beatles.
"I think The Beatles had more influence on music in Latin America than anywhere else in the world. Actually, The Beatles were very Latin in some ways. There is a flexibility and freedom in their form and lyrics. Every record has multiple types of songs. I mean some of their songs are straight boleros."
At my disbelief, Jorge gets his guitar out and starts singing 'Till There was You'. He's right, it sounds straight out of the Armando Manzanero songbook. We have a discussion about how likely it was that The Beatles were influenced by Latin American boleros. I am sceptical.
Five minutes after hanging up our skype call an email comes through. It is from Jorge and has a link to the Beatles singing 'Bésame Mucho'. There we go. It's official. Latin America's influence on Brit-Pop. All great music has its journey, despite the label.
JOrge Drexler plays at The Barican on February 2nd for tickets: http://www.barbican.org.uk/music/event-detail.asp?ID=18762