RUNNING FOR JUSTICE
Wall to wall coverage - but 43 students remain missing in Mexico. Karen Harding meets a new generation of London based human rights campaigners looking to turn the spotlight on the unfolding tragedy of the disappeared students in Mexico.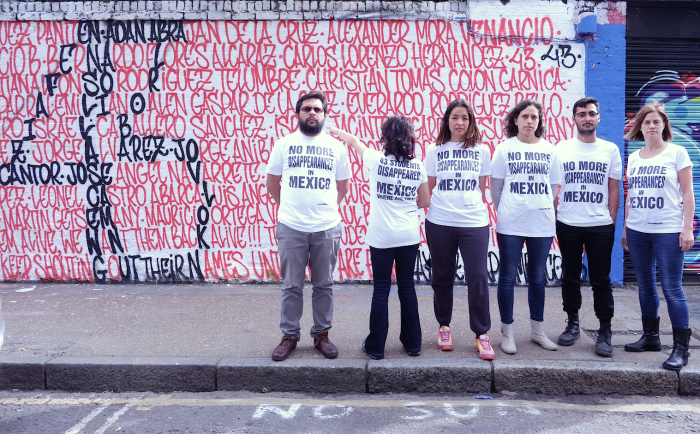 It's been more than 18 months since 43 students were disappeared in Mexico, says campaigner Laura Alvarez as she laces up her running shoes in preparation for one of her final training sessions for this Sunday's Hackney Half Marathon.
"They were taken away by the police in the state of Guerrero and they haven't been seen since. Their families - almost all the missing trainee teachers came from rural homes in the impoverished state of Guerrero - have in limbo ever since.
"Without their sons, there is no one to help them grow or harvest food. A generation of educators has vanished. This is happening all over my country and the Mexican government isn't doing anything to stop it."
Alvarez, a human rights lawyer who has lived in the UK for several years is not the only person who believes the Mexican government - and the international community - have failed to grasp the seriousness of the human rights crisis that has been worsening in recent years.
Alongside a group of like-minded Mexicans, Latin Americans and British activists she has formed a collective of campaigners - a multidisciplinary group of academics, artists and business people - who have taken up the baton first raised by solidarity groups in the UK more than forty years ago.
The new network, Justice Mexico Now, has been set up to raise awareness of the ongoing human rights situation, the attacks on press freedom and on human rights defenders who have been targeted for speaking up and calling for those responsible for the deaths and disappearances to be held to account.
"We're the new generation, says Pablo Allison, an award-winning photographer who holds dual British and Mexican nationality. "We love our countries and want Mexico to be known as a global force for good - not for corruption and human rights abuses. And we want the UK to take a stand and put human rights and good governance back at the top of the international agenda."
This weekend as part of JMN's first fundraising campaign, members will take part in one of several fun runs as well as the annual Vitality Hackney Half Marathon. "We're aiming to raise enough money to enable the families of the disappeared students to travel to meetings in safety," explains fellow campaigner Laura Ortiz.
"At the moment they have to rely on expensive public transport or lifts and they are really struggling to access information on the developments in the case of their disappeared children.
We also need some money to take the campaign - which is entirely run by volunteers and will continue to be so we can send as much as possible to those in need - to the next stage.
In addition to the sponsorship page at www.gofundme.com/justicemexiconow  the collective is also selling t shirts designed in conjunction with Katharine Hamnett, the designer behind the iconic slogan t shirts of the 1980s made famous by pop artists such as Frankie Goes to Hollywood and Wham!
In addition to Hamnett, a number of prominent supporters have given their backing to the campaign including human rights lawyer Helena Kennedy.
"When the students disappeared, some of them were just 19 or 20 years old," says Ortiz.
"It should be impossible for the authorities to hide 43 young men for so long unless they have been so badly treated - or as the government claims, tortured, burned and buried in a rubbish dump.
"The Mexican government put all their efforts into recapturing the drug lord Chapo Guzman - who had already escaped more than once from a high security prison - but they can't seem to come up with conclusive proof as to the whereabouts of 43 young men. The group of independent experts working at the request of the families have questioned the governement's version - and for that they have themselves been the victims of a concerted smear attack in Mexico because the government or the pro government media will attack anybody who doesn't go along with their version."
"We want justice in Mexico, for the disappeared, for their families and for all those who have suffered over the years while trying to expose corruption and impunity. And we want justice now."
www.justicemexiconow.co.uk
justicemexiconow.teemill.co.uk