Salmão ao Molho de Maracujá
Salmão ao Molho de Maracujá is a very popular dish in Brazil, and features one of my all time favourite sauces, "Molho de Maracuja" a creamy, tangy passion fruit sauce. It's citrus-y flavour works amazingly well with fish but also tastes great with duck and seafood pastas like crab ravioli. It's great for big groups & makes an amazing show piece at a dinner party. Enjoy!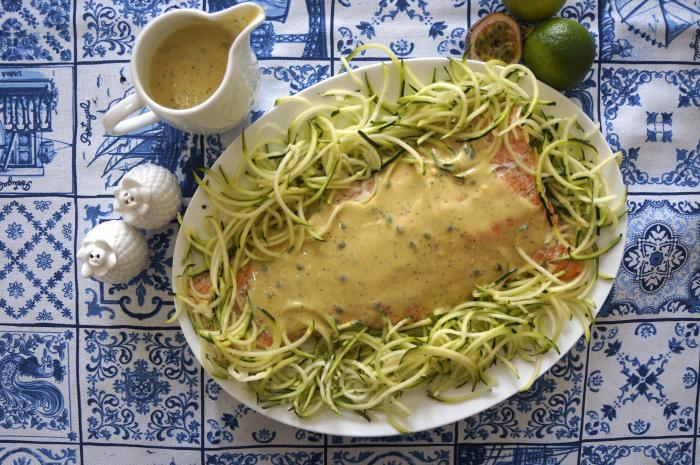 Ingredients
(Serves: 4-6)
1 Salmon Side - 750g

8 Passion fruit - seeds removed and frozen

150ml Creme Fraiche

300ml Water

Pepper

Salt

2 tbs Brown Sugar
Method
Remove the pulp from your passion fruit and freeze for at least 1 hour, ideally overnight. (reserve half of a passion fruit for decoration.)

Preheat oven to 190C and season salmon with salt & pepper.

Once the passion fruit is frozen cook Salmon for 20-25 minutes on 190C until cooked through.

While Salmon is in the oven blend the frozen passionfruit pulp with the water and strain through a fine mesh sieve or cloth.

In a sauce pan add the strained passionfruit juice, brown sugar and creme fraiche.

Stir sauce over a low/medium heat until incorporated and add the seeds from the remaining passionfruit halve, add salt and pepper to taste.

Pour passionfruit sauce over the Salmon and serve immediately.
For more delicious Latin recipes go to www.thelatinacook.co.uk
Corina Poore talks to Gustavo Salmerón, who made a unique film about...
Can Venezuela's new state-sponsored cinema live up to its Cuban and...