Señor Ceviche
Carnaby Street, the funky epicenter of the swinging sixties, is the fitting setting for London's latest gastronomical fashion statement, says pioneer of Latin Cuisine in the UK, Esnayder Cuartas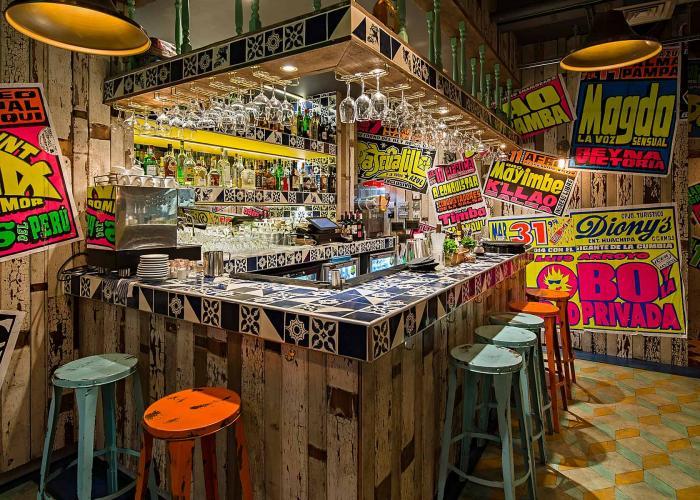 After falling in love with Peruvian cuisine and running a very successful pop up, English chef Harry Edmeades decided to take the plunge and bring the vibe and the food of Barranco, the Shoreditch of Lima, to Soho.
Just the colour of the place lightened up my spirit as I entered, then the music and the vibe of a full house took me straight back to Lima. Harry was in the house and had a chance to evoke his passion for Peruvian cuisine and his time in Peru. His passion was reflected in the friendly, happy atmosphere of the place.
You can read the way how a place is run, by the vibe you get from the staff, we had the pleasure of being served by the beautiful Etienne from Brazil, who was eager to explain the menu and get us drinks as fast as they were made, which I think is a winning formula in a restaurant. The pisco sour was as good as the one you get in Barranco, the perfect balance of sweet and sour and had a good kick that was accompanied with crunchy roasted corn with chilli.
The open kitchen lets you to have a glance of the chefs on a busy service, concentrating on the details of what is going on the plate. The menu features street food, ceviches and classic Peruvian bbq, a true journey of Peruvian food. The jalea mixto had the perfect tempura batter on the squid, prawns and cod, served with pickled Jalapenos mayo, which I would prefer more fiery. The house ceviche Señor Ceviche lived up to its reputation, I do love the avocado with leche de tigre combination, to follow we had beef anticuchos with aji rocotto and aji limo chimichurri, that really showed a great flair from the kitchen, a great combination of flavours with the perfectly cooked and smoky beef. This was accompanied with the zingy quinoa and roasted vegetable, choclo, cancha salad, perfect marriage with healthy end. We shared a passion fruit posset to finish our meal with a promise to came back to have the super chicken that every time that passed by our table our eyes followed it to its destination.
Señor Ceviche is a happy place, great addition to the London culinary scene, the kitchen is serious about its food, the floor has a happy vibe a bit of Lima in the heart of Soho, this proves my theory that you need to be passionate about your food and not only Peruvians can bring their flavours to London.
Kingly Court, Kingly St, London W1B 5PW, United Kingdom
+44 20 7842 8540
A book which tells the story of the Amazon and its ports-towns near...