The Shape of Water (2017) Dir. Guillermo del Toro
Guillermo del Toro's stunning and superbly crafted fairy-tale fantasy is brimming with imagination, profound empathy and a deep and powerful sensuality.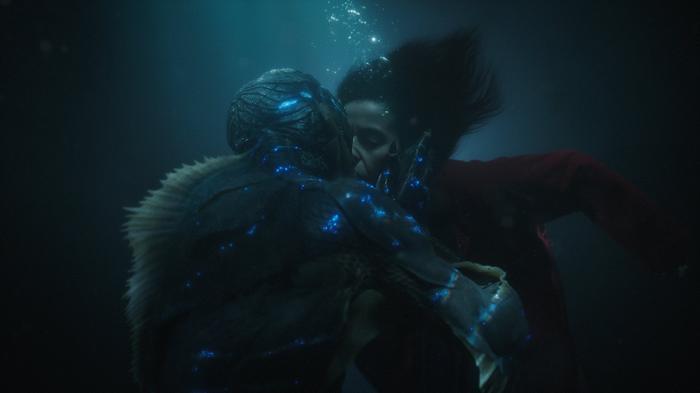 The stunning fairy-tale fantasy THE SHAPE OF WATER (2017) has wowed audiences and deservedly picked up a stack of awards in only a few months. It started with the Golden Lion in Venice, which being the oldest film festival has always waved a significant banner for accolades yet to come. Sure enough, it was followed by a brace of Golden Globes for Best Director & Best Original Score. THE SHAPE OF WATER has also come away with the Critic's Choice Movie Award for Best picture, Best Director, Best Score, and Best Production Design
Are these all good omens for the Baftas and the Oscars? It appears so! It has received a record- breaking 13 Oscar Nominations and there are already 12 confirmed nominations at the Baftas, followed by 9 for both DARKEST HOUR and THREE BILLBOARDS IN EBBING MISSOURI. Stiff competition indeed, as they are all superb movies!
Hailed as ravishing, the superbly crafted THE SHAPE OF WATER is brimming with imagination, profound empathy and a deep and powerful sensuality. Basically, a reworking of the Beauty and Beast fairy-tale, we have a mesmerising Sally Hawkins as the mute (but hearing) janitor Elisa who falls in love with a strange & mysterious water creature who is being cruelly 'researched' at a secret laboratory. With the assistance of her neighbour Giles, (sensitively played by Richard Jenkins) and her colleague, Zelda, at the facility (Octavia Spencer) they try to help the creature escape from its watery prison. The whole mise-en-scène of the production is entrancing, and wholly credible, despite the eccentricity of the situations.
True to Del Toro form, there are cavernous spaces in the dark underground facility that give the whole place a sense of foreboding. However, there is a gentle humour that seeps through on many levels, adding some pathos, as we find ourselves rooting for them to succeed. Set during the Cold War period of the 1960s, the screenplay of THE SHAPE OF WATER was written by Del Toro and Vanessa Taylor, from a Del Toro story, with some punchy dialogue and a few very funny gags thrown in, to lift the spirits and the mood of the film. The make- up, the visual & the special effects are stunning and recognized by the long list of contributors in the credits.
Since the young Guillermo del Toro watched "CREATURE OF THE BLACK LAGOON" (1954) he has been fascinated by how films can bring fantasy alive on the big screen. His very Catholic grandmother who brought him up was horrified with this passion and as part of her attempts to exorcise his love for monsters and phantasmagorical creatures, she would torture him by placing metal caps in his shoes so his feet would bleed when he walked to school. Fortunately for us all, she failed dismally and we have all benefited a great deal from that!
Initially, Del Toro worked in make-up, even starting his own specialized company 'Necropia' in the early 1980s. Yet, despite this, from early on, he was already working in production with some of the best talents in the Mexican Film world, like the excellent Jaime Humberto Hermosillo, on his film DOÑA HERLINDA AND HER SON (1986). In the early 1990's, he finally got his first big chance at a feature with CRONOS (1993) that won nine Academy awards in Mexico, and then the International Critic's Week Prize at Cannes. He continued to work in production and has often worked closely with the big stars of Mexican creative cinema, Alejandro G. Iñárritu, Alfonso Cuarón, and Guillermo Navarro.
His early experiences with Hollywood (Mimic 1997) were not satisfactory for him, so he returned to Mexico and formed his own production company, The Tequila Gang.
His dark and violent, The DEVIL'S BACKBONE (2001) a ghost story set during the Spanish Civil war also won accolades from critics and audiences so he was finally lured back to Hollywood to film the Wesley Snipes vampire sequel, BLADE 2 (2002). However, it was the massive success of HELLBOY (2004) inspired by the comic books that really took him to new heights. He had to fight with the studio bosses to have his favourite actor, Ron Perlman, in the lead and it turned out to be an inspired choice. Stop and think, could you even begin to imagine anyone else in that role?
But Del Toro still had lots to offer, there is pretty much nothing he cannot do. He moves effortlessly between more mainstream and fantasy films. In PAN'S LABYRINTH (2006), set in the military aftermath of the Spanish Civil War, the young Ofelia and her mother are horribly controlled by her sadistic new husband. Trying to flee to some temporary safety, Ofelia encounters a faun, Pan, who leads her into a strange and magical journey to complete her journey into immortality.
THE SHAPE OF WATER has not been without controversy. Del Toro has recently been accused of lifting the idea for the film from a play by Pulitzer-Winning playwright Paul Zindel, "Let Me Hear You Whisper", that also relates a tale about a gentle cleaning lady in a biology lab who bonds with a dolphin being used for research, who, when she realizes they want to dissect the creature, organizes a rescue mission. The Shape of Water is very different in many ways, the story touches on archetypes and is a theme that has been used over the centuries in different formats so it is hard to say anyone is copying the idea. Guillermo del Toro's distributors Fox Searchlight have released a statement that Del Toro had never read or seen the play, and throughout his career had never flinched from acknowledging any direct influences. In this case, he mentions the deep impression made upon him when, as a child, he watched The Creature from the Black Lagoon and, in more concrete terms, the simple suggestions made to him in 2011, by the novelist Daniel Kraus about a story of "…a janitor that kidnaps an amphibian-man from a secret government facility."
These themes, mainly the purity and power of innocence when faced with cruelty and sadism, aided by a horrifying but often sympathetic creature, resonate many times, appearing in myths, story books, fairy tales and comics. In THE SHAPE OF WATER, initially, the creature is truly frightening, and it is through Sally Hawkins' gentle purity that the film develops its power. The meek shall inherit the earth… well, here it certainly appears to be so. Sally Hawkins wins us, and the solitary and mystical marine creature (acrobatically played by Doug Jones) over with her sign language and lively facial expressions. The connection between them is totally believable, as Del Toro explores themes of love and physical disability, and the resilience of the human spirit.
The way that Del Toro plays with our imagination with the constant presence of water and metallic colours makes us feel we have been immersed into the watery world as well. The opening credits are truly stunning and a film unto themselves, with the underwater effects that carry us, as if through a tunnel, into the mysterious world of the story.
Not as dark as some of his previous offerings, THE SHAPE OF WATER is charming love story, original, heart- warming and an astounding visual feast.
THE SHAPE OF WATER, (15) will be released in the UK by Fox Searchlight Pictures on February 14th 2018: A perfect production for Valentine's Day!
Director: Guillermo del Toro
Screenplay: Guillermo del Toro & Vanessa Taylor
Story: Guillermo del Toro
Producers: Guillermo del Toro, J. Miles Dale.
Cinematographer: Dan Lausten
Music: Alexandre Desplat
Cast: Sally Hawkins, Richard Jenkins, Octavia Spencer, Michael Shannon, Doug Jones
Cuba's natural setting, with its own historical and cultural...