THE SHEPHERD (2017) Dir. JONATHAN CENZUAL BURLEY
Many people struggle for years to get their films recognized and some have success thrust upon them when they do not expect it… as in the case of young Spanish director JONATHAN CENZUAL BURLEY. A natural story teller, Cenzual has now made two remarkable films that have both picked up awards for their originality and freshness, despite having no formal cinematic training. Cenzual's talks to Latinolife about his latest offering THE SHEPHERD, released this Friday.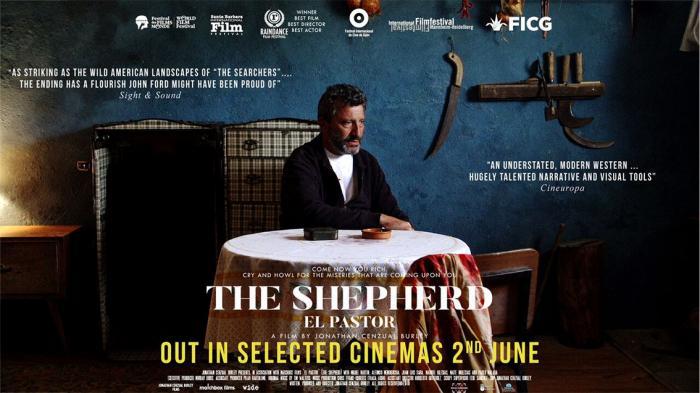 Made on no budget to speak of, Cenzuel's first outing was THE SOUL OF THE FLIES (2009) - a road movie of sorts as two brothers who were unaware of each other's existence, find themselves travelling together to their equally unknown father's funeral. Shot in the sparse wilderness of la Armunia in the province of Leon, these two brothers alienation is visually expressed in the vast loneliness of the landscape.
This theme recurs in Cenzual's latest offering THE SHEPHERD (2016). A wonderful languid opening sequence establishes the character of the taciturn shepherd Anselmo, as he leaves his isolated house in the middle of the arid plains of Salamanca, to go out with his beloved dog to take the sheep to pasture in the early morning light. The peaceful rhythm of this place is threatened when some property developers decide to buy up land in the area to build a new town. Anselmo's unwillingness to sell and give up his way of life stands in direct conflict with his neighbours who savour a quick buck. The whole rural community of the area is turned upside down by the destructive nature of corporate greed as it eats into the hearts of the main players.
The Sundance Film Festival 2016 in London was a turning point for Jon Cenzual, with THE SHEPHERD winning awards for Best Director and Best Film, and Miguel Martin's stoic and powerful performance as Anselmo taking the Best Actor Award.
This is no mean feat for a young autodidactic film maker. Having almost no funds on both his production, he was also obliged to take on many of the tasks and going unpaid helped him complete his production. On 'THE SHEPHERD', Cenzual was the Screenwriter, Director, the Director of Photography as well as the Editor, a role he admits "I definitively have no great interest in!"
Canzual continues: "I had no choice, so I had to do it, but ideally it is much better to have someone come in from the outside to edit. There are many scenes that took a great deal of effort to achieve and, in the end, they almost disgusted me. As I was editing them I could remember the pain of the many takes, the actor not managing to say a phrase as I wanted, so I left them to the end, finally editing them just to get them out of my hair. On the other takes I felt more affection, for example, the first ten minutes of the film, which were shot on one reel. There was just me, my girlfriend and the actor. I just used my Canon camera and a tripod, but I thoroughly enjoyed that shoot, so then, I loved editing those scenes!"
He also found producing to be very hard...
"I'm a bit manic about control, but it is impossible to control everything. If someone has your back, who can get things for you, it is so much better. Also, if an actor arrives late on set, I would rather not be the one who has to tick him off, I prefer the producer to do it… then I can turn up and all is well. The producer is always the baddie. The director has to be the goody, so trying to do both these jobs is really very stressful. I'm interested in is telling stories, not telling people off.'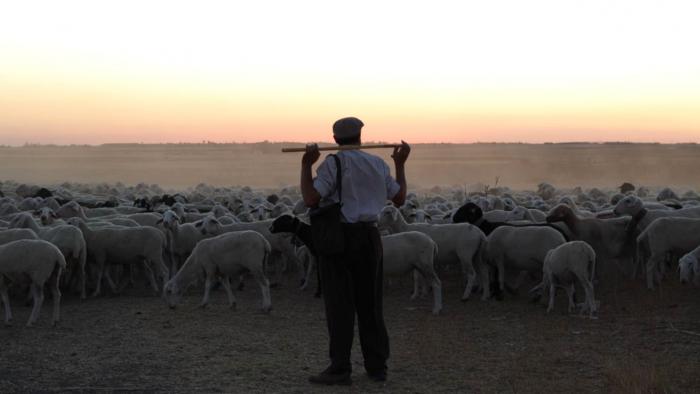 Jon Cenzual's passion for stories began as a child. At twelve he went to evening drawing classes after school, and was rubbing shoulders with older art students. After he was given a camera by his mother, he began to understand the world of photographic images with its fields of vision and lighting. He moved to Brighton when he was 16, and then found himself travelling around Ecuador, where he met a man who was going to Argentina to shoot a film.
"He invited me to join him... I had always thought making a film was out of my reach, but when I got there, I realized that these people made films any old how. We were living in a big house on a farm in Patagonia with three digital cameras and they would just improvise where they would put the camera or the microphones, so I thought, to tell a story, I simply need a camera and a mic and I can do it. That was the push I needed to get started, and that was when I decided to make my first film."
Jon Cenzual's first film THE SOUL OF THE FLIES (2009) was made on €1000, premiered at the prestigious Karlovy Vary IFF in 2011 (Czech Republic) won the Jury Special Mention in Warsaw and was also screened at the BFI London Film Festival.
"To make a film with no money and no training was an experience. But I realise that working in Argentina for those three months, I learned more about film than if I had studied for three years at a film school. I also think my interest in drawing influenced me more than I realised. The shots in THE SHEPHERD, for example where he is alone in his home, they are in the style of Murillo or Caravaggio. I never prepare a storyboard, because I have always worked alone and do not need to explain it to anyone else... I once filmed a short with a storyboard and I didn't like it. The problem is that you have to decide in advance what the framing will be, but then when you are there, in situ, you might want to move the camera differently, and be more flexible … which is a far more creative and spontaneous way to film."
Cenzual admits to admiring Federico Fellini, and Emir Kusturica, although he feels that ultimately his greatest influences stem from literature, writers like Miguel de Unamuno, Miguel Delibes, and "… especially Gabriela García Marquez, who has that magic realism, yet if he has to be brutal, he is! … these are writers that focused on the small characters, and see that their lives are just as important as say, Alexander the Great…
"For this film I always had the "Chronicle of a Death foretold" in mind. There was a moment when I almost swapped the final scene for the first, because I was not bent of creating a thriller. When you think about it, anyone who has lived in the countryside and reads the newspapers knows that these things never end well."
Cenzual claims not to be too political, but he believes that every creative person absorbs what is going on around them. So that although THE SHEPHERD is not directly based on actual events, he is very aware of the way that the powerful, driven by avarice, treat the more vulnerable in society: -
"Corruption and the abuse of power in Spain has reached such a point that people now accept it as an everyday occurrence. I read the news and it said that a woman had thrown herself out of a window after being evicted due to a repossession order, by the very bank that had persuaded her to take out loans she could not afford. The people that create these situations are always the winners, becoming even richer as a result. THE SHEPHERD was my way of expressing my own anger. I wanted to communicate a message against avarice, this abuse by those who feel entitled to step on those that are small. THE SHEPHERD was a good vehicle for this, as he embodies an honesty and a moral compass that many have lost."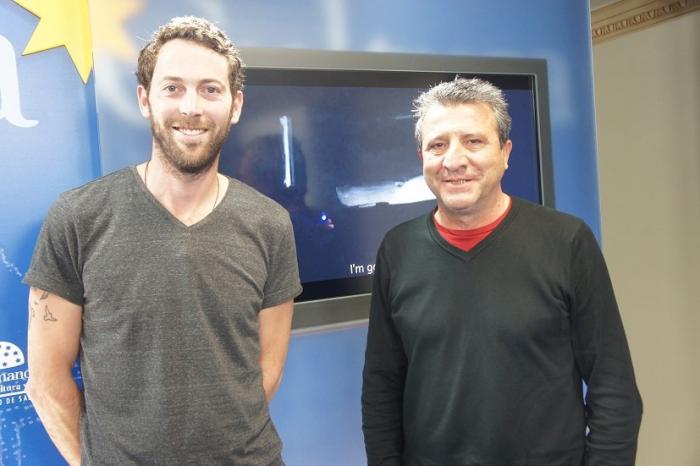 Jon Cenzual with Miguel Martin
The choice of Miguel Martin for the lead was inspired. Martin embodied the spirit of the character forcefully and his whole physical presence is perfect for the role, but there were some initial problems: -
"The problem at the beginning was that Miguel had only performed in the theatre, and he found it hard because I had to keep asking him to do less… theatrical actors are used to projecting their voices so that the people in the last row can hear them. In the theatre, if you blink no one can see you, when you are in close up and you move your head to one side, it is way too much! He had to understand how his anger had to develop slowly, with minimal movements and this took time… with dialogue I am quite flexible, but when it comes to body language I am a perfectionist."
THE SHEPHERD opens in the UK on June 2nd 2017 at the Regent St Cinema with Q & A with the Director
Production companies: Jonathan Cenzual Burley, Matchbox Films
Cast: Miguel Martin, Alfonso Mendiguchia, Juan Luis Sara, Maribel Iglesias, Jaime Santos, Maite Iglesias
Director-screenwriter-producer-director of photography-editor: Jonathan Cenzual Burley
Executive producer: Murray Dibbs
Production designer: Laura Drewett
Composer: Tim Walters