Sidelines: Four Films about Football, Latin America and Human Rights
Ana Ryle spent a weekend at Amnesty UK's first football film festival at Hackney Picturehouse. It aimed to bring together the worlds of football and human rights. Four of the thought-provoking films shown - Looking for Rio, Railroad Allstars, Goals for Girls and The Children of Habana - were in Portuguese or Spanish.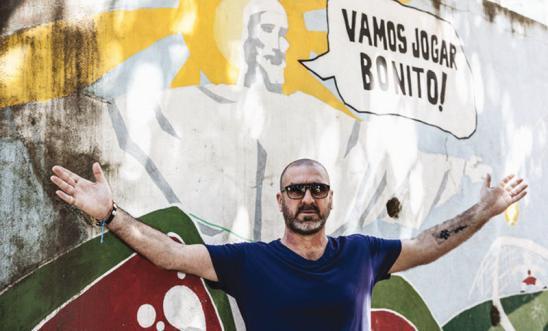 The big question threading this timely Amnesty event was, should FIFA and UEFA factor in human rights when choosing where to stage their events and take any responsibility for the choices? From Brazil, where riots over forced displacement from shanty towns and police brutality have preceded the World Cup and Qatar who allegedly got their bid accepted because of corruption to Israel who prevents fellow FIFA member Palestine from playing football, through restrictions on teams' movement, and much worse.
LOOKING FOR RIO
First off among the 'Latino' films was the Canto Bros' documentary Looking for Rio which had Eric Cantona swanning around Rio amid that well-known superlative beach and mountain landscape. Personally, I could watch 'The King', as he was known at Manchester Utd, doing that until the cows come home.... But that apart, the film was fascinating in tracing the lineage, history and internecine warfare of Rio's four big clubs – Fluminense, Vasco da Gama, Botafogo and Flamengo – and it was even better on chronicling the racism, military dictatorships, and politics which have periodically tarnished the beautiful game there.
Nevertheless, Cantona obviously loves Brazil, Brazilians and Brazilian football, as the whole world seems too, so on screen there is no lack of sheer passion, vitality, joy and love in the way Brazilians talk about their national obsession. There's also lots of cool Brazilian football footage, past and present.
But football in is a bitter-sweet story. And no more so than now, in Brazil. Brazilians are out on the streets opposing spending levels on the World Cup. How could this football-crazy nation not want the World Cup? Cantona's documentary weaves interviews with former football stars (Romario, Rivelino, Zico), journalists, community workers, shanty town inhabitants, all with the same message. "Football is not what it was." The poor can no longer afford stadium prices; half-empty terraces affect the atmosphere; the quality of play has plummeted since future stars are pinched by Europe so young; but above all people resent the huge sums of government money spent on stadiums that won't be used again (Manaus, Mato Grosso, etc.) in a country where basic services are lacking.
These stadiums have to be paid for. And it is the poor who will pay. 22% of Rio inhabitants live in favelas, many of which are being sanitized or cleared for 'security reasons'; these forced evictions can be brutal. The protests may stop once the World Cup starts, but press coverage may make it worthwhile continuing.
'Looking for Rio' catches the mood. It skilfully juxtaposes the story of football in Brazil with a powerful social narrative. Cantona hopes it can help change attitudes. He said: "Film and football can be a very powerful way to explore and expose these issues. It can add to international pressure for change." A clue to Eric's sometimes radical views came during the Q and A. He said that following on his series on 'Rebel Footballers' for Al Jazeera TV, he is making a new film about French footballers from immigrant backgrounds.
Cantona's father is Corsican but his mother's family are from Barcelona, and came to France as refugees from the Spanish Civil War. So, he's half Spanish!! Later, Cantona met Palestinian footballer and Amnesty prisoner of conscience, Mahmoud Sarsak, whom he had publicly supported when Sarsak went on hunger strike in an Israeli jail in 2011, to protest three years detention without trial.
RAILROAD ALLSTARS
The 'Railroad All-stars' is the true story of a group of sex-workers plying their trade along a disused railway line in Guatemala City. Fed up with the abuse they get from clients, partners and the police, they form a football team in the hope of drawing attention to their plight. They get attention alright, but not all good. They join a five-aside league only to be expelled when their profession is discovered and frantic mothers don't want their daughters to be tarnished by association. This sets off a media frenzy. Spanish film-maker Chema Rodriguez documents their trials and tribulations with humour, sensitivity and affection. Some of the team's antics are funny, but the underlying reality is the violence women face at all levels of society, especially those where the violence is carried out with impunity.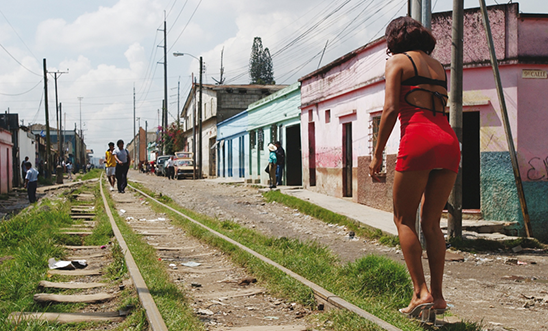 GOALS FOR GIRLS
Goals for Girls: A story of women with balls by directors Ginger Gentile and Gabriel Balanovsky, also takes a look at how women are choosing to go into the football arena to fight for rights. In Argentina, where football is still considered a 'man's sport', a group of girls from the Villa 31 shanty town in Buenos Aires set to form their own team. Their dream is to compete in the Homeless World Cup in Brazil, but before they can face their rivals on the pitch, they must take on disapproving parents, disrespectful peers and apathetic football authorities to win the right to play. At first sitting down in the middle of their local pitch and refusing to budge is the only way to claim space from the menfolk.
This is one story, but it is reflects the marginalised world of women's football in Argentina, and in other parts of the world. In Europe the women's game is fast growing, but still lags far behind the men in investment, sponsorship and media coverage, and is under-represented in the governance of the sport. However, the FIFA president has said "the future of football is the women's game." So watch this space.
THE CHILDREN OF HABANA
And finally, something quite different. The Children of Habana tells a story of the evacuation of 4,000 children on the SS Habana from Bilbao to Southampton following the bombing of Guernica in 1937. When the Spanish Civil War was over, many of the children went back to Spain, but some were fostered by English families and stayed, often adapting to English life through something for which they already had a passion: football.
One of them, 14 year-old Raimundo Lezama was soon scouted by Southampton FC, and went up the junior leagues into the senior squad. Other boys also went on to become the first Spaniards to successfully play professional football in England. The film traces the careers of several of them, the pioneers you could say of the Torres, the Fabregas, and the Javi Alonso of the modern game. The film is fascinating, and highly recommended: another example of successfully mixing the themes of football and conflict. For further reading on the careers of these 'refugee' footballers, see Jimmy Burns book 'El Rojo: A Journey Through Spanish Football'.
Sepp Blatter's recent claim that football should be kept separate from politics was kicked into touch during this Amnesty Football Film Festival. With the world now watching Brazil, it remains to be seen what FIFA and/or its sponsors can do about the can of worms which has been opened.
VIEW:
A great report from Oxfam showing who would win the World Cup if equality was the criteria. http://www.theguardian.com/world/2014/jun/11/belgium-win-2014-world-cup-...
A petition to help the Palestinians get a level playing field through Israeli obstacles to their participating in international football competitions. Petition | Suspend the Israeli Football Association's FIFA membership | www.Change.org
"What matters in life is not what happens to you but what you...