Sonorama's Hollywood Tunes composed by Latinos
With Latin American directors sweeping the Oscars in recent years - Guillermo del Toro and the Mexican creators of 'Coco' this year alone - it seems that it was always that way. And, in the world of music, it kind of was, we just didn't know it. Which is why, this week, La Linea Music Festival opens with a concert that shines the spotlight on the Latin American artists that shaped the sounds of the screen. Some of Hollywood's most iconic tunes have been conceived by composers from the South and cultural critic and historian Josh Kun offers his selection of great Hollywood tunes composed by Latinos.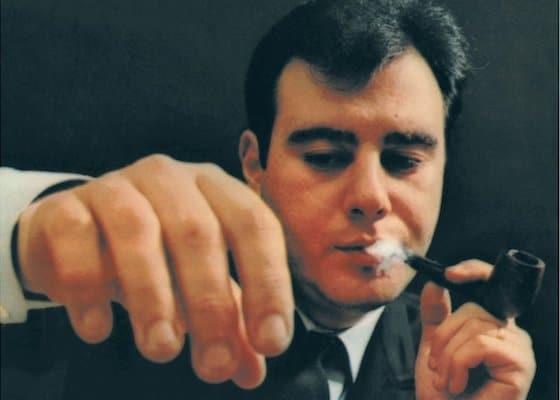 Since the very early days of film, musicians from across Latin America have been instrumental in creating the sound of Hollywood; from the Space Age sound of Juan García Esquivel, whose orchestra was called Sonorama; to the Latin Jazz-tinged film work of Lalo Schifrin (Mission Impossible, Dirty Harry) and the beautiful boleros of María Grever, to the undercover Latino Juan Manuel Cascales whose work appeared under the name Johnny Richards.
This Friday, Sonorama – a live concert accompanied by film – celebrates this legacy with a big brass and electronic reimagining of the Golden Age of Latin American composers in Hollywood. Joining the dots is producer Camilo Lara (Mexican Institute of Sound) whose own most recent film work is in Pixar's Coco. He's joined by guest vocalists Omar and Brazilian vocalist and Smoke City stalwart Nina Miranda, as well as Hackney Colliery Band Horns. The show's creator Josh Kun, author of The Tide Was Always High: The Music of Latin America in Los Angeles selects his favourite of the iconic tunes.
1. Mission Impossible
By far the most influential Latin American composer in post-WWII Hollywood, Argentine pianist, composer, and arranger Lalo Schifrin made award-winning music for an astonishing range of films. He won an Emmy for his bongo peppered and brass-blasted theme to The Man From U.N.C.L.E) and went on to slide Latin American musical touches into blues, jazz, disco, and classical scores for shows like Mannix and the unforgettable theme to Mission Impossible.
2. Enter the Dragon
Schifrin also left his mark on smaller screens. He was even brought in to score the classic Bruce Lee meets Kareem Abdul Jabar showdown in the martial arts masterpiece Enter the Dragon.
3. Magic is the Moonlight
The very first album that Mexican composer and bandleader Juan Garcia Esquivel recorded in Los Angeles was Other Sounds, Other Worlds, and it included songs by the first woman composer to rise in the popular ranks of Mexican music, the iconic Maria Grever. She wrote for Paramount and 20th Century Fox and her 1929 song "Te Quiero Dijiste" was reborn as "Magic is the Moonlight" for Esther Williams' first technicolor musical Bathing Beauty. it was recorded by many iconic singers of the 40s, 50s and 60s including Dean Martin and Julie London.
4. Cuando Vuelva a Tu Lado
Another Grever classic, originally composed as "Cuando Vuelva a Tu Lado" and written about missing her husband when they were separated during the Mexican revolution. This one was converted by Hollywood into "What a Difference a Day Makes," a song that is now a classic of the jazz songbook, sung by legends such as Dinah Washington and Amy Winehouse.
5. Solamente Una Vez
Legendary Mexican composer Agustin Lara first came to Los Angeles in 1934 when he was dubbed the "Irving Berlin of the Southern Republic." His popular song "Solamente Una Vez" got a second L.A. life as "You Belong To My Heart," appearing in four different films (including two from Disney) and taken to the top of the charts by both Bing Crosby and Elvis Presley.
6. Mucha Muchacha
When Juan Garcia Esquivel left Mexico for Hollywood in the late fifties, he started placing music in Dragnet, Kojak, and Markham. He even co-wrote the official logo music of Universal/MCA-TV. But his great contributions came in the RCA studios in Hollywood, where he perfected the sound of mid-century modernism and became the debonair global ambassador of space age pop and bachelor pad music.
7. Jesusita en Chihuahua
In 1962, Esquivel recorded the landmark LP, Latin-Esque, at RCA Victor's Music Center of the World, in the heart of Hollywood, California. For Esquivel's innovations in stereophonic sound recording, anything was game, including this classic Mexican Revolution polka which was once a favorite of Pancho Villa.
8. Kiss Her Goodbye
In Hollywood, beloved jazz arranger Johnny Richards— born Juan Manuel Cascales in Mexico-- worked with Stan Kenton to reimagine West Side Story and wrote all the music for the 1959 film Kiss Her Goodbye, set in Florida but shot in Cuba, where it was quickly confiscated by Fidel Castro and shelved.
9. Brazil
Brazilian singer and film star Carmen Miranda was the highest paid woman in the US by 1945. Among the songs she helped make famous in her many Hollywood scene stealers was "Aquarela do Brasil," penned in 1939 by bossa nova composer Ary Barroso.
10. Tico Tico
Miranda was also key in skyrocketing another Brazilian song to fame, 1917's "Tico Tico nu Fuba," a twitchy masterpiece by Zeqhuina de Abreu that became a global ear worm in the 1940s thanks to Ethel Smith attacking it on her organ, a hit by the Andrews Sisters, and Miranda's unforgettable take on it in the film Copacabana.
Sonorama: Latin American Composers in Hollywood takes place at the Barbican Friday 20th April 7.30pm Tickets: https://www.comono.co.uk/live/sonorama/
Cuba's natural setting, with its own historical and cultural...
From garage parties in Panamå to the awards ceremonies of Miami, how...