Straddling Cultures and Continents
One wouldn't normally associate musicians with early mornings, but Kevin Johansen is no normal musician. At 8.30 am Buenos Aires time, the Alaskan-born Argentine is just back from doing the school-run with his charm and warmth intact. But why wouldn't the country's most unusual musical export be in a good mood, having managed to carve out an international career with unorthodox music, on his own terms? With a new album Mis Americas (2016), that brings him to London via a European tour next week, Santiago Oyarzabal talks to the thoughtful and affable bi-cultural bohemian.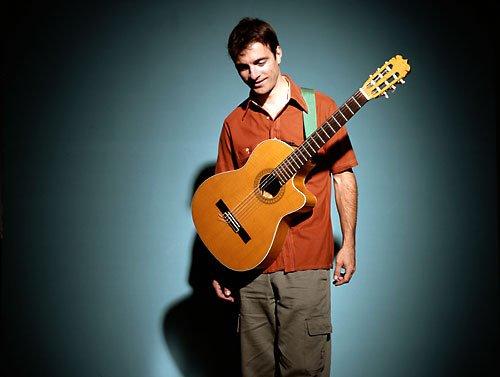 Johansen has always been a difficult one to pigeonhole. Born in 1964 in Fairbanks, to an Argentine mother, Marta Calvet, and American father, Kevin lived most of his childhood between Alaska and California. The return to Argentina when he was 12 did not go as planned. Immediately the military coup took place and Marta found a job in Uruguay. Music was ever present, in particular American and Latin American folk and tango (Marta loved Joan Baez and Violeta Parra). On arriving in Montevideo, Kevin, who had perfect pitch and played several instruments, found himself learning classical guitar.
"I learned a lot during that time. I learned to play clean, and it opened harmonic and rhythmic possibilities in terms of compositions… My teacher also understood I didn't want to be a classical musician. My thing was making songs".
In the late 1980s, during the early years of Argentine democracy Johansen formed the band Instrucción Cívica (or Civic Education) but soon moved to New York, in 1990. He lived there for a decade and played in the emblematic CBGB Bar (country, bluegrass and blues) in the Lower East Side de Manhattan, the house of punk rock, new wave and hardcore punk, all genres that, quite strangely, do not resemble Johansen.
In fact, his local success in Argentina came when his "Down with My Baby" from Sur o no sur (2002) was picked as the closing song for the 2003 TV series Resistiré. It did so well that only six months later Johansen was filling the Theatre Gran Rex, the local venue for the most consecrated artists. By then Johansen had already several hits-to-be in Spanish: "Guacamole", "En mi cabeza", "McGuevara", "Sur o no sur", "Cumbiera intellectual" and more.
The 'sudden' success, he often says, took him long years to come. When it came, however, it was almost immediate not only in Argentina but also in Latin America.
Ever since Johansen has never quite fit the stereotype of the Argentine rockero and he seems to be at ease with that. Yet, this des-generado, as he likes to call himself (meaning in Spanish 'with no genre' and 'with no gender'), moves like fish in the water not only between Spanish and English, and through styles ranging through cumbia, tango, rock, folk, bolero, pop, funk, milonga and chanson. He can also talk about serious stuff with the humour typical of Horacio Fontova, Leo Masliah, and Les Luthiers. This makes his songs and shows amusing and serious at the same time. In fact Les Luthiers' Marcos Mundstock is one of the guests in his last album, with an exquisite introduction to the bachata "Bach-chata (Habladurías)", whose chorus goes 'Don't believe them. People are bad and they just speak'. Singer, and later former Governor Palito Ortega, does chorus in the same song.
"Having guests is good also as an excuse to have a wine with someone you admire. Yesterday evening we had dinner at home with Marcos and Palito, and it was fantastic having them tell stories of decades ago. I like having guests from a different suit, and catch people by surprise about our collaborations".
The variety of guests in Johansen's last album includes the amazing voice of Arnaldo Antunes. Antunes has just released, with Marisa Monte and Carlinhos Brown, the second album of Tribalistas, the Brazilian super group that took the music industry by surprise in the early 2000s. Other guests are Miss Bolivia, Pity Alvarez (Intoxicados), Ricardo Mollo (Divididos), Kanaku y El Tigre, Rafo De la Cuba, Aldo 'Macha' Asenjo (Chico Trujillo) and Kevin's own children.
"Torcer a favor" (with Antunes) is an answer to the chant "Brasil, decime qué se siente" (Brazil, tell me how it feels) Argentine supporters sang during the 2014 Brazil World Cup. By contrast, Johansen sings 'Eu não quero torcer en contra, quero torcer a favor! Eu nao quero torcer em contra, quero torcer a favor de nos' (I do not want to cheer against, I want to cheer for! I do not want to cheer against, I want to cheer for us.).
"Beyond the folklore and anecdotic aspects, I thought singing the chant against Brazil, stating Argentina is better against all evidence, seemed a little of a joke and also a denial of reality which is typical of us Argentinians. But there was something else. I thought it showed how we live in a world where we're less focused on our own achievements and conquests, than on the arm inflicted on the one who loses. At another level we are living in a world where "torcer em contra' ('against') is becoming too common, we're building walls and divisions, so what the song proposes is a little idealistic".
The most curious thing about the song, and about Johansen in general, is that he can be critical with such a charm and sense of humour that instead of alienating people his lyrics are listened to with attention while provoking reflection and complicit smiles. When this is made to notice he laughs. "It is not something I seek on purpose. It's just my way, maybe because I distrust in confrontation. When we go for confrontation many times is because we're looking for an effect, and is often empty of meaning." In a way, his "Cumbiera intelectual" went in that same direction by bringing together two concepts that used to remain at odds for decades, at least in Argentina where cumbia was held as lowbrow and would not mix with intellectuals.
Are collaborations trendier today than ever?
"I don't know. There's always been collaborations. Some are clearly forced by the music industry because we can tell there is no feeling and they don't work. But when they do they make wonders! Musicians, like other artists, are people of 'chemistry', so it's important that we feel at ease, in our comfort zone. And at the same time there is something about surrendering and going for something that may not be your essence but that you try when collaborating. So, when there is a connection we take challenges and it gets interesting because we discover new things that we didn't know existed. I remember in the late 1970s or early 1980s a collaboration between David Bowie, who was a kind of freak, a bit punk, modern, and Bill Crosby, who was supposed to be conservative… I think they did 'A little drummer boy' and it worked very well!"
Your children are actively involved in this album …
"Yes, my Miranda (20) will do part of the tour with us (London, Paris, Berlin). She opens the album in 'Es como el día'. It's nice sharing these things with them. In particular Miranda, is the eldest and is starting to record her own things. Now she's got a poetry book of her grandma (my mother) and made a couple of songs with that, so it's really good seeing her embark on this world. Then we have also Kim (13) and Tom (10) do chorus in a couple of songs. But everything is very organic at home. I play and make music in the living room and they come and say what they think and sing, so it's very natural to do this with them."
With children in such different ages you must listen to music of all styles…
"Yes! We can't close our ears, so I sometimes get caught by all kinds of things. Tom may sing by heart a reggaeton, Kim likes pop and Miri, rock. I often listen to something classical, or demos I receive at shows, so I'm up to date with what's going on. I also like looking into the past because it gives me good perspective to understand the new genres and how they relate to the old ones. A couple of weeks ago we watched the Martin Scorsese documentary on George Harrison [Living in the Material World, 2011] so we became at home very 'Harrisonean', got caught by the The Traveling Wilburys and other things such as Joe Browns playing ukulele in his tribute to George."
How about contemporary Latin American music?
"In Mis Americas play two bands from Peru [Kanaku y El Tigre] and Chile [Rafo De la Cuba] in the song'Life Is Killing Me'. I admire them a lot, they are more into pop and some rock with a lot of wit and irreverence. Also Aldo 'Macha' Asenjo sings the bolero 'El jardín del desdén'. He's got a wonderful voice and plays with Chico Trujillo, a band that mixes cumbia with ska and are often in Europe and the UK. There are also very talented women who are great composers and singers. Apart from my own daughter who's now recording her first songs, I'm thinking of Loli Molina (now living in Mexico), obviously Natalia Lafourcade. And others who've followed Julieta Venegas, like Ximena Sariñana, or Ille Cabra, who used to be in Calle 13."
Differently from the 2010 show, when he came only with cartoonist Liniers, this time Johansen comes with The Nada, the band that has accompanied him for the past 15 years. "The show is going to be quite different. In a musical sense it will be a very different show. Although my songs are born out of guitar and voice, I really like playing in company. Once the songs are amplified, got specific textures, and rhythmic and harmonic combination it gets really interesting…"
The European tour takes Johansen + The Nada to several cities during November starting with Madrid and Barcelona (16 & 17) and then Paris (22nd). After London (on the 23rd), they visit Amsterdam on the 25th and Berlin on the 28th, before returning to Spain for shows in Valencia, Murcia and Seville.
"Because it's London perhaps we'll do one or two more songs in English, but at the same time without losing our essence. We know in our shows there is a combination of local people and also lovers of Latin culture and music. Our repertoire is also very diverse and we like that. I'm sure people will enjoy the show".
The Argentine singer songwriter returns to London after more than seven years.
Thu 23 Nov @ Rich Mix. Tickets https://www.richmix.org.uk/events/music/kevin-johansen-nada
A book which tells the story of the Amazon and its ports-towns near...