Street Art of Latin America
Throughout Latin America street art has been a fundamental form of both personal and socio-political expression for many years. From radical propaganda to light humour, Latin America's abundance of eclectic street art is prominent in the global art scene. There is a predominant influence of indigenous culture amongst many of the greatest Latin American street artists.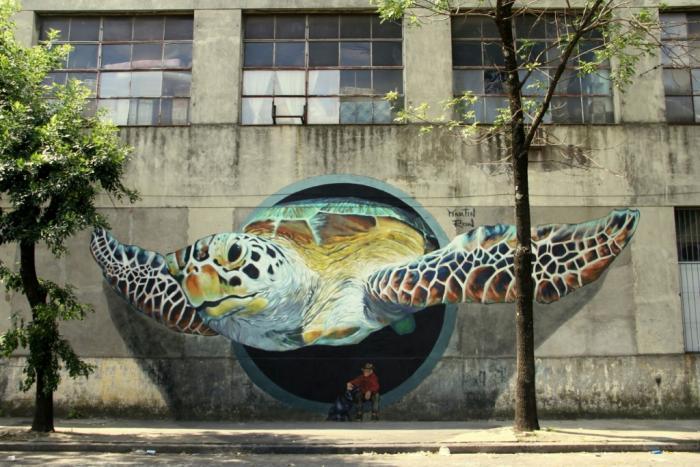 1. Argentine artist Martin Ron's giant sea turtle in Buenos Aires
This mural is one of Argentina's most famous, painted in just four days. Ron's painting of a man and his dog overshadowed by a giant sea turtle is said to be demonstrative of the power of memory. Although it doesn't allude to social controversies, this work is very striking and moving on a more personal level.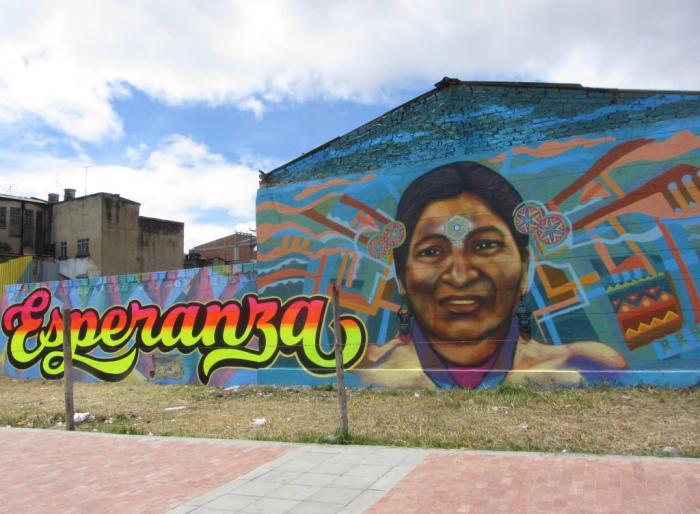 2. 'Esperanza' by Peruvian Elliot Tupac from the Calle 26 street art collection, Bogota
Elliot Tupac is known for his 'chicha art', a form rich in traditional aesthetics, demonstrating the true existence of indigenous culture which is often neglected as a part of modern society. His work exhibits the wealth of the indigenous identity, often juxtaposing urban and rural Peru and indigenous and foreign influences. He uses the pseudonym 'Tupac' in reference to both the Incan monarch, Tupac Amaru, and the indigenous revolutionary Tupac Amaru II.
3. Escadaria Selarón (Selaron Steps) by Jorge Selarón, Rio de Janeiro, Brazil
The mosaic on the 215 steps that make up this famous Brazilian landmark was a tribute from Chilean-born artist Jorge Selarón to the Brazilian people. Selarón was found dead on the steps in January 2013, having spent 20 years of his life creating them.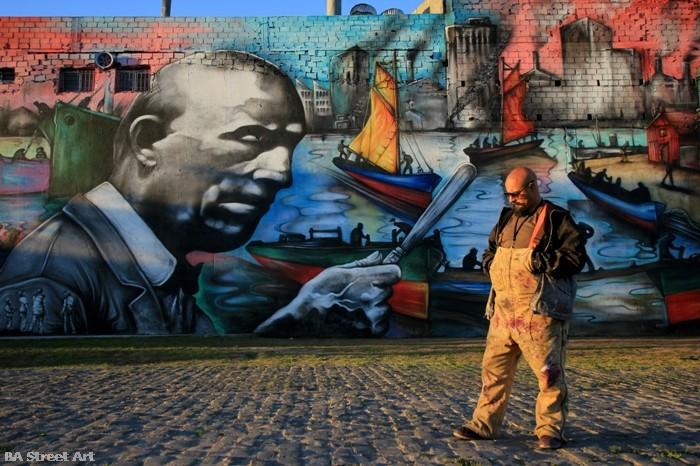 4. Argentine Alfredo Segatori's 'El regreso de Quinquela' (The Return of Quinquela), Buenos Aires
Segatori's mural has become the longest in the world since he started the project (which he is still working on today) in June 2013. It features the Argetine painter Benito Quinquela Martin and covers more than 2000 metres squared.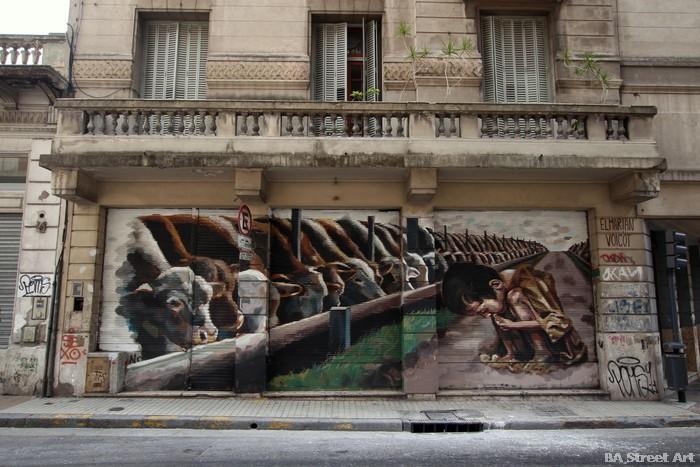 5. 'Los juegos del hambre' (Hunger Games) by El Marian, Buenos Aires
This animal rights mural relates to the food industry in Argentina in that it is a depiction of the mass grain production used to feed cattle, the meat of which is then used for human consumption. El Marian's work is influenced by current issues and controversies within Argentine society and culture.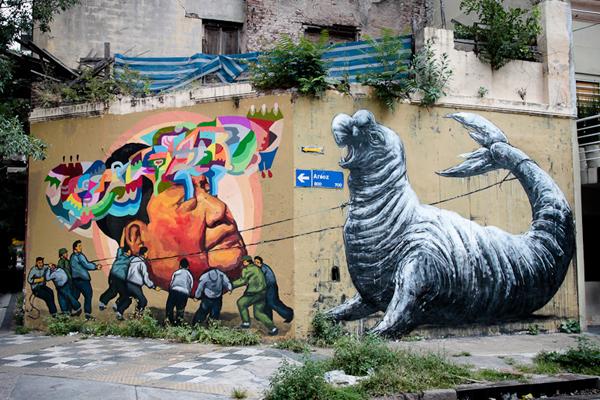 6. 'The People Feed Communism to the Beast' Roa and Ever, Buenos Aires
This mural features Chairman Mao, metaphorically representing Communism, being fed by ten workers to an elephant seal. Ever uses his work to reveal themes of political corruption and unrest, often alluding to characteristic features of Communist China and its propaganda within his painting.

7. Street artist Inti's work in Valparaiso, Chile
Inti combines surrealism and local issues to create this distinctive style of street art which has given him one of the most recognised names amongst street artists of the world. Inti's work is inspired by the combination of the cultures of pre and post Spanish invasion of Latin America.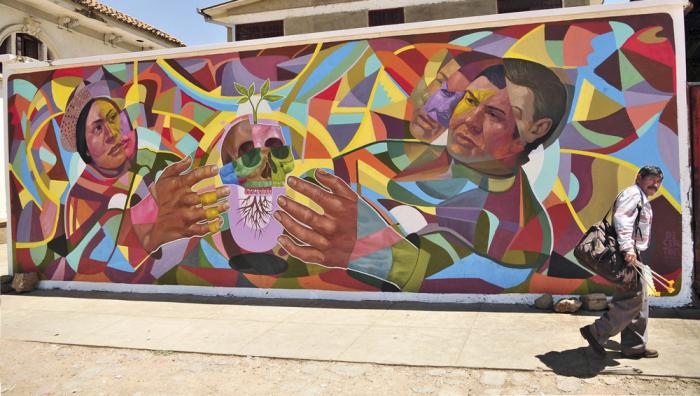 8. El Decertor's 'Reconstruccion', Cochabamba, Bolivia
El Decertor incorporates aspects of Peruvian folkloric traditions such as surrealism and prints from ancient textile designs into his murals, often combined with images of Lima's gangs. The bright colours used in his murals also reflect the wealth of culture within the indigenous society, which is often repressed by more dominant global cultures such as Spain (since the invasion of the Americas) and America.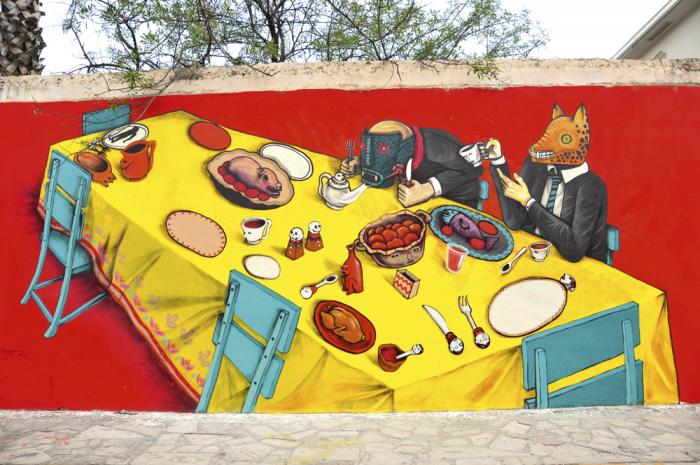 9. Saner's 'El pueblo está para servir', Monterrey, Mexico
Saner's work is the epitome of the Mexican mural. Far from the globalised graffiti that dominates cities all over the world, Saner's murals incorporate an amalgam of Mexican elements and folklore with a hint of humour.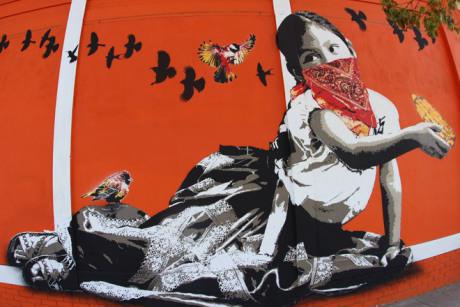 The Lapiztola Collective, Oaxaca, Mexico
Rosario Martinez and Roberto Vega form this street art group from Oaxaca in Mexico. Their work has spread much further than their hometown, expressive of issues from drug trafficking to the disappearance of children. They also focus on the Mexican Identity, as seen below, where a man washes off the stripes of a donkey pretending to be a zebra:
Cuba's natural setting, with its own historical and cultural...