SVICHED ON
New York-based playwright Caridad Svich has created a fascinating body of plays, picking up some of the most prestigious awards in the process. In the UK to give a Masterclass on Writing for Stage and Screen at the Royal Central School of Speech and Drama at Swiss Cottage, and for a reading of her new play the Red Bike, Latinolife talks to the Argentine–Cuban-Croatian about the creative 'light switch.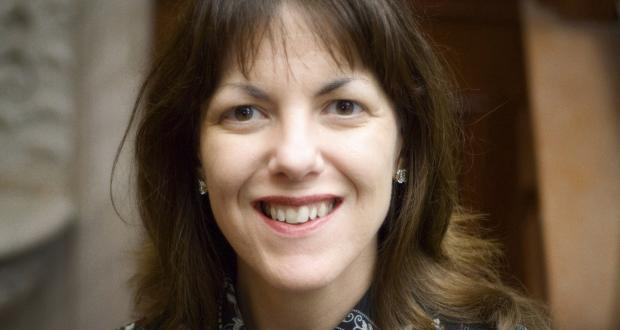 Caridad Svich's lastest play, The Red Bike, tells the story of an underprivileged girl in the USA today, who finally owns the red bike she has always wanted. With difficulty, she keeps her imagination alive, and dares to hope and daydream in a society that is consumed by consumerism itself.
Caridad herself discovered her talent for playwriting at the early age of 14, she says, thanks to an English teacher in Junior High who spotted her talent through her short-stories. To her surprise, her teacher challenged her to write a play, "because your short stories have a lot of dialogue". The rest is history. In 2011, Svich was awarded the ATCA Primus prize for her creative adaptation of Isabel Allende's The House of the Spirits, then in 2012, she received the OBIE Lifetime Achievement Award among others. But it is interesting that Caridad's current play reflects this age, when the light-bulb was 'swiched on'
"After my teacher said that I went to the local library which was… highly unusually for a Public Library in that it had an incredible drama section. I started reading ten plays a week…reading and reading … I got hooked that way…especially realising that there is no one way to write a play, which was exciting. I loved how the form kept on changing over the centuries, whether you read Euripides of Tennessee Williams…I realized it is very sturdy form, as elastic as it is, and its engagement with the audience can be so multiple…[with] all the things the different characters can do on stage, [and then, the challenge on] how to create that three - dimensional thing."
Interestingly, her earliest work which gave her a good credit score towards her grades at Junior High, also touched on subjects that would remain active concerns with Svich throughout her career.
"Looking back on it now, [that first play] has a lot of the seeds of what I am still thinking and writing about. But [at the time] I put it back in the drawer and thought: Oh, she's wrong, maybe I should want to be an actress."
This idea took hold, despite the fact that she was enjoying herself a great deal writing plays for herself and her friends to play in, just for fun. She could not see in herself what others could already see in her.
"One of my professors who was looking at my application form said:" Oh, you are writing like you're a writer", but I said: "Oh no, no, no, no… this is just something that I do". But then in the second year of undergrad I entered a national contest for plays, and the remit was : "Half of the roles have to be for women!" I thought: "I can write that!" so I wrote my first full-length play and it won! It was a national contest, professional, and career people were writing and I was floored… and they said they would do the play and fly me out… so I went to see the play in Baltimore and felt very VIP: "Ooh, it's me, my play!"… there was the amazing moment, the realisation that is it me on the stage but I do not have to be there."
Her work covers many areas, but there are, nevertheless recurring themes and philosophical concerns that remain constant: -
"One of the things that I have thinking about…is representing characters that often do not get to be seen on the stage, so one might call them marginalised voices, especially the voices of people from the lower middle class, the working poor, and finding ways to make stories about them that are heroic in some regard with flaws and everything. … in contrast to that, because I am a writer of extremes, there is another side to my work which is about the decadent rich, a more scathing and savage side of my voice that comes out then… it has extended to an examination of brutality and cruelty and why, why people are cruel to each and… what are the mechanisms and systems in place in societies that allow that to occur… my first real play, that won the contest, was about a family living next to a toxic landfill… it was a dysfunctional family play in terms of genre, but related to the idea that the landfill was affecting what was happening in the house somehow."
These strains have been consistent, dealing with humans in the environment, the levels of toxicity and contamination, largely from human-made actions. Sometimes these themes are subterranean but at others they are in the forefront of Svich's writing. Svich is also a renowned translator of Spanish works, which she says has inevitably influenced her work.
"The poetic side of my voice is divided into two strands… I have what I call the brutalist side of my voice, which is very lean and mean and stark, and hard, you know, rock n' roll in its vibe. Then there's the side that is more lyrical. You know I am a translator of [Federico] García Lorca. He is like my friend, so what can you do when you have translated so many of Lorca's plays? They become a part of your body."
As her writing develops, Svich has found that the many strands to her voice are becoming clearer and stronger. There is a form of fusion of those voices, so that whereas before they appeared in different camps, they now appear as in one: -
"In the last five years, have been treating the page very differently …I've gone back to the idea of thinking of the poetics of the white spaces, for example, of how a line break occurs, thinking very much as a poet and thinking of the score, the text, quite rigorously on the page… so that the work has become very…almost like living in an even more liminal state that I would have admitted to myself even 10 years ago. I have always been interested in liminality, as I am already in-between so many different things and this comes out in the work. … I am interested in placing the audience in that space of disorientation … so that we think we are seeing one thing and then it turns on us, and keeps turning on us, even if the world around us seems fixed. "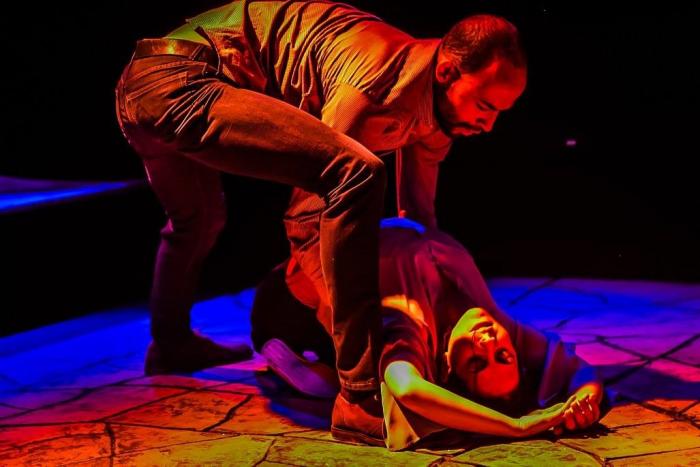 Caridad Svich's Archipeleago November 2016
A characteristic of Svich's plays is the flexibility and the freedom with which she uses different mediums, mixing techniques, even puppets with humans, video, sound and song: -
"I think I got spoiled by Shakespeare and Brecht who mix all sorts of registers in their work …so it does not seem abnormal to me as a writer to think about song and prose and poetry living altogether in a text and dance too, and spectacle … right? A shipwreck as in the Tempest? … I think that it is just a part of theatre and also because I love the ancient Greeks so much and those amazing plays … that also started out as folk song text, and we know that they were already not quotidian, you know, people were grunting at each other across a stage and the element of dance and song was part of it already, so that at least was a part of the roots of Western drama."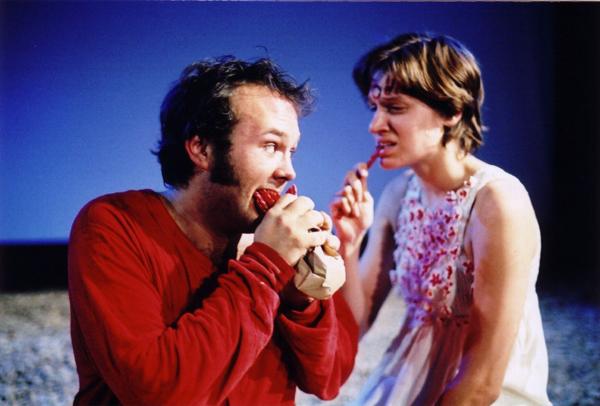 'Anywhere But Here' by Caridad Svich
Having always enjoyed writing songs and lyrics, "for fun" she found she started to incorporate them into her work. It was as if she was responding to Jeremy Irons complaining that serious theatre is ignored in favour of musicals in London today, but Svich uses these mediums freely only if she feels that the subject demands it: -
"…[when] the play may have that in its vocabulary, although some don't… I like them better when they do… because I like to hear the voice lifted in space, which is part of the attraction of music theatre, musicals and opera. There is something emotive that happens to the voice when it is lifted. So even with intoned or chanted text, it has a different quality that reaches us, I think, emotionally in a different way. Theatre is a visceral experience, so having more tools in your tool box, and more ways to tell the story, makes it more fun for the audience so … I do think it needs to be pleasurable when you go to the theatre!"
She is acutely aware that the writer is responding to the age they live in. Today we are surrounded by technology, how does one put that on stage? How does one express that language in use every day and reflect on it without creating a play about skype… which would be dead boring? Svich find it an interesting challenge: -
"I am really fascinated by the language of texting, for example… how it affects the way we communicate, because ultimately plays are about how we communicate… or not…how can we heighten all of that and treat it as a theatrical and transformative experience?"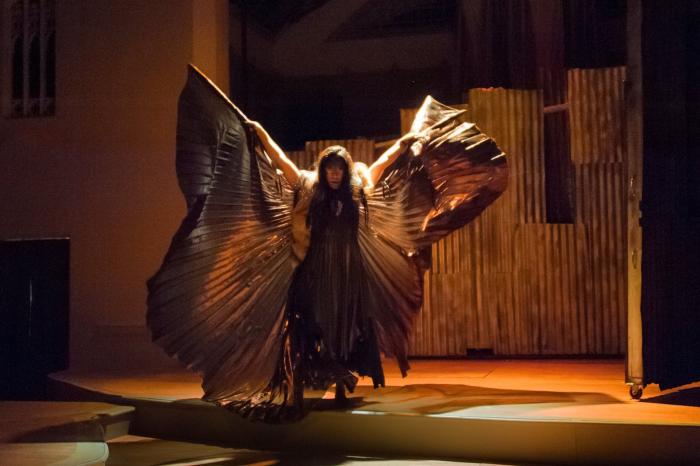 De Troya Cara Mia
One of the biggest challenges of Caridad Svich's career was the commission to adapt Isabel Allende's epic, The House of the Spirits, for the stage. This book was written on a vast canvas with many tonal shifts, scenes that are "…flat out funny, scenes of absolute horror, and they are all right next to each other": -
"I am interested in the ability of being able to contrast images, for example, and … scale… so the scale of a very large video … next to the frailty of the human body! It is fascinating what it does to perception… in the end it's another way to tell a story … in the House of the Spirits … I knew when I was reading the book, which is, you know, a huge novel… that I had to create something that took two hours and ten minutes. I did know that I wanted something that felt right… I asked people: "Do you remember the story?"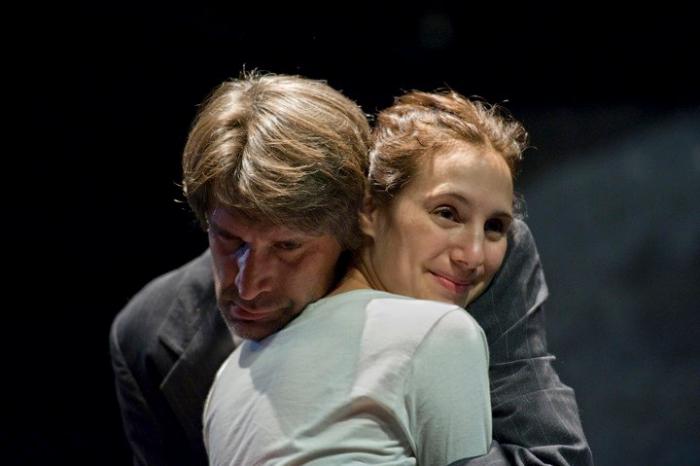 'House of the Spirits' adapted by Caridad Svich
What I kept finding was… "Oh the girl with the green hair… and oh, it's so romantic!" and I was so: "Well wait a minute! It's actually not! Have you really read it? So, I was interested in this nostalgia, this sepia tone quality that people had with this book, but if you read it, it's sometimes grotesque, incredibly violent, sexy…of course, incredibly political … there's incredible brutality in it… there's also playfulness, the range of it is so vast! …
I wanted to recapture that on stage… and take an audience through what can feel like smash-cut kind of shifts. One way to do that is through technological means, also making the space feel magical, because one thing I knew I did not want to do is to fall into the… tricky things of the book, not just the magic realism, but also the fact that one of the characters is telepathic … she can actually levitate things, you know… so I did not want to do any of that. I had seen the film and it was problematic. It puts you into a different space, and I knew I wanted to remind the audience of the pain of the body… which …comes from the letter she was writing to her grandfather. It comes from a place of grief and pain, and also from a place of Alba being tortured in prison, trying to recapture her family's history.
I thought: 'That's the key' … we have to be reminded that it's not all a lovely sepia toned love story, but it's actually about the hard truths that these bodies are living, female bodies under oppression… censorship and dictatorship. I made that the axis of the play… I wanted the space to somehow feel magical and … there is something really cool about projections and the fact that you can't touch them… that's a place that can be the dream world, that can be this kind of consciousness that's floating in the play… so, we could achieve moments of levitation and moments that could be ha-ha horror… in an elegant noire way.
The first line in the book refers to Barrabas, Clara's beloved dog. Most adaptations for stage have eliminated the dog due to the logistical problems, but Svich was determined to keep him in, as she felt the need to honour this, because Allende had made a very specific choice to start her book with the dog: -
"I was trying to think of a way to do the dog. Puppets, I love puppets! …one of the major love stories in that book is between Clara and her dog… I felt that if there was a puppet on stage, it's a clue for the audience that we are not [stuck] with realism … yea… and so they'll know right away that we are in a story… and I love that we become emotionally invested … and we start to think of the puppet as real…and I wanted that sense of transformation from the audience in terms of their relationship to this puppet… So, the world of the play, it starts out in chamber and we think we are in some sort of realistic, 'oh my gosh, people are being tortured' kind of story… and suddenly we shift and there is puppet on the stage… so in terms of these techniques, they are a way of surprising an audience."
Her new play the Red Bike touches on themes that are close to Svich's heart, and it has a political undertone that is relevant to life in the USA today: -
"Here in the United States we are in a very interesting political time, because if you're an artist, everyone is asking you, you know: "What are you writing about Trump? Which I think is a little bit difficult, because of course you can't really write about something, or about a moment, until way, way after it's passed, and even then, it's difficult. Of course, I understand, we're artists and we speak to the moment and that is part of our job, to record and remember. So, one of the things I was thinking a lot about during the presidential campaign, and prior to that actually, were ongoing concerns around lay Capitalism and neo-liberal economics and how it's been taken for granted. I think that with the 'Occupy' movement, and the 'Indignados' movement in Spain, and so many other places around the world, there was a moment when it felt like things could happen… and then suddenly that conversation got stopped. You know, not that people stopped talking, but I think that the larger conversation got squashed pretty efficiently… So, I've been thinking a lot about what kind of legacy will our children have? Right?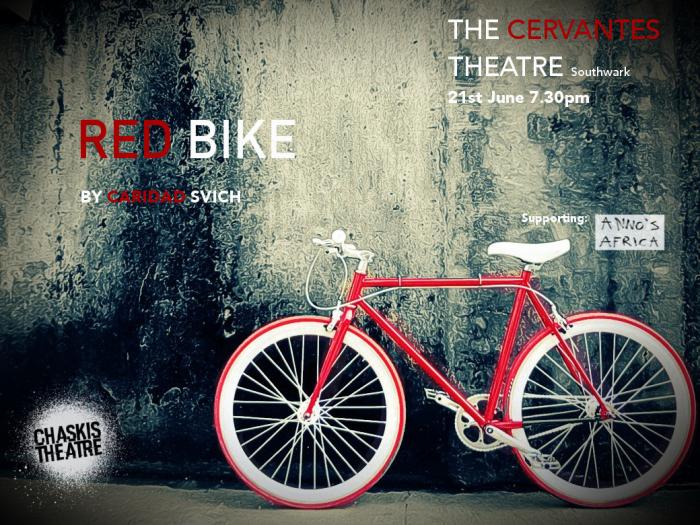 I wanted to put a child in the centre of the 'Red Bike' play. I had never done that before, I don't usually write children into my plays, they are very hard to write…(laughs)… it becomes a casting dilemma and all these things. I felt the need to write from a child's point of view. I felt that very truly, they are the most vulnerable, because they don't have all the agencies, so they are very disempowered. I wanted to write from that place, about someone who is just growing up now, trying to take things in, but not really being sure about what is happening exactly, but still trying to make their way through that… I wanted to place a child in the centre of that, a child in America trying to find hope, trying to live a tolerant ethical life and what it means to be a good citizen."
Caridad Svich can be seen on June 15th 2017 at the (free) Masterclass at the Royal Central of School of Speech and Drama in Swiss Cottage-http://www.cssd.ac.uk/event/caridad-svitch-theatre-hope-and-resistance
For more information on Caridad Svich and her work please see: - www.caridadsvich.com
The Chaskis Theatre is a transcultural theatre company based in London. They collaborate with international artist to encourage empathy across borders. The RED BIKE will have its reading at the Cervantes Theatre on June 21st at 7:30 pm. Please check the Chaskis Theatre website for more event details and dates: http://www.chaskistheatre.com/
Caridad Svich's play publications are available through Intellect Publishers: - www.intellectbooks.co.uk
A book which tells the story of the Amazon and its ports-towns near...