Tango Fire @ The Peacock Theatre
The playfulness, passion and techniqal brilliance of German Cornejo's award winning Tango Fire helped keep the winter blues away for Judy Frankl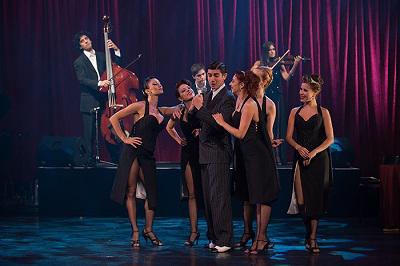 The night I went to see Tango Fire at London's Peacock Theatre coincided with a sudden drop in temperature, and a bitterly cold wind. I had barely peeled off my woolen hat and scarf, when the curtain rose, and I was transported into the sultry heat of Argentina. For the next two hours, four musicians, a singer, and ten dancers mesmerized us with their technical brilliance, playfulness and passion.
The show begins in what feels like a Buenos Aires street scene. The dancers are flirting with each other - the men vying for the attention of the women and trying to impress them with their fancy footwork, with varying degrees of success. The women toy with them, tease them, and play hard to get. The singer sings of the day that he will be loved, but it feels like that is still in the future.
The scene shifts to a swanky night club, the women change into bare-backed sequin dresses, showing off their long legs, which they entwine with their partners. The men may lead the dance, but it is the women, towering over them in their stiletto shoes, who seem to be in control.
If the first half is more playful, the second is much more passionate. One couple after another show off their mastery of the different tango steps and styles, conveying the sensuality of the dance. The men effortlessly lift their partners into the air, holding them with one arm, and then letting them roll down their backs and glide onto the floor. The audience gasped at the sheer audacity of it all.
The four piece band, made up of a piano, bandoneon, violin and double bass, was the beating heart of the show, providing the dancers with the distinctive tango rhythms and syncopation. They played with gusto, as did the singer, Jesus Hidalgo. German Cornejo choreographed the show and led the dancers. He's won the LUKAS two years running for two different productions and rightly deserved the standing ovation that he and his company received.
As I left the theatre and went out again into the freezing London air, part of the heat from the Tango Fire remained with me and helped me stay a little bit warmer.
Cuba's natural setting, with its own historical and cultural...