Tango, Tanguera - an interview with Diego Romay
One of the most popular shows of one of the most popular dance genres, Tango, comes again to Sadlers Wells this summer. Corina Poore talks to famed Argentine choreographer Diego Romay about the history of tango and his show Tanguera.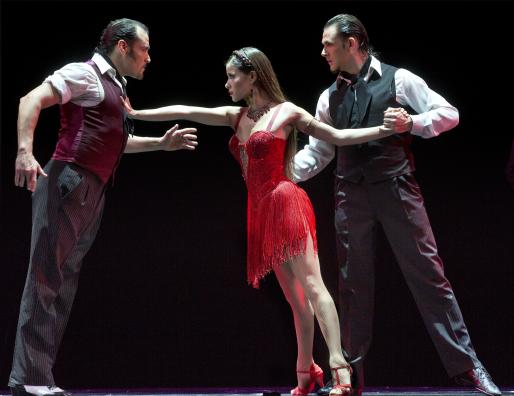 Given the sophistication of Tango dancing today, it is easy to see how its more sordid origins, in the mafioso controlled brothels, has largely been forgotten. Initially installed deep in the docks of the River Plate, namely Buenos Aires and Montevideo, these brothels spread rapidly to other areas of the cities at the end of the 19th century.
Such was the lack of women at that time, that it became customary for men to congregate at these brothels and Tango evolved initially as a dance between men, supposedly developed while they waited their turn, showing off to their 'rivals'. It was therefore, the young urban compadritos, guapos and malevos that would gather in the bars, café's and brothels like the 'Almacén de la Milonga,' and 'El Viejo Bailetín del Palomar', to play, sing and dance these new sounds that developed into the extraordinary music and dance that today is the Tango.
Emerging, as it did, from the melting pot of so many cultures, it is believed the Tango was the result of an eclectic mix of influences from European dances, polkas, waltzes, even with some vestiges of tango Flamenco mingled with African Candombe and Cuban Havaneras.
The original brothels were largely controlled by an infamous clandestine organization called Zwi Migdal, (meaning Great Strength) which had Polish and Jewish origins. Vulnerable people fleeing from the pogroms, in particular young girls, were lured to Argentina with promises of marriage and work. Once they arrived they were enslaved into the sex industry. The mafioso members pretended to be Jewish entrepreneurs who had made good in the New World and were now looking for wives. Many families were happy to send their daughters to what they thought was safety from persecution. The organization recruited largely in Russia and Poland, selecting girls between 13 to 16 years of age. who were then exhibited naked and sold to the highest bidder. At one point, at its height during the 30s, there were over 400 members in this mafia. The organization was finally brought down with a brave girl called Raquel Liberman who managed to get rescued, and proceeded to denounced them. Many fled but a number were captured and, far too briefly, were jailed.
The craze for this new Tango dance took off in the 20s and Valentino famously danced one of the first screen tangos in 1921 in the film 'The four Horsemen of the Apocalypse', with two left feet, and a swaying partner, who looked like she was fainting all the way through, but such was his charisma it still left the ladies reeling.
Initially, this new dance was not acceptable in high society, seen as rather scandalous, but largely because it was unknown. It took a while and the velvet voice of singers like Carlos Gardel to sneak it into the society salons of Buenos Aires, Montevideo, Paris and even New York. Carlos Gardel featured in a film called: "El Día Que me Quieras" (The Day You'll love me), which played a key role in spreading the music to the world. Interestingly, a young Astor Piazzola played the newspaper boy and became a good friend of the family, till Carlos Gardel's untimely death in a plane crash in 1935.
This rich and eventful background to the Tango inspired the originator of Tanguera, Diego Romay:
"This production TANGUERA emerged in 2001, during the worst economic crisis in Argentina. But the inspiration was already within me because I was brought up in a world where the Tango reigned supreme. My father started out as a radio presented with an emblematic Tango programme, later as a TV Impresario he ran one of the most popular and prestigious Tango programmes in the country. Tango was therefore an important part of our family lives and, as a child, I used to love to sing 'Sur,Paredón y Después' at our family gatherings. This all began to take shape when, later, I met the choreographer MORA GODOY with whom I began to develop the idea of a different form of spectacle. Until that point, Tango shows consisted largely of quintets or sextets of musicians, with a few dance couples creating dance vignettes. But there was no attempt to tell a story… so we decided to create a ballet or musical comedy of tango."
Mora Godoy is considerable one of the utmost authorities on Tango. She started out in traditional ballet and moved over to Tango being the lead in the popular Tango X2 that toured the world.
Having travelled to London in 1998, Romay was influenced by the inventive work of Mathew Bourne and the way a theatrical language could be transferred to the world of dance. His association with Mora Godoy and the influence of one of his university lecturers were both key to the development of this production: -
"I was studying film at the University in Buenos Aires and my screenwriting lecturer was Dolores Espeja, [whose short films include 'Cuchillo de Palo' and 'Interior-Noche']. When I told her my idea for the show, she challenged me to write the script myself. Initially I did it to improve my grades for the course. With Dolores' assistance we eventually completed the project together… I then met Mora Godoy [the choreographer] through a friend. At the time, she was the prima ballerina in another show called Tango for Two, by Miguel Ángel Zotto…. We worked together and completed the idea, and then we had to go out and find a director who could understand the concept of this kind of show and we enlisted Omar Pacheco, and Gerardo Gardelín as composer."
Omar Pacheco was an interesting choice, being an innovative and well- known experimental director who had set up an experimental laboratory for original and experimental theatre. Some of his works have been performed at major festivals around the world.
The choice of the music was not arbitrary. It was not a case of just getting a long list of tangos. They realized that this show needed specific tangos that would fit into the story, so each theme had to relate to the structure of the narrative. There is no dialogue in the show, but there are three songs, [composed by the famous Eladia Blázquez] that, in the manner of a Greek chorus, relate moments in the lives of the main protagonists.
"It was very interesting, as the main contributor to the music was composer Gerardo Galderín. He worked on all the original material that connect the scenes, like sonic bridges that thread through and link up the more traditional and historic tangos. We needed this original music and Gerardo developed it for us."
The narrative Romay developed is strongly based on all the fascinating historical facts from the early Tango period.
"I wrote the story of Giselle, using information from the history of what was a clandestine organization at the beginning of the [20th] century, known as Zwi Migdal. This mafioso group took girls hostage and put them to work in brothels and cabarets. There Giselle meets Lorenzo [Esteban Martin Domenichini]. We could agree that this is a universal theme, it is a predicament faced by so many young girls from Eastern Europe that, even today, are forced to work in brothels over Europe. In Latin America, this applies to many young girls from Colombia and Panama."
Diego Romay was very astute in picking top quality dancers for this show, so it is that the main protagonists Melody Celatti and Esteban Domenichini have been with Tanguera since the beginning.
"On the whole, the main corps is constant, some come and go according to other commitments as some also work for other dance companies, and others have family pressures, so we are constantly doing 'castings' and searching for new talent, but Esteban and Dabel [Zanabria], the two male protagonists and Melody [Celatti], have been with us for a long time now."
These dancers, top performers in their own right, also gained fame working with other groups of tango: Domenichini, with the Ballet Arbolada, the Ballet Llavallol, and through collaborations with Soledad Pastorutti, the singer, who is famous around the world having also appeared at the Barbican in London. Zanabria, who has participated in the enormously popular National Folklore Festival in Cosquín, also danced for the Ballet Brandsen. He has also choreographed other works such as Mala Sombra (Evil Shadow) with Omar Pacheco who is the director of Tanguera. For her part Melody Celatti began by working with the choreographer Mora Godoy, who developed the dance routines of Tanguera with Romay. Celatti won the Tango World Championships and has worked all over the world including Japan where it turns out all forms of Tango are hugely popular.
The bold originality of Tanguera mesmerized the early Argentine audiences despite the political and economic turmoil of the time: -
"The most interesting thing is that Tanguera opened [during the great economic crisis of the Corralito in 2001], while it was at its height. Yet, it was a show that broke all records with its amazing success. People had their money trapped in the banks and yet, somehow, the theatre was bursting at the seams every night and it was like a celebration! Every day, we were more & more amazed to see the numbers of people that came. It seemed like madness, to open a show in Argentina at that time! Its success was so unexpected that it rapidly gained notoriety in the rest of the world, because the correspondents who had been sent out to monitor the economic crisis could not believe that a tango show could work in the middle of such a default. Almost immediately I began to receive notifications and letters from Europe from people interested in the show and that it how it all began."
Romay feels that all shows have a shelf life, and now it is already 16 years since it was launched, but he has kept it going as there are areas of the world that they have yet to explore. He is, also, already working on a new project based on the rich tapestry of Argentine folk dance, including the chacarera, the Gato, the Pericón and other dances. We can only wish him well with this project!
TANGUERA will be at Sadler's Wells from Wednesday July 19th – Sunday August 6th. More information and tickets here
Cuba's natural setting, with its own historical and cultural...
From garage parties in Panamå to the awards ceremonies of Miami, how...