Tapas Revolution, Shoreditch
Madrid meets Shoreditch with Omar Allibhoy's new cocktail-infused menu at Tapas Revolution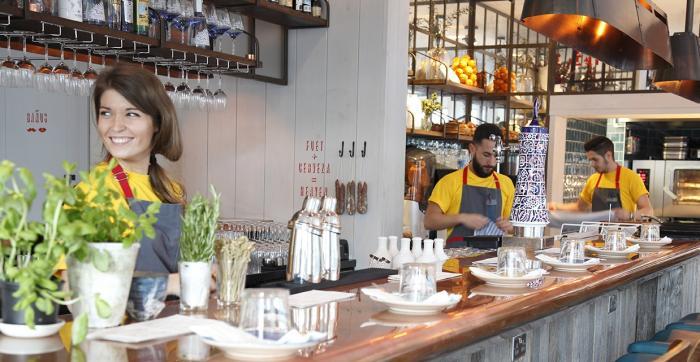 There is a distinct feeling of walking into a regular bar in Madrid, when you enter Omar Allibhoy's Tapas Revolution in Shoreditch. It's a subtle thing; the starker- than-usual lighting, the slightly 70s feel, and the high tables and stools in the middle of the floor. Yup, you can tell this place is owned by a Spaniard.
Allibhoy has gone Shoreditch native, however, in a new collaboration with his Brick Lane neighbours, The Cocktail Trading Co, to create a cocktail menu of classics with a Spanish twist. Being a Kir Royal girl, I couldn't resist trying the Blood Orange & Cherry Royal, a blend of Larios gin, blood orange, aguardiente de cerezas, pimento dram shaken with lemon and topped with Cava. Christmas holidays hadn't quite finished after all.
With the Tapas, we returned to classic Spain, with delicious ham croquetas, and perfectly cooked Pulpo a la Gallega (octopus in oil, garlic and paprika). It was time for a good glass of Spanis house red. In the absence of the merluza (monkfish in samphire and cava cream sauce), we went for the classic Calamares fritos and the more adventurous Vieiras gratinados (Scallops in béchamel gratin), and for veg we chose Berenjenas fritas (fried aubergine) and spinach and goats cheese empanadas. Though all delicious, it was a slight reminder that when ordering tapas, its important to control one's excitement and also go for some less greasy options.
Having said that, this moment of guilt didn't stop me ordering my favourite sweet, Churros and Chocolate. Yes it was definitely a case of let's live today, in joyous pursuit of a heart attack. Never mind, I hadn't made my New Year's resolutions yet, and it was all So good!
I hadn't finished yet. With it being so cold outside, surely one could be forgiven for ordering an after dinner pick-me-up in the form of an Espresso Blanco Martini - that's brandy shaken with espresso, dark chocolate liqueur, Kahlua and Frangelico. Carpe diem, indeed. Resolutions start tomorrow.
Tapas Revolution Shoreditch
58 Bethnal Green Rd, London E1 6JW
T. 020 7729 3330
Cuba's natural setting, with its own historical and cultural...