TOP TEN Marc Anthony Salsa Hits
It's not often that a huge Latin star visits London (let's face it, they don't need to), but in July the capital is graced by the presence of Marc Anthony, the king of modern Salsa, who is so big in Latin America that US pop stars line up to duet with him to capture the Latino market. One ambitious lady called J-Lo went further and married the guy, and another presidential hopeful called Hillary insisted on sharing his concert stage. Now, post-flirtations with pop and politics, Marc is back to doing what he does best. Here are his 10 best Salsa singles.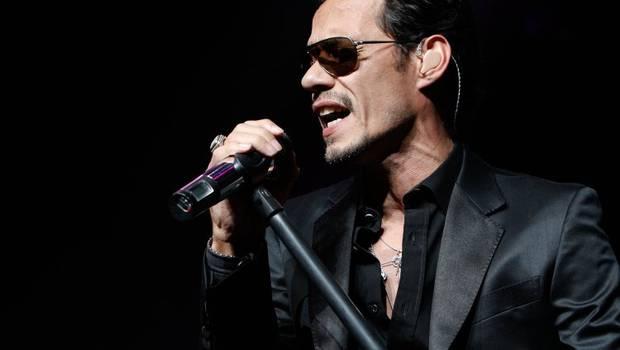 Hasta Que Te Conocí
A cover of Mexican singer-songwriter Juan Gabriel's classic tune, this was Marc Anthony's first ever Salsa recording. The song was already a hit across the continent but Marc Anthony's version made it a nightclub anthem all over Latin America and kick-started his career as a Salsa artist. We suggest you close your eyes to avoid the disastrous styling and just listen.
Vivir lo Nuestro (duet with La India)
Marc Anthony and La India knew each other from the New York House Freestyle scene. India's husband, legendary House producer Little Louie Vega (and nephew of Salsa's most famous icon Hector Lavoe) was also Marc's producer. A love version of the song was part of the seminal album La Combinacion Perfecta that made both artists international superstars. Unfortunatly Marc still hasn't had a hair cut and looks like a geek prematurely released from the science lab, let alone worthy of singing along side the diosa that is La India...but the astounding vocals of both and the perfectly perferct combination is very forgiving...
Nadie Como Ella
Now we're talking! With new improved hair cut and pop star looks this is one of his first solo hits and probably the track that defined Marc Anthony as the Salsa superstar. From the album Todo a Su Tiempo, this hit not only solidified his relationship with producer Sergio George, but it was also Marc Anthony's first big global hit as a solo artist.
Contra la Corriente
The song that gave the name to the best-selling Salsa album of all time, finally beating the record held since 1978 by Ruben Blades' Siembra. It took 20 years for that record to be broken and it put Anthony on a different league to all the other Latin artists.
Y Hubo Alguien
Also part of the Contra la Corriente album, this was the first single of the album and was awarded two Billboard Latin Music Awards and Lo Nuestro award. The first ever Salsa song to become number one in the Billboard Hot Latin Tracks chart.
No Me Ames (duet with J-Lo)
Long before the couple became an item (J-Lo was with Puff Daddy), and from J-Lo's album 'On the 6', this was Sony's attempt to push J-Lo in the Latino market. It worked, cementing J-Lo's position as the new Latina Diva in the USA, and Marc as the go-to artist if you wanted to reach the Latin market.
Valio la Pena
After a break from Salsa, as he ventured into Pop, Marc Anthony came back stronger than ever with Valio la Pena, an upbeat dancefloor filler that set clubs alight all over the world. It was the first cut of the album of the same name, which won Latin Grammy for best Tropical album in 2005
Tu Amor me hace Bien
From the Valio La Pena album, this feel-good song is still one of his biggest club and radio hits around the world, showcasing Marc's powerful yet tender voice.
Vivir Mi Vida
His latest Salsa hit. A version of the song, C'est la Vie by Algerian Rai superstar Khaled, it's been a massive success across the whole Americas, with a whopping 380 million YouTube views.
La Gozadera
First Reggaeton song by Anthony, joining forces with Cuban band Gente de Zona. A club track that talks about the enjoyment of being Latino. With 320 million views on YouTube and top 10s all over the world, from the USA to Romania, this is a song that will be sang and danced for years to come. And as for the dodgy styling? The dude has come along way since the geeky scientist of yesteryear, but musically the quality has always spoken for itself.
Marc Anthony will be performing on 10th July at the O2. For tickets: www.theo2.co.uk/events/detail/marc-anthony