Top Ten Mexican Pop Bands Ever
Mexican pop has produced some of Latin America's most succesful bands. Whether British and US influenced bands or the indigenous groups creating innovative music styles and of the 'Rock en tu idioma' movement of 1980's, they are bands that have all inspired the current generation of Latin American New Wave pop. Here are our Top Ten
by:
Luis Alberto Perez Sanchez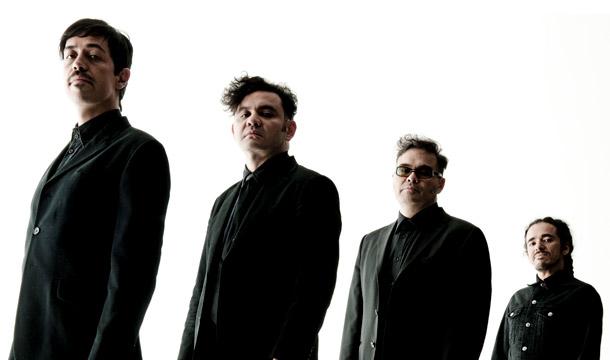 1.- Caifanes/Jaguares.
The quintet that became reference for the new wave pop of the 1980's in Mexico. Heavily influenced by KIng Crimson, Los Caifances was a hybrid of British new wave, progressive rock, and Latin percussion underscored by deep, somber, and Latin American-Mexican-Spanish influenced lyrics and the vocal style of Saúl Hernández. It was the first Mexican Rock band to sell out two shows at Mexico's Auditorio Nacional (National Auditorium), a 10,000 person venue.
2.- Cafe Tacuba
Possibly the most famous pop band in the last decades. They made the sound of Mexico's indigenous folk music mainstream and became a huge success in Latin America and the US with a unique sound that became a genre in itself. Perhaps the most distinctive feature of their music is Albarrán's nasal voice, which, combined with his impressive lung capacity (as demonstrated on "La Ingrata", a homage of norteño music), makes for a very distinctive sound. They sing entirely in Spanish but have a significant Anglophone following regardless.
3.- La Maldita Vecindad.
Mexico City's favourite band with an explosive mix of ska, rock and traditional Mexican music, they became one of the most influential groups. Their best album El Circo (1990) has truly become a classic piece in local music history.
4.- El Tri.
The grandfather band of Azteca hard rock and blues, heavily influenced by the Rolling Stones and other 1960's British groups, they have been playing for more than 4 decades and still going strong.
5.- Mana.
Countless awards have been given to this record breaking group all over Latin America and the United States. The best selling Spanish-language rock album of all time (¿Dónde Jugarán Los Niños?) is their masterpiece.
6.- Fobia.
Another 1980's created quintet that captured the imagination of many music fans with fresh lyrics and innovative combination of pop sound.
7.- Botellita de Jerez.
The kings of satire in modern Mexican music, gained fame and fortune with their unique guaca-rock style (a mix of guacamole and rock).
8.- Tijuana NO!
Under the lead of vocalist Julieta Venegas, this ska and punk band made had huge success in the early 1990's with their rebellious lyrics and powerful performances.
9.- Panteon Rococo.
Another fine example of a ska and punk musical mixture with some mariachi in between.
10.- Zoe
One of the newer bands in Mexican pop scene and also the most successful one. With a well defined progressive rock sound, this quintet has gained audiences in several Latin American countries. They have been received several awards for the extensive sales of their 5 albums.
Corina J Poore marvels at an enchanting documentary about the...
Discover the Latin history of Hollywood, as we turn the spotlight on...