The Trailblazers of Latin Hit-Making
From Perez Prado to Carlos Santana, in our series of articles on Latin-hit-making in the UK, we recognize the heavyweights from Latin America and the Latin diaspora, whose music reached the global market place far before its time.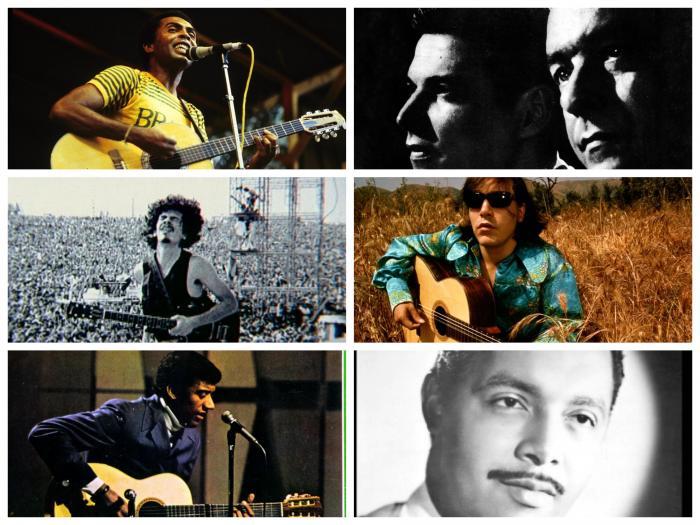 It would be a crime to talk about Latin hit-making history without mentioning the precursors of Latin music on foreign shores. When the Latin diaspora in the UK was invisible, underground in the US (being cleaners and service workers to a predominantly white audience) and when anything in the Spanish laguage was still considered a bit absurd or comical, the following singer-songwriters blasted through prejudice with their sheer talent and song-writing prowess. Their music would be used again and again by others, in order to make hits of the future.
Pérez Prado (Cuba)
A titan of Latin music, the Cuban bandleader, singer, pianist and composer pioneered the Mambo craze that took over USA in the 1940s and 1950s. Known as the 'Mambo King', his Latinized version of the French song 'Cherry Pink and Apple Bossom White' made #1 in 1955. Fifty years later Perez hit the #1 spot again, post-humously, when a German dressed up as him recorded his Mambo no.5.
Antônio Carlos Jobim and Vinicius de Moraes (Brazil)
Brazil's Lennon and McCartney, this bossa nova duo wrote some of the greatest songs that emerged from Latin America. 'La Garota de Ipanema' (The Girl from Ipanema), released in 1964 in Portuguese, by Joao Gilberto accompanied by Jazz saxophonist Stan Getz became a hit worldwide hit and reached UK #29 in the UK, unprecedented for a jazz track in a foreign language. It is believed to be the second most recorded pop song in history, after "Yesterday' by The Beatles, including by Amy Whinehouse.
Jose Feliciano (Puerto Rico)
Blind and Latino in the age of segregation, the odds couldn't have been more stacked against this supremely gifted Puerto Rican guitarist and singer-songwriter. Yet, back in 1968 Jose Feliciano had not one but two hits – 'Light my Fire' and The Sun will Shine' and then later another 'Feliz Navidad', which is still one of the most played Christmas songs ever. These hits rendered Feliciano a household name, which led to him being the first Latino to be invited to play the national anthem at the 1968 World Baseball Series. Despite the beautifully unusual rendition, it was too much for inevitable some racist viewers and commentators, whose inevitable backlash severely damaged the Latin American's career. Feliciano was saved by the fact that every big artist at the time continued to queue up to do duets with him and be touched by his genius. He remains an icon for serious music lovers, including Jools Holland, who has invited the legend to be part of his current UK tour and has recorded an album with him.
Jorge Ben (Brazil)
Everyone will have heard 'Mas que Nada' whether on an advert during the world cup or watching the animated film classic 'Rio.' The song has been a hit time and time again; from when originally recorded in 1962 (#34 in the US) to #4 in 1996 (US) with Sergio Mendes's version. While it's author Jorge Ben has been a prolific hit maker in Brazil, this song has been climbing the worldwide charts in different versions. Echobeatz reached #10 with a house version of it in 1998, and when Black Eyed Peas got their hands of Mendes to make the latest version it hit #6. No doubt it'll make no.1 one day, meanwhile we hope the song has been making Ben some nice royalties.
Carlos Santana (Mexico)
The Mexican-American guitarist emerged from the legendary 1969 Woodstock concert to become one of the first Latino crossover artists. Many consider Santana's perfromance of "Soul Sacrifice".to be the finest of the entire Woodstock Festival. By 1975 he had had multiple hits in the US such as 'Oye Como Va' and 'Black Magic Woman' and was already charting in the UK with his timeless 'Samba Pa'Ti.' Decades later 1999 album 'Supernatural' delivered several #1 hits in the US and 3 top 10 UK hits, including the megahits 'Smooth' and 'Maria Maria.' Recently, the guitar legend's instantly recognizable guitar riffs were recruited by make the global and UK #1 hit 'Wild Thoughts' for DJ Khaled feat. Rihanna and Bryson Tiller.
Gilberto Gil (Brazil)
A superstar in Brazil, this singer, musician and politician was exiled in London, and became a great influence on the underground music scene in London, together with Caetano Veloso. This was recognized a decade after he left the UK in a rare charting foreign language song 'Toda Menina Baiana' back in 1984. Check out this footage of his live concert in London at the time and you can see why one rare top hundred phenomenon might have been created by this event alone.
See our other original articles in the series of Latin Hit-making
Feature: Just Another One-Hit Latin Wonder?
In his film X500 (2016) Colombian-Canadian director Juan Andrés...