Transformed by Scent
Amaranta Wright enters the world of Ramón Monegal, the legendary Spanish perfumer now celebrating 100 years of a family in fragrance, and emerges transformed.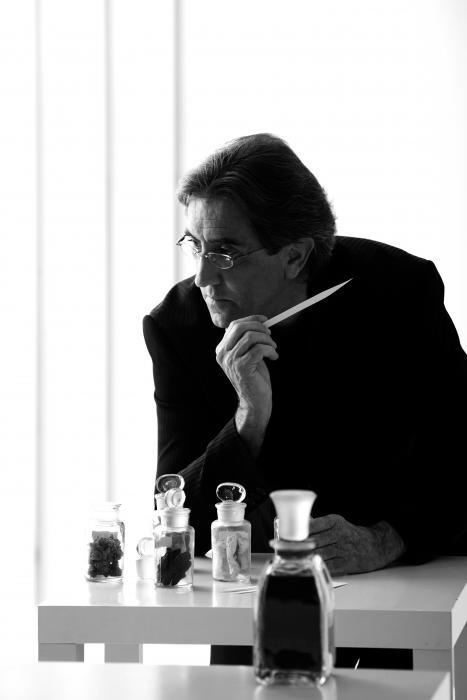 "Fragrance is not only about the quality of the ingredients, it is about the value of those ingredients," says Ramón Monegal, in soft Spanish. As if inhaling the quizzical gazes of his English audience, the elegant veteran explains. "For example, why is it that a certain flower attracts a particular bird or insect? Because its properties contain that purpose. It is nature's gift, its meaning and its magic, that we seek to capture."
I have never heard anyone talk so passionately about smell. Flanked by his two children, under the white blossom of Close Maggiore's inside garden, this fourth generation perfumer of the Barcelona based House of Myrurgia - appointed supplier to the Spanish Royal House - seizes his audience like a scientist, locked up in the laboratory for years, finally escaping to talk about his greatest inventions.
To celebrate the centenary of the Monegal family's history in the perfume industry, we are passed the notes of the maestro's latest masterpiece – FIESTA - a limited-edition unisex perfume, which he launches under his own brand, Ramón Monegal.
As the intense experiences of olive tree, red rose, leather, vanilla, smoke and amber pass under our nostrils, Ramon reminds us that scent unlocks our most primitive instincts. We are lured into his parallel universe, that is both primeval and sophisticated.
I close my eyes and inhale the note of leather. Suddenly I'm transported into a memory of the horses whose moist and musky torsos I lifted leather saddles from when I was young – a smell that was so delicious and intoxicating to me, it was almost erotic.
Monegal's subtle yet evocative compositions are a stark contrast to the fashion and celebrity brand perfume world that we are familiar with – sterile duty free lounges, bombarding us with their cheap scents.
"Babies smell before they see," he says. "Sniffing for their mother's milk." An irresistible whiff is more enduring than a visual impression, it rouses the senses, awakens curiosity, magnetically attracts. As Michael Donovan, Monegal's charming PR agent laughs when I confess my reaction to FIESTA's leather note: "Of course, perfume is about Sex!"
Enter the beauty of Ramón Monegal's world – as I did that summer morning, and you understand why his children (the 5th generation) stand proudly by their father, whose years of training in Geneva and Paris have transformed taste into art. Why FIESTA? I smell the combined notes and shut my eyes. Of course. Fireworks. Stars. Cinderella ball. The Great Gatsby. The million-dollar dress.
FIESTA and other Ramón Monegal perfumes are available exclusively at Harrods www.harrods.com
In his film X500 (2016) Colombian-Canadian director Juan Andrés...