Treating Trauma with Art
Amy Draper is a bold, young theatre director whose innovative production 'These Trees are made of Blood' – a musical cabaret about the estimated 30,000 people murdered by Argentina's dictatorship (1976-1983) who then pretended they never existed - has raised eyebrows, generated applause, tears and some controversy. Argentina's 'disappeared' and the mothers that tirelessly looked for them and demanded answers, came to symbolize one of the most traumatic periods in Argentine history. So how did an English director dare to write a musical cabaret about it? Latino Life found out.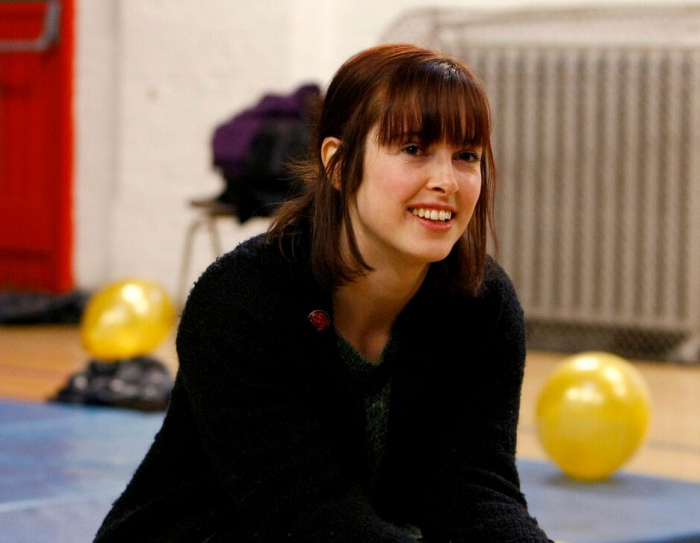 When Mehmet Ergen and Leyla Nazil, directors of the Arcola Theatre, went to see These Trees are made of Blood at The Southwark Playhouse, they were blown away. "Being both Turkish, they have had personal experience of this kind of trauma as well, so they felt a very personal connection to it," Amy Explains. And now the cabaret musical set in Argentina's dirty war, which would no doubt be highly controversial if ever performed in Argentina, has a month at the Arcola.
For someone whose achieved quite some success in theatre production and directed a great variety of work, from a take on Shakespeare plays to an interpretation of a Buñuel short, it's surprising that Amy Draper says she never started out with the idea of becoming a theatre director: -
"I went to Leeds University to do Spanish. I had also been to Drama School, but a very long time ago! Then one day, I had an idea for a story I wanted to see on stage, and I couldn't persuade anyone to direct it at University, so I just said: "Oh, Okay, I'll give it a go!" It was an adaptation of 'Un Chien Andalou', the first Surrealist film, with Luis Buñuel. Basically, they created that piece, which is very short, about 10-12 minutes, by telling some of their dreams and putting them in a random sequence on film. Even though you know that it's random, you can't help but to try to put stories together. So, we did that as an experiment on stage and it then went on to the Edinburgh Festival.
"I discovered the joy of taking an idea from seed. That moment in your living room when you think: "Oh wouldn't it be good to tell a story about a mother of a 'disappeared' but using Cabaret?"… and you think, that's crazy, and then five or six years later, you're sitting in the audience watching people with their hankies at the end and you think, that is why we did it!"
The initial idea for 'These Trees' grew out of a trip that Draper did to Argentina in 2006, while still a student, as part of a Spanish degree: -
"But I wasn't a theatre director then, so I wasn't thinking about making productions. I came across the 'mothers of Plaza de Mayo' because I had to walk through the square on my way to the University. They were gathered there every Thursday and so I learned about them. But then I put it aside, and it wasn't until quite a few years later that I remembered them, when I was working as a director in London, and I wanted to tell something about their remarkable story of endurance and hope, etc. That was when we started to get together [with Darren Clark and Paul Jenkins] to work on the concept. So, then I went back in 2013, for a more focused research period.
"I spoke to the Mothers, went to ex- detention centres like the ESMA, [Naval Petty-Officers school of Mechanics], and visited other cities that were most affected like Córdoba and spoke to many people, mainly those who were anti- the dictatorship, but also people from right-wing families who had been involved during the dictatorship and those conversation were more difficult, but also interesting. I read loads of books, one called a 'Lexicon of Terror', and another one about the death flights, where they dropped the 'diappeared' out of planes into the sea… I spent a long time really, assimilating, not only the factual side but also the emotional side of it, because, ultimately, our Mother is a fictionalized mother, our general is also fictionalized; he is not Videla, so it was all really about learning how it affected people on a human level and then translating that into Drama."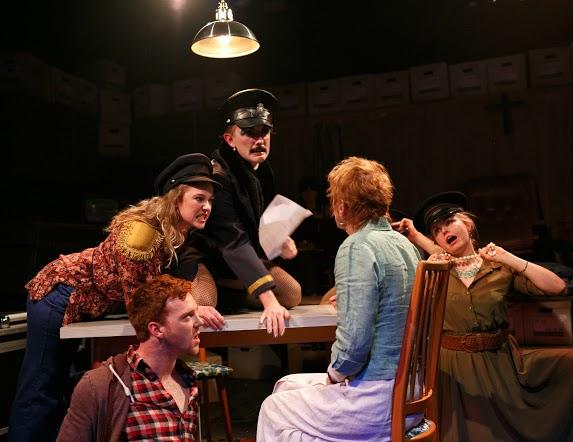 Draper is noted for bringing a freshness of approach and likes to develop ideas through workshops: -
"I prefer being in a room with people and trying things out live because if you write things down on paper, they might sound brilliant in your head but then the minute you put them on stage you think: "Oh that's a terrible idea!
"The rehearsals are as interesting to me as the performance. One of the tricks of being a Director is filling the room with people who are experts at what they do; you surround yourself with people who know what they are doing. Then the performance itself is also an evolving, live thing. It changes and adapts, according to the audience. And Cabaret is even more alive and responsive to the audiences reactions and participations. That is probably why I do it, I think."
Using a Cabaret format on 'These Trees' caused a lot of controversy, but right from the start Draper felt that it was the way to go, to tell this particular story: --
"What really struck us about the research, into, not only this dictatorship, but dictatorships in general, is the idea of cover up, manipulation and coercion. People not knowing who to trust, and being played with and what Cabaret does really well, is that it sets up a precedent, and then it breaks the rules, then it sets up another one and breaks the rules [again]. You have actors playing characters, playing character-cabaret characters, doing acts, and it is often unclear whether it is the actor doing the act or a character doing the act, or the actor playing a character doing the act. Then if you add make- up and costume and drag as well, into that, and some lip-synching … then it [all falls into place].
"Also during my research, I learnt a lot about the politics in Argentina prior to the coup, and how, actually, there had been a lot of violence and chaos for many people, obviously not everybody, but for many people, the idea of a coup was welcomed. So, the idea of the cabaret as well, is to lull people into a false sense of security, that everything is fine, look how much fun we're having…look how in control we are, and slowly, slowly you go under the façade. Because cabaret is really all about façade. We want people to love the General and then be confused. We want people to laugh at Alex (Wing commander Campos) the cabaret artist and then go…ugh…in some ways, it's deliberately manipulative. And what the dictators did, was also to manipulate people into being on their side and playing the game and pulling them back onto their feet."
Alex Luttley's role as the suitably named Wing Commander Campos, is a regular cabaret artist. Given the complexities of the story, the character he plays could be considered one of the most challenging in the play: -
"…what is clever about what he does is that people laugh with him and they enjoy being titillated and it is funny, subversive and risqué. Then, it's only in the second act that you realize what you were laughing with. The same happens with the magician [Sub-Lieutenant] Suárez. The idea, anyway, being that the audience are taken on this barmy ride in the first act and they are laughing with the General and at the magic tricks and laughing at increasingly difficult jokes."
Nevertheless, this Cabaret format proved too challenging for some spectators. Draper was upset to hear of one incident: -
"At Southwark [Playhouse], one night a few Argentines came to see it, young, early to mid- 20s. One of them left during the first half, and then during the interval, the others spoke to the usher, and they said they felt it was very offensive! They thought that we were on the side of the general, and they thought it was right- wing dictatorship's show. Oh God! So, we said, please, please come back for the second half. You need the second half to understand the first half and you need the first half to understand the second half. They don't work separate of each other, but unfortunately, he didn't come back. He left, he was just very offended. Firstly, I think he thought it was pro-dictatorship, which is a very sad thing, but also that we were British and telling that story and I think he felt offended by the satirical nature of it as he experienced it, coming from 'us'. It was sad moment and I was sorry I couldn't speak to him.
"It's always been a show that has contentious moments and it's been a show that … it's a thin line, but I think that, hopefully, it's a line that is very carefully drawn, that changes when it needs to change."
"Ultimately the creators have to develop the idea as they understand it, and that is valid as well. The score of the piece, created by Daren Clark is exceptional and Draper is rightly delighted with the experience of working with him. The music and the lyrics together with Paul Jenkins text, are very well combined and the level of talent in the cast is impressive. Though the critics have come back with mixed responses, the audiences have been enthusiastic and moved to tears: -
""It's moments like that that reminds us why we are doing it. Because ultimately, [though] the piece is about the mothers, it is also about the Disappeared & about honouring these people. And so, that song at the end is intended as a very genuine tribute to them. Also, as a kind of gentle call to arms, because the people's song is a protest song and it's about 'having a voice'. If we speak out, this kind of thing should never happen again.
"Of course, the last line of the play is 'it should never happen again', so it's obviously quite bitter-sweet because it's a lovely sentiment. But it is happening again… all over the place…so it is intended as a sort of political call to arms… hopefully. Audiences are crying and jumping to their feet at the end, which is lovely. I think some critics seem less sure about it… about the concept. We have run the whole gamut from two stars to five stars. It has really divided people. I guess it's a divisive concept. Some people love the cabaret's first half and then feels the second half falls down, and others hate the cabaret and ask why cabaret? Then they love the second half. Hopefully some people get both!
'These Trees are made of Blood' directed by Amy Draper, is on at the Arcola Theatre in Dalston till July 15th 2017.
Arcola Theatre: 24 Arshwin Street / London E8 3DL / Tickets £10-£15 Book here
More information on Amy Draper at www.amydraper.co.uk
A book which tells the story of the Amazon and its ports-towns near...