The Turbulence of Budding Stardom
Once a mere suburban boy from outside Barcelona, now Spain's representative at this year's Eurovision Song Contest, via a controversial decision that split the country, Latinolife talks to Manel Navarro, as he prepares for his big moment on Saturday night and, of course, that controversy…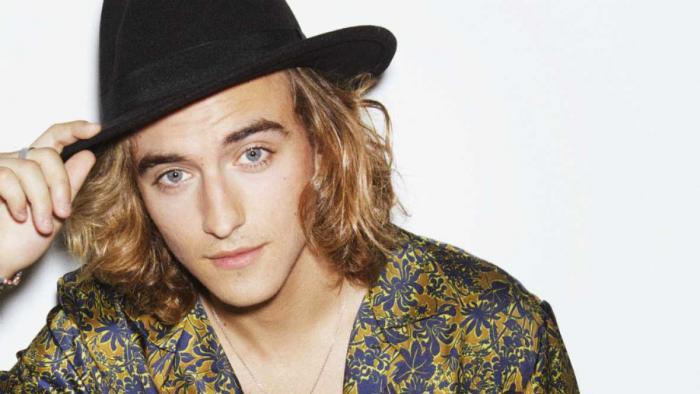 When I meet Manel Navarro, Spain's fresh-faced 21-year-old Eurovision Song contestant, he is surrounded by pictures, costumes and guitars of the greatest artists ever, Jimmy Hendrix, Paul McCartney, Freddie Mercury, while the words "do it for your lover...ooooh do it for your lover, baby" play in the background. There is a fleeting moment of incongruity as the backdrop provided by London's Hard Rock Café, brings home just how much the music industry has changed.
Manel began, as many do these days, recording himself in his room, in a suburb, with his guitar covering his favorites songs and uploading them onto YouTube. A few years later, the boy from Sabadell near Barcelona, is famous after winning several TV competitions, one of which was Objetivo Eurovision, which decided his fate as Spain's representative in the hugely popular Eurovision Song Contest.
Of course, fame is rarely accidental these days, as 'teams' try to push their 'talent' through the cracks into stardom, as Manel explains "In October, my team thought about what can we do next, we had the single called 'Candle' and the Eurovision contest came to their mind, they told me, and I was really excited to be in Eurovision."
Manel won Objetivo Eurovision after drawing with another candidate, Mirela from Madrid, which was resolved by the judging panel broke the deadlock in favor of the Catalan - a decision that was controversial. The tension in the Madrid studio on the night was unmistakable, with heavy boos from the crowd, instead of applause and endless congratulations. Then came the media furore and accusations of rigging, after it was alleged that Manel knew one of the members of the jury, Xavi Martinez, who hosts Los 40, Spain's most famous radio music show, and both were employed by Sony Music Spain.
Of course, adding fuel to the fire, was the ever emotive rivalry between catalans and madrileños, which the young catalan suddenly found himself at the centre of. "You know there is always polemic between Madrid and Barcelona," Manel explains. "Also there was almost 200 tickets not sold that night and were finally given away to locals, from Madrid and mostly supporting Mirela, so it was inevitable how they were going to feel when I won after the tie." Like Barca beating Real on a controversial penalty.
With that musical derby now behind him, Manel faces fierce competition…and the odds are not really good (150:1). Spain hasn't won the Eurovision since 1969. "We have been 48 years without winning Eurovision, so it´s going to be really hard to win but I'm going to do my best." And Manel says has some surprises up his sleeve. "We are not going to bring dancers but we are going to create visual effects that I think are going to surprise the crowd."
On Saturday Manel will sing 'Do it for your lover' – a song he wrote two years ago, and one that means a lot to him, he says. "It talks about the unconditional love that you have for your own, it means that you have to do everything that you can to make people around you happy, I would say it is like anthem for love".
Influenced by the likes of Bob Dylan, Ed Sheeran, James Bay and Passenger, Manel has been writing since he was 16. "I think that if you sing your own songs, you are more able to express its feelings because you wrote it, and you felt it when you were writing the song. I think it is really important, not just in Eurovision."
But why does he sing in English? "I write in English because I feel very comfortable writing and singing in it. All the music I've listened to since I was a child was in English, you know Bob Dylan, Jimmy Hendrix, so its the music that comes out of me and it´s the music that I want to do".
Manel has been in the UK promoting his song 'Do it for your lover', which he says is key, as it could bring those few extra points and votes he needs, either from Spaniards in London or from Londoners. At the Eurovision Party in London, he duetted with Lucie Jones, England's Euro representative, singing "In the name of love" by Martin Garrix, also played "Castle On the Hill" by Ed Sheeran. "It´s the first time I played in London. It was really exciting".
And life after the Euros? If he wins, Manel vows to shave his head. "I love my hair, my long hair, but well, if I win I will cut it, I will shave it! Why not?"
If not? "I am not scared because we are already planning my music for after Eurovision. Eurovision is when everything is going to start". Sometimes it´s hard for Eurovision artists to move on, but Manel seems to have his plans laid out. "It´s going to be a CD, a record, we don´t know exactly which dates but it´s going to be new music released, as I said before, Eurovision for me is the beginning".
Whatever happens on Saturday night, one gets the feeling that Manel will be just fine. Despite his puppy-like enthusiasm and sapling looks, his words betray his mere 21 years. "If you really want to do music you need to focus on music all the time, try your best to be a musician, an artist in every scenario. It´s a long and bumpy road and you have to work really hard."
The Final of the Eurovision Song Contest will be televised on the BBC on Saturday night
Corina Poore talks to Gustavo Salmerón, who made a unique film about...
Can Venezuela's new state-sponsored cinema live up to its Cuban and...