Venezuela Reconstructed
The winner of two 2017 LUKAS (Musician and Alternative Act of the Year) Ernesto Marichales is making waves on the London music scene with his daring and experimental re-arranging of traditional Venezuelan music. Performing with his pioneering band Telajeta as part of this year's La Linea festival, we interview the pioneering Venezuelan percussionist and composer.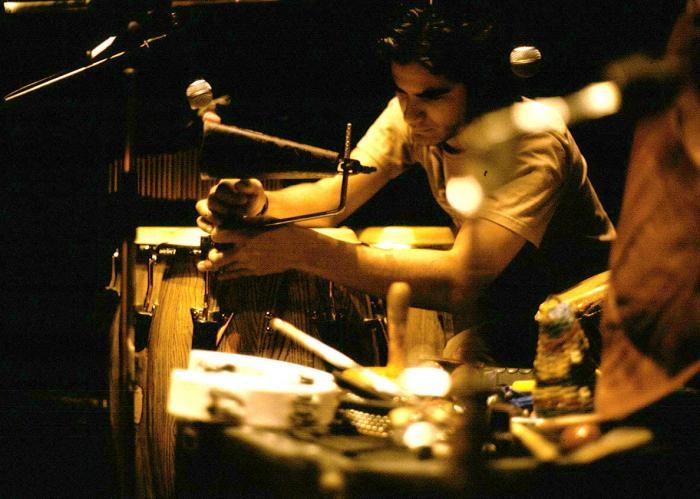 Ernesto Marichales' career is truly impressive. Born in Caracas 34 years ago, few musicians can claim to have played with such renowned and diverse artists as Simón Díaz, Armando Manzanero, Chucho Avellanet, Dany Rivera, Carmen de Díaz de Pinillo, Bruce Springsteen, Craig David and many more.
The winner of two 2017 LUKAS, Ernesto is mostly known as a percussionist and drummer (for which he won Musician of the Year) but he is also a producer, multi-instrumentalist and writer, who is making a name for himself in London for his daring and experimental re-arranging and jazzifying of traditional Venezuelan music. In Telajeta, the band for which he won the LUKAS Alternative Act of the Year, he reshapes classics likes Simón Diaz' Sabana and Caramba and brings a fresh approach to Venezuela's rich tapestry of folk compositions with mesmerising results.
Two things spring to mind, when first listeing to Telajeta. One is the startling contrast between the re-arranged famous songs such as 'Tonada de luna llena' and exquisite pearls, such as the Cantos del pilón I, Cantos del pilón II, or the waltz 'Cútata' that are almost unknown. The other is the incredibly sweet and seductive voice of Åshild Bjørkeng, which takes you into a dreamy state in which you could spend a whole day.
Yet, the secret of Ernesto's success seems the same of other talented artists: hard work. That is what keeps him busy with several (mostly jazz) projects he runs in parallel with Telajeta.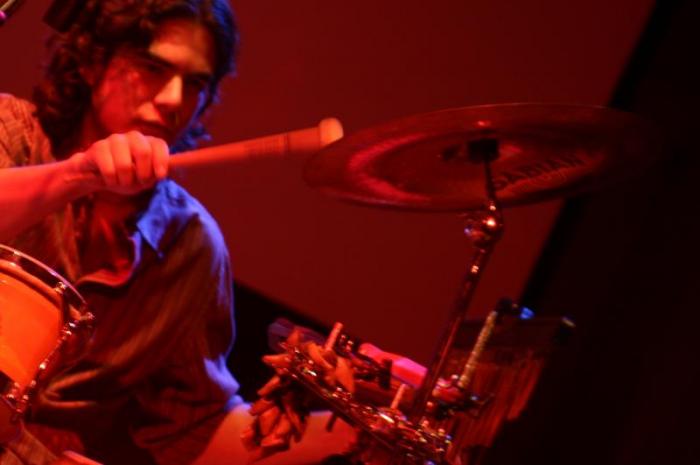 LL: How was being a child in Caracas in the 1980s and early 1990s?
EM: My childhood was very quiet and innocent. We used to play in the streets, and I grew up with the love of my family. At that time there weren't many problems with insecurity that there are now. I grew up in a family with musical background and began to play drums when I was eight. One year later I was touring professionally. My father, the person who brought me up, Alberto Rodríguez, has a very renowned trio in Venezuela, called Los Hermanos Rodríguez (The Rodríguez Brothers). The percussionist was Tata Guerra, an important Cuban composer and musician, who was versioned by big artists like Celia Cruz, Johnny Pacheco and Fania All Stars. Tata gave me my first bongo and soon I was playing with them. That's how I had the opportunity to play with some of the best artists.
LL: Were you mostly influenced by Latin music?
EM: "No. My closest friends listened to American and English music, like The Beatles, Led Zeppelin, The Who, Deep Purple, and also quite a lot of Jazz, from Miles Davis to Charlie Parker or Ornette Coleman. Beyond all of that, yes, there was a lot of folklore and Latin music, from the Caribbean, like bolero, and Cuban, Colombian and Venezuelan music. I have a great interest in and respect for folkloric music because it's the voice of the people. As a percussionist I've always been very open in particular to Latin American music, which is full of rhythms and is the one I know most of, from Argentina to Mexico, starting from zamba cueca, and candomblé and up to bolero and Cuban son. I'm stronger in salsa, because Caracas is a city where salsa is very important. In Caracas we're also influenced by what happens in New York, Puerto Rico, Cali which are the other meccas of salsa. But since I am in Europe I've started to explore more the African roots, so I'm studying rhythms from Senegal, Mali, Congo and other African countries.
LatinoLife: What brought you to London?
EM: I came eight years ago to study in London, and I haven't been back. In Venezuela I had studied Journalism and then did an MA in Mass Media & Communication from Santa Maria University (Caracas). Then here I studied music at the London Centre of Contemporary Music (LCCM) at Middlesex University where I did music performance and production, which is also how I see myself."
Latinolife: Tell us about this return to your Venezuelan roots with Telajeta?
EM: When I was in Venezuela, I didn't play much folklore or promote it, probably because I knew it was always there, and I wanted to do other things. When I came to London, I realised there was very little knowledge of Venezuelan music, and people around me were fascinated by it, when I began exposing them to it. A friend of mine, Greg Sanders (guitar) started making arrangements of Venezuelan folk songs and another friend, Joseph Costi (piano), who also studied music in Middlesex, did a very nice arrangement for [the famous Simón Díaz song] 'Tonada de luna llena' which I helped with. We brought in Åshild Bjørkeng Haugen on vocals and this became Telajeta (with Greg Gottlieb on bass]. But we didn't plan much. We never thought of things like making clips, creating a web page or a launching date. We started working on our jazz-style arrangements and played only once or twice when we had the chance to record in the studio at Middlesex University.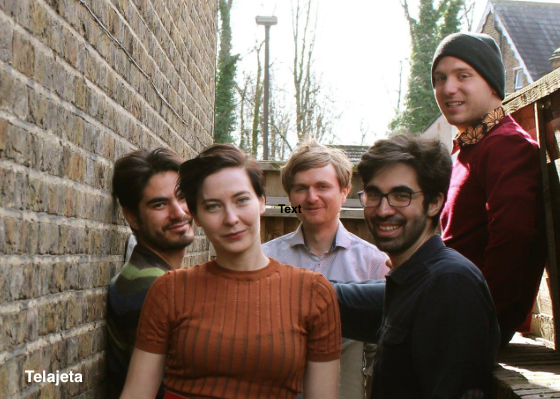 Today Venezuelan folklore music is not very well known abroad, in particular its African roots, perhaps because the rhythms do not resemble any commercial tunes. Yet, in the past few years new sounds rooted in old Venezuelan traditions have started to appear. Examples are Manuel Rangel's work with maracas, Leo Rondón and his cuatro venezolano (four string instrument) among many others. The good thing with Telajeta is that without planning or looking to what others are doing, our project has developed a very unique sound which, at least in Europe, I'm tempted to say we kind of started. That's why I think people are following us.
Telajeta will play as part of La Linea festival on Thu 20 April in Concrete (E1 6PQ). For tickets: http://www.comono.co.uk/live/future-latin-sounds/
Find Telajeta in Soundcloud https://soundcloud.com/telajeta