WHERE TO EAT LATIN IN LONDON - The Ultimate Guide
Latin Culture has hit the high street in a big way, but how do you tell the quality from the crass? Here's our definitive directory of London's best Latin and Spanish eats, drinks and clubs.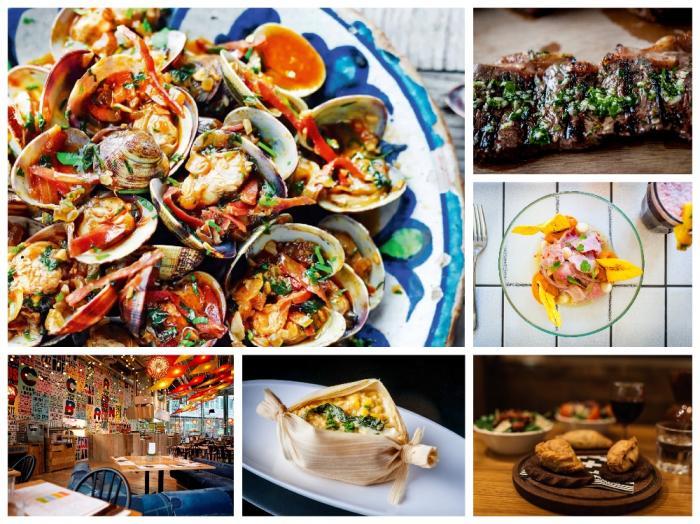 ARGENTINE
De La Panza - 105-107 Southgate Rd, N1 3JS
Buen Ayre - 50 Broadway Market, Hackney,
Casa Malevo - 23 Connaught St, W2 2AY
Constancia - 52 Tanner St, SE1 3PH
Comedor - 176 Upper Street, N1
Gaucho - Various locations www.gauchorestaurants.com/
Parilla at Gaucho
La Patagonia - 31 Camden High St, NW1 7JE
Moo - 60-62 Brick Ln, E1 6RF
Santa Maria del Sur - 129 Queenstown Rd, SW8 3RH
La Pampa - 4 Northcote Rd, SW11 1NT
BRAZILIAN
Barraco - Priory House, 10 Kingsgate Pl, NW6 4TA
Cabana - Various locations including Covent Garden, Brixton and Stratford www.cabana-brasil.co.uk 
Canecao - 17 York Way, N7 9QG
Gostosa - 159 High St, NW10 4TR
Made in Brasil
Made in Brasil - 12 Inverness St, NW1 7HJ
Yoobi - 38 Lexington St, Soho, W1F 0LL
Rodizio Preto - 73 Shaftesbury Ave, Soho, W1D 6LN
Sabor Brasileiro - 639 Harrow Rd, NW10 5NU
Tia Maria - 126 South Lambeth Road, SW8 1KB
Galpao - 1024 Harrow Road, Kensal Green, NW10 5NN
Bankete - 3 Bell Lane, E1 7LA
Na Brasa - 2 Colham House, Bakers Rd, Uxbridge UB8 1RG
COLOMBIAN & ECUADORIAN
La Bodeguita - Elephant & Castle Shopping Centre, Walworth Rd, SE1 6TE
La Fonda de Maria - 273A Clapham Rd, London SW9 9BQ
Lechona @ Marlon's KItchen
Leños y Carbon - 113 Elephant Rd, London SE17 1LB
El Rancho De Lalo - Village Market, 94-95 Brixton Station Rd, Brixton, SW9 8PS
Costa Azul - 102A Rockingham St, SE1 6PG
Marlon's Kitchen - Supper Club, www.marlonskitchen.com for next event
MEXICAN
Cafe Pacifico - 5 Langley Street, WC2H 9JA
El Muro - 259 Muswell Hill Broadway, N10 1DE
Wahaca - various locations, check www.wahaca.co.uk  
Santo Remedio - 152 Tooley St, SE1 2TU
Santo Remedio
La Bodega Negra - 10 Old Compton Street, W1D 4
La Taqueria - 141-145 Westbourne Grove, W11 2RS
Mezcal - 16 Stoke Newington, Church Street, Hackney, N16 0LU
Mestizo - 103 Hampstead Road, London NW1 3EL
Viva! Dalston - 2 Stoke Newington Road, Dalston, N16 7XN
Casa Morita - 9 Market Row, Brixton, SW9 8LB ·
Lupita - Various locations, check www.lupita.co.uk 
Crazy Homies - 125 Westbourne Park RD, W2 5QL.
PERUVIAN
Andina - 1 Redchurch Street, Shoreditch, E2 7DJ
Casita Andina - 31 Great Windmill Street, Soho, W1D 7LP
Ceviche - 17 Frith Street, London W1D 4RG
Ceviche Old St - 2 Baldwin Street, EC1V 9NU ·
Coya -118 Piccadilly, Mayfair, W1J 7NW
Pisqu - 23 Rathbone Place, Fitzrovia, W1T 1HZ
Pisqu
Señor Ceviche - 18 Charlotte Street, London, Covent Garden, W1T 2LZ
Tierra Peru - 164 Essex Road, Islington, N1 8LY
Lima - 31 Rathbone Place, Fitzrovia, W1T 1JH
Lima Floral - 14 Garrick Street (Entrance On Floral Street), WC2E 9BJ
Tito's - 4-6 London Bridge Street, SE1 9SG
SPANISH
Andalucia - 4 Panton Street, Haymarket, London SW1Y 4DL
Angels and Gypsies - 29-33 Camberwell Church Street, SE5 8TR
Arbina - 110 Whitfield Street, W1t 5ED
Bar Esteban - 29 Park Road, Crouch End, N8 8TE
Barrafina - 43 Drury Lane, Covent Garden, WC2B 5AJ
Barrica - 62 Goodge Street, W1T 4NE
Bilbao Berria - 2 Lower Regent Street, Mayfair, London SW1Y 4LR
Brindisa - Various locations, check www.brindisakitchens.com 
Iberica - Various locations, check www.ibericarestaurants.com 
Dehesa - 25 Ganton Street, W1F 9BP
Escosesa
Escocesa - 67 Stoke Newington Church St, Stoke Newington N16 0AR
El Molino - 379 Holloway Road, N7 0RN
El Parador - 245 Eversholt Street, Camden Town, NW1 1BA
El Pirata - 5-6 Down Street, Mayfair, W1J 7AQ
La Rueda - 66 Clapham High Street, Clapham, SW4 7UL
Mar I Tierra - 14 Gambia Street, Waterloo, SE1 0XH
Moro - 34-36 Exmouth Market, EC1R 4QE
Navarro's - 67 Charlotte Street, W1T 4PH
Salvador and Amanda - 8 Great Newport Street, Covent Garden, WC2H 7JA
La Albufera - Melia White House, Albany Street, NW1 3UP
Cigala - 54 Lamb's Conduit Street, Bloomsbury, WC1N 3LW
Cambio de Tercio - 163 Old Brompton Road, South Kensington, SW5 0LJ
Don Pepe - 99 Frampton Street, Marylebone, NW8 8NA
Goya - 2 Eccleston Place, SW1W 9NE
Tapas Revolution - Various locations, check www.tapasrevolution.com
A book which tells the story of the Amazon and its ports-towns near...