Wine and Bread
A charming Portuguese gem in the middle of Hendon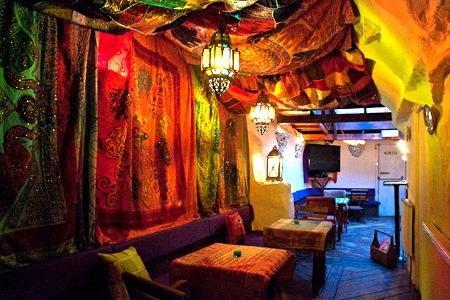 Most Portuguese Restaurants are in South West London, but Wine and Bread, as our host explains us later, caters for the local community and to introduce Londoners to the Portuguese cuisine rather than to just cater for the Portuguese.
Marcia, the owner, and Paulo, greet us. It is quiet for a Sunday afternoon but it is the first weekend of Easter holidays and many have gone away. Marcia is originally from the Algarve and Paulo from Porto and as a result the menu reflects a fusion of dishes from across Portugal.
As soon as you step into the Restaurant you enter a different world with colourful décor, mix and match table sets, napkin rings collected from all over the world, shelves full of books and knickknacks. A very cosy and pleasant atmosphere. The music in the background is a nice mix of Portuguese and Spanish songs. As we later found out, Paulo has contacts to some of the best Portuguese bands and musicians. Marcia is also a photographer and we could admire a selection of her work on the walls, which we learned are sold to raise money for charity.
I always like it when the owners chat to you and recommend dishes from their menu. You can tell that Marcia and Paulo are very proud of their restaurant and want their guests to feel comfortable, like a guest in their own home and enjoy their meal. We followed Paulo's suggestion and ordered a selection of starters that would also please our little boys that joined us for lunch.
As soon as the olives were served, sourced from a Portuguese supplier and marinated 'a casa' in oil and spices, we knew that we would like this Restaurant. They tasted exactly like the olives my husband and I loved so much in Portugal.
As a starter we had a selection of Portuguese canapés – 'Risol de Camarao', 'Pastel de Bacalhau', 'Croquete de Carne' and 'Pata de Cranguejo' –, which you could tell were freshly made, warm and delicious. Paulo recommended the house speciality, caramelized Goat's Cheese served with green leaves. I am glad he did, as it was very moreish, just the right mixture of strong taste of ripe cheese with the sweetness of the sugar glazing, and went down well with a glass of Port.
As a main we ordered three dishes to share between the four of us. It is hard to say which one was my favourite as they were all outstanding. I have hardly ever had an octopus (Polvo a Lagareiro) that was so tender and was deliciously prepared with olive oil, coriander and garlic. We had to try the national dish Bacalhau and opted for the 'Bacalhau com Natas' which was nice and creamy and the third dish, a speciality from the Algarve – 'Caril de Camarao', was equally tasty.
By the time we finished the main course we thought we couldn't eat any more but the temptation of a selection of homemade desserts was too big to resist. I am glad we didn't refuse as the 'Doce da Casa' was a heavenly mixture of cream, coffee and biscuits, the Pudim was covered in delicious caramel and the chocolate mousse was yummy and rich. The 'Pastel de Nata' was served warm with an option of cinnamon, and tasted like freshly bought from the Pasteis de Belem factory in Lisbon.
We can find only praise for this charming little gem in the middle of Hendon and the judges therefore anonymously voted Wine & Bread as the winner within their category.
Wine and Bread is closed over the summer for refurbishment and will open again in September
41 Church Road, London NW4 4EB Tel 020 3490 2721
Corina Poore talks to Gustavo Salmerón, who made a unique film about...
This month's dancefloor hits by award winning Cuban DJ, Javier...