World Cup Profile: Peru's long-awaited World Cup return
In the fifth of our profiles on the Latin American, Spanish and Portuguese teams who have qualified for this year's World Cup finals, Lewis Blakeman looks at Peru's chances of making an impression following their 36-year absence from World Cup tournament football.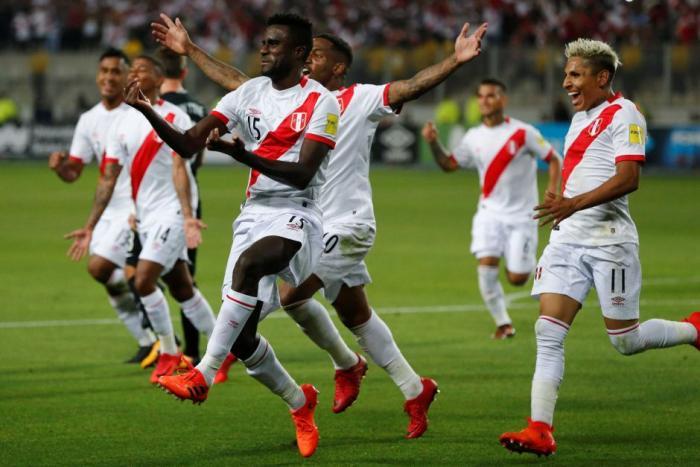 Having secured a 1-1 draw with Colombia while rivals Chile lost 3-0 in Brazil, Peru snuck into 5th place in the CONMEBOL table on the final day of qualifying – earning a playoff against New Zealand to decide who qualifies for this summer's World Cup. In a cagey two-legged tie, Peru were able to hold New Zealand to a goalless draw in Wellington, before securing a 2-0 victory in the home fixture to reach their first World Cup finals since 1982. According to some reports, the celebrations in Peru were so euphoric that earthquake alerts began to show on seismic activity monitoring apps!
La Blanquirroja - hugely popular among football fans across the world due to their iconic red-striped kit - will face France, Australia and Denmark in Group C of this summer's tournament. Having comfortably defeated Croatia 2-0 during the recent round of International friendlies, Peru will go into the World Cup quietly confident in their ability to secure passage into the second round. A good result in their opening fixture against Denmark will put Peru into a great position to secure a top two finish in the group.
Peru are managed by Argentinian coach Ricardo Gareca, a man who ironically once scored the goal that prevented La Blanquirroja from qualifying for the 1986 World Cup during a qualifying game between Argentina and Peru. Once hated by Peruvians, Gareca is now loved across the Andean nation after guiding his side to unlikely World Cup qualification. He has also led Peru to a third-placed finish at the 2015 Copa América, and the quarterfinals of the Copa América Centenario.
Gareca's assistant coach is Nolberto Solano, who spent much of his playing career in England with Newcastle, Aston Villa and West Ham. The "adopted Geordie" has held his coaching position Peru since 2015, and earned 95 caps for the national team during his playing career. His 20 international goals make him Peru's 5th leading goal scorer of all time – 12 behind current star-man Paolo Guerrero, who looks set to lead the line for La Blanquirroja at the World Cup.
In December 2017, Peru were hit with the devastating news that star-striker Paolo Guerrero would be ineligible for the summer showcase after testing positive for performance enhancing drugs. Fortunately this ban was reduced upon appeal to just six months, making Guerrero eligible once more for the 2018 World Cup. His tournament form is highly impressive, having finished as top scorer in the 2011 and 2015 Copa América tournaments, leading Peru to third in both. Guerrero's strength and finishing ability will make him a threat against any team who face Peru at this summer's World Cup, and their chances of a successful campaign are significantly greater with him back in the team.
Likely to be many fans' 'second team' during the tournament, Peru will hope to make a good impression on their return to the world's stage. Having spent so many years watching on their TV sets at home, Peruvian fans will be ecstatic to simply be a part of this summer's World Cup. However they should see no reason why their side could not make it to the second round at least. In Guerrero they present the goal threat needed to make it through the tight group-stage of the tournament, while supporting talent in Jefferson Farfán and André Carrillo have the quality to help their nation make amends for the previous 36 years of World Cup heartache.
THE PLAYERS TO WATCH
Paolo Guerrero. The 6 ft 1 in striker was scouted at an early age by European giants Bayern Munich, and played much of the 2003-04 season alongside fellow countryman Claudio Pizarro in the Bayern forward-line. The highlight of Guerrero's club career came following his return to South American football when he scored the winning goal in the 2012 FIFA Club World Cup Final for Corinthians against Chelsea. At international level his record is highly impressive, with 32 goals in 86 games for his country. He will be desperate to add to his tally during this summer's tournament!
Jefferson Farfán. Now 33 years of age, Farfán is showing no signs of slowing down. Since joining Lokomotiv Moscow in 2017, the skilful winger has scored 14 goals in just 29 games. He also scored the opening goal in Peru's momentous playoff victory against New Zealand with a thunderous half-volley from the edge of the penalty area. Best known throughout his career for his assist stats, Farfán possesses the ability to pick out the perfect pass or cross, along with the composure to get his own name on the scoresheet from time to time.
André Carrillo. After joining Premier League side Watford on a season-long loan from Benfica at the start of the season, Carrillo has slowly grown into his role on the right side of midfield. His pace allows him to beat opposition full-backs and deliver crosses into the box; while he also has the technical ability to cut in from the wing onto his left foot and produce a shot at goal. With Peru's opponents likely to devote their defensive attention to the likes of Guerrero and Farfán, Carrillo's pace may be a key outlet for Peru to exploit in tight World Cup fixtures.
Cuba's natural setting, with its own historical and cultural...