World Cup Profile: Will it be a glorious goodbye for the legendary Andrés Iniesta?
In the seventh of our profiles on the Latin American, Spanish and Portuguese teams who have qualified for this year's World Cup finals, Lewis Blakeman focuses on 2010 champions Spain, who will hope to give Andrés Iniesta the greatest of send-offs as his illustrious international career draws to an end.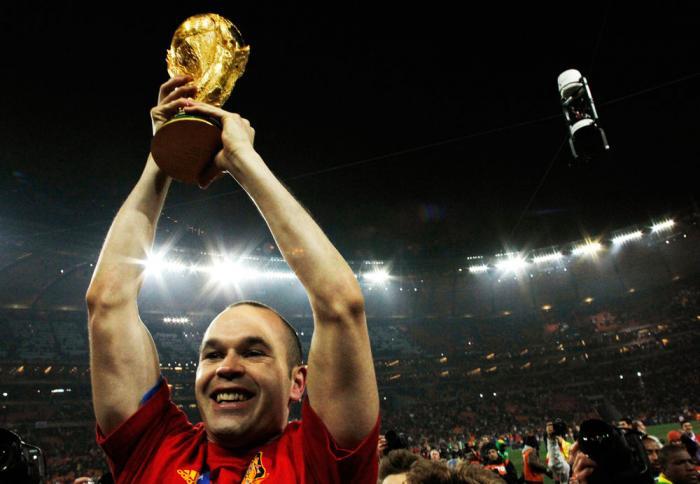 When Cesc Fàbregas picked up the loose ball on the edge of the Netherlands' penalty area with five minutes remaining of extra-time in the 2010 World Cup final, there was one man over all others on the pitch who fans of La Roja would have wanted his pass to find. Andrés Iniesta, the personification of composure, had found a yard of space inside the box, and with two touches he deftly controlled the ball and swept it into the far corner to send all corners of Spain into rapture.
The goal brought Spain, a country with one of the richest of football histories, its first World Cup triumph, cementing what many had dubbed the Spanish 'Golden Generation' as idols for centuries to come. Now 34, Iniesta will hope to repeat that feat in what may well be his last outing as a professional footballer. One of the few remaining players from the era that brought Spain two European Championship trophies and one World Cup, Iniesta will draw on his wisdom and experience to help guide a new generation of Spanish talent into possibly another decade of great success.
Aside from fellow Spanish footballing legends Sergio Ramos, Gerard Piqué, Sergio Busquets and David Silva, Iniesta will be paired alongside a relatively youthful squad at this summer's tournament - all looking to make a name for themselves on the biggest of stages. Recent performances from Real Madrid's Isco have many fans and pundits excited for what could be a breakthrough tournament for the 26-year-old, who now looks set to take Iniesta's place as Spain's star midfielder. Likewise, after fine seasons at club level from the likes of Rodri, Marco Asensio and Saúl, much is expected of Spain's younger talent in Russia.
In the forward positions, La Roja have a number of in-form strikers to pick from, with Diego Costa, Alvaro Morata, Rodrigo Moreno and Iago Aspas all fighting for a place in the starting eleven. With manager Julen Lopetegui yet to settle on a regular centre-forward during the qualification period, his decision on who starts up front may well be swayed by performances in upcoming friendlies against Switzerland and Tunisia in June.
Given that a large portion of his squad play their club football for fierce rivals Real Madrid and Barcelona, Lopetegui's experience of having played for both sides during his playing career make him the perfect fit to coach the national side. Seen as a somewhat rogue choice when chosen to replace Vicente del Bosque in 2016, Lopetegui has proven himself more than capable, guiding Spain to nine victories and one draw in qualification, finishing with a +33 goal difference in a group also containing Italy.
In this summer's group, Spain have been granted a relatively easy path through to the knockout stages, with Iran, Morocco, and Portugal – spearheaded by Real Madrid dangerman Cristiano Ronaldo – to overcome. With the Portugal fixture coming first, a comprehensive victory against the current European Champions should set Spain up for a fine tournament, with La Roja often in years past improving as the tournament progressed.
Their possession-based style of play lends itself perfectly to tournament football, in which preserving energy and controlling the tempo of the game is key. With a midfield made up of players who relish the opportunity to control the ball, Spain have the talent to drain the legs of their opposition in their efforts to reclaim the ball; and will therefore rely on the ability Costa and co. to capitalise on tired defences and find the breakthrough goal. In defence, Lopetegui can rely on the class of Ramos and Pique to keep opposition forwards at bay, as well as the intelligence of Sergio Busquets in defensive midfield to break up any developing attacks.
Given the talent as his disposal, there is no reason why Lopetegui's side cannot go on and win a fourth major honour in just ten years. The biggest factor in any success La Roja are to have will likely be who Lopetegui selects to lead the line for Spain, with all four of the strikers vying for a place possessing different attributes. The sensible option would appear to be Atlético Madrid's Diego Costa; however Lopetegui may well put his faith in Celta de Vigo striker Iago Aspas, who despite his torrid spell at Liverpool has netted 21 goals for his club this season.
Seen by many as the favourites to lift the trophy once more this summer, Spain will hope not to repeat the mistakes made in the two previous tournaments, and to revert back to the system and mentality that brought such great success between 2010 and 2014. With a player of Iniesta's class on the field, they stand every chance of doing so, as 'El Ilusionista' (The Illusionist) looks to bow out with another medal for his already highly decorated trophy cabinet.
THE PLAYERS TO WATCH
Sergio Ramos. Captain of both Spain and Real Madrid, Sergio Ramos is a natural born leader. His fearless defensive style inspires those around him; while his 'never say die' attitude has won countless games for club and country. Known as a 'Big-game specialist', Ramos has regularly produced on the biggest stage throughout his career, scoring important goals in Champions League finals and title deciders. His biggest challenge this summer will be controlling his passion and aggression, having developed an unwanted reputation as a red card magnet.
Andrés Iniesta. Frequently applauded by opposition during Barcelona away games, Iniesta is a true legend of Spanish football. He has spent his entire career to date with Barça, winning La Liga nine times and the Champions League four times - alongside many other individual honours. His intelligence and composure make the game look easy, with the midfielder seemingly always one or two steps ahead of his marker. Having make the decision to leave Barcelona at the end of the season, Iniesta looks set to hang up his boots for good and move into the world of coaching, where he will surely install his wisdom into future generations of footballers to come.
Sergio Busquets. If there was a way of transferring Sergio Busquets' ability as a defensive midfielder into that of a striker, he would surely be up there with Barça teammate Leo Messi as one of the greatest forwards in the world. His importance to both club and country is so often understated, but both Barcelona and Spain simply could not dominate games the way that they do so well without a player of the immense talent of Busquets to balance the play. Similar to Iniesta, Busquets does not react to the play, rather he knows what is going to happen, and positions himself accordingly avert any danger. Busquets' performances will be key to any success Spain are to have in this summer's tournament.
David de Gea. Since joining Manchester United from Atlético Madrid in 2011, David de Gea has developed into one of, if not the best, goalkeepers in world football. His greatest attribute is his tremendous agility, and ability to stick an arm or a leg out to prevent what looked like a certain goal from going in. Though he will not expect to be busy during this summer's World Cup, with Spain likely to dominate possession and face little offensive threat, De Gea has the concentration to allow him to make world-class saves having not seen the ball for the previous eighty minutes.
A book which tells the story of the Amazon and its ports-towns near...