World Cup Wisdom
Ever wondered what it's like to be a football icon? Latinolife talks to four World Cup legends of Latin American, Spanish and Portuguese football about their life and passions, before they play against each other for their countries in a six-a-side superstars tournament this July.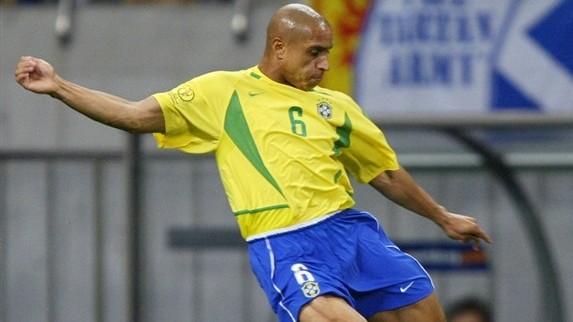 Roberto Carlos heads the Brazil team, which includes Gilberto Silva, Belletti and Rivaldo.
Nicknamed 'el hombre bala' (the bullet man) for his powerful free-kicks, Roberto Carlos is undoubtedly one of the most iconic footballers of all time. Having made a name for himself in Brazil, Carlos began his European career with Italian giants Internazionale, before joining Real Madrid in 1996 and forming part of the great 'Galáctico' generation at the Spanish club. During 11 highly successful years in Madrid, Roberto Carlos won four league titles, and three Champions League titles, scoring an incredible 71 goals from left-back position. In 1997, he was runner-up in the FIFA World Player of the Year awards - the same year he scored his famous 35m bending free-kick against France for Brazil. In 2002, he added the World Cup to his long list of accolades, helping Brazil to victory over Germany in the final.
I'm still very much involved in football... as a coach and as a Real Madrid Ambassador (I have four years left in my contract). I'm on the training ground every day, so in that sense I'm still a footballer!
I have done everything I wanted to do…in my career, but in three or four years, I'd like to get into management.
Football has lost a lot of technical quality in the last few years…today's teams work more on the tactical and the physical side of the game, so we don't see as many "cracks" as we used to.
In a smaller pitch you need to use your speed…your vision and the timing is so much tighter, so it's a great way to develop skills.
You can't compare the Brazilian team of different times, but…the current team has improved a lot since the arrival of new coach Tite. We are playing well and leading the World Cup qualifying table; if It keeps going like it is, they will achieve great things. Neymar is making his mark in Brazilian football history and Felipe Couthino is fantastic!
The less we talk about the racism I encountered the better…in the world of football, there is always someone with personal issues who ends up going to the stadium just to make trouble. I think football in general has been taking the right steps with all the new legislation - from closing stadiums to sending racist fans to jail. The problem is not football, but people who have issues and take it out on others.
I will always be Brazilian…I left the country following my dreams, and the life that my family lives in Spain is great, very calm, with less violence than there is in Brazil; but life in Brazil is amazing. In fact now that the big Brazilian football clubs have the opportunity to offer players big contracts a lot of them no longer want to leave to country to play in Europe.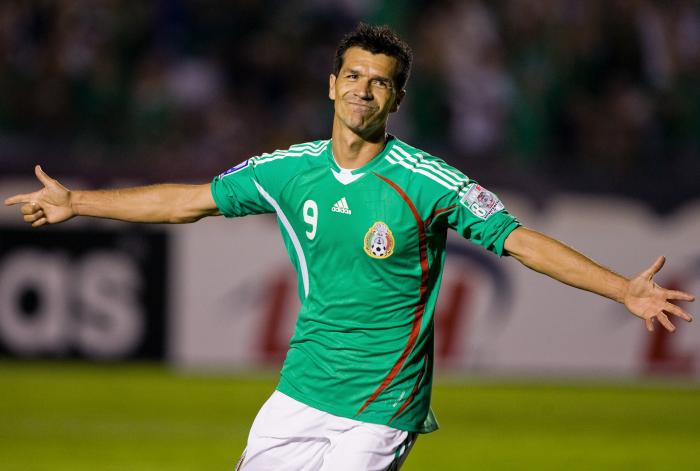 Jared Borgetti leads the Mexico team with Luis Hernandez, Alberto Aspe, Mario Mendez, Joaquin Reyes, Jorge Campos, Hector Altomiro, Alberto Rodriguez and Miguel Zepeda
With a phenomenal 272 goals in 525 career appearances in club football, Jared Borgetti is one of, if not the greatest Mexican footballer of all time. Borgetti also scored 46 times for Mexico, breaking the goal-scoring record for the national team during his career – a record only recently matched by Javier 'Chicharito' Hernández. Having spent the majority of his career with Santos Laguna, winning two Mexican league titles with the club, Borgetti became the first Mexican to play for an English club upon signing for Bolton Wanderers in 2005. In his one season with Bolton, Borgetti netted a respectable 7 goals, scoring in every competition he appeared in for the club. During his career, Borgetti was renowned for his heading ability – scoring a number of memorable goals from crosses into the box.
I still love the responsibility that comes with playing football…whether it be for a club, or at a World Cup representing my country, or this amazing tournament coming up with the best players in the world, the competitive element never stops being exciting!
But maybe not against the Brazilians because they play so well! (laughs)…The 6-a-side format will provide plenty of action around the goal which means more shots and more excitement!
I want to see Jay-Jay Okocha again (who heads the Nigeria team)…and the other spectacular players that I played with at Bolton. I'm also looking forward to seeing some former rivals like Steven Gerrard and Rio Ferdinand. I'd like to revisit Bolton, and the city of Manchester too, which I always loved.
English football is a lot more practical than Mexican - quicker, more direct, physical, and very professional. The way players conduct themselves, and the competitiveness during matches is so strong. I think every Latin American player who makes it into the league realises that it is a great opportunity for them, so they work very hard.
Learning the different qualities of European leagues gives us Latin Americans a great advantage… as all leagues present different difficulties. Both Chicharito (Javier Hernández) and Miguel Layún, have really benefited from their experiences. I think it helps the national team too when picking a squad for the World Cup.
There's no such thing as an ex- football player…I'm not an ex-player, I'm an ex-professional! I still enjoy football just the same as when I was just starting out.
Mexico currently has a strong new generation of players... the under-17's have impressed, and we won the Olympic football Gold medal at London 2012. We are already very close to qualifying for the World Cup. World Cups are always very difficult, especially once you make it through to the Second Round. In the last two tournaments we've come up against Argentina and the Netherlands, but who knows what will happen next year!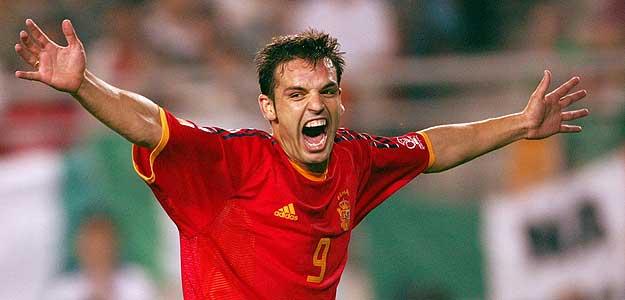 Fernando Morientes represents Spain with team mates Carles Puyol, Gaizka Mendietta, Michel Salgado, David Albedle, Alfonso Perez, Luis Garcia
Widely regarded as one of the top strikers of his generation, Fernando Morientes boasts an outstanding goal scoring record of 124 goals in 337 games over the course of 15 seasons in La Liga. After making his league debut with Albacete, it was not long before Morientes was signed by Real Madrid, where he won the UEFA Champions League during his first season at the club. During the 1999-2000 season, Morientes netted 19 times, helping Real Madrid to another Champions League title, scoring in the final against Valencia CF. The following season he secured his first La Liga title with the club, before adding a third Champions League medal to his collection a year later, playing the full 90 minutes in Real Madrid's 2-1 victory over Bayer Leverkusen. After leaving Madrid, Morientes signed for Liverpool, winning the FA Cup and UEFA Super Cup. Morientes also managed 27 goals in just 47 games for Spain during his career.
I can't wait to represent Spain again…once you put the national shirt on you want to play to the best of your abilities. Just wearing your country's colours makes it important and makes you proud. Every team in the tournament has quality in it and playing against ex-team mates like Steven Gerrard is going to make it really special.
I joined Liverpool because of its history… I was playing in the world's best football club, Real Madrid, so I was only going to go to a team with the the same pedigree. The fans gave me a unique experience, they were two very important years for me, on a personal and professional level. I also won the FA cup with them, which was also a special moment.
Spanish football has more quality than English…it is more paused, more skilled. English football is more active, more physical. But at the end of the day football is football and, as a professional, you learn a lot by adapting to a different style.
Of all the important moments in my career, the most satisfying is… the moment that the dream I had as a little boy, of being a professional, became reality…everything else is a bonus, representing my country, scoring goals for any of my teams…winning the Champions League! But the most important was being able to play football for a living.
I'd love to coach an English team… in England, football is lived with such passion, it has a football culture that unrivalled, and a Premier League which is exciting, because every year you never know and who is going to come through and do well.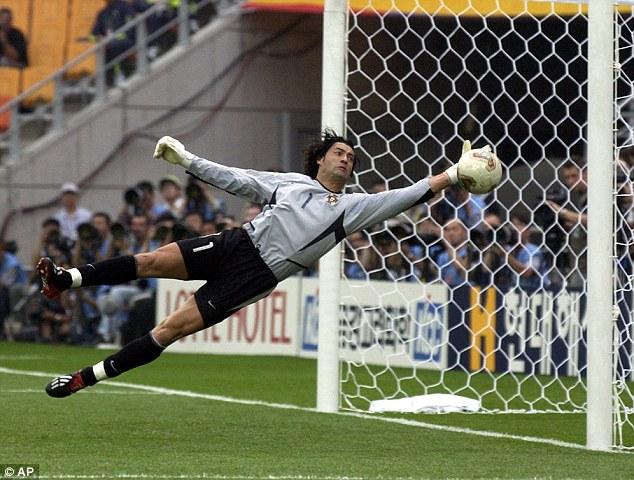 Vítor Baía features in the Portugal team with Maniche, Deco, Fernando Couto
Former Portuguese goalkeeper Vítor Baía is one of the world's most highly decorated footballers, having won 35 major honours during his illustrious career, including the UEFA Cup and Champions League with FC Porto. Baía made his professional debut for Porto aged 19, and kept his spot in the team for six years, before moving to FC Barcelona in 1996 for a record transfer fee paid for a goalkeeper at the time. Baía won the UEFA Cup Winner's Cup in his first season with Barça. He later returned to Porto, helping the club to win consecutive European titles, and being named UEFA Club Best Goalkeeper of the Year in 2004. Baía also made 80 appearances for his country Portugal, representing the national team at two European Championships, as well as the 2002 World Cup.
I've been bumping into Puyol, Belletti and Roberto Carlos at events and the rivalry is really heating up. We are all talking about meeting at Star Sixes, so we'll see what happens on the pitch!
I can't wait to play with Deco again…he's a friend as well as a colleague, and I love him dearly and it will be incredible to compete alongside him again.
I remember playing Champions League games in England…I never played in the English league, but Iove its competitiveness and the atmosphere of the stadiums.
I really believe in this generation of Portuguese players. They are probably the best we've had and they deserve their European Championship title. We always thought it was a really united group, and this unity was as important as their talent. If we maintain these values, who knows what can happen in the World Cup!
Roberto Carlos, Fernando Morientes, Vitor Baia and Jared Borgetti will be pulling on their national shirts again at Star Sixes, an international six-a-side tournament for legends at The O2, London, July 13-16. Tickets are on sale at: www.starsixes.com/tickets
A book which tells the story of the Amazon and its ports-towns near...