'AS YOU SEE ME NOW' by The Jools Holland Rhythm & Blues Orchestra with José Feliciano
A stunning 14-track collaboration between Puerto Rican guitar legend and Grammy Award winner José Feliciano and Jools Holland's Rhythm & Blues Orchestra, you can really feel how these musicians enjoyed making these recordings. A terrific selection of tracks that cover a range of styles, that will delight Feliciano and Jools fans.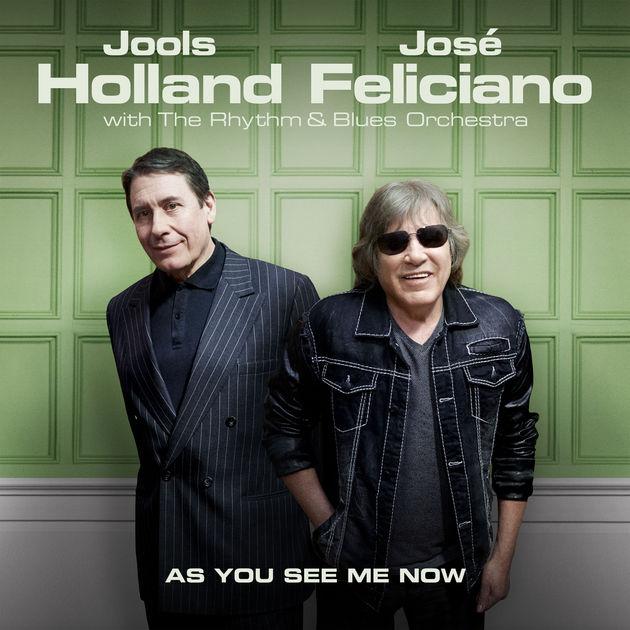 Take two very different musicians, like Jools Holland and José Feliciano, and it is fascinating to find that can they weld together so seamlessly. The characteristic voice and guitar of Feliciano combines beautifully with Jools Holland's piano, neatly backed by the Jools Holland Rhythm & Blues Orchestra. Some tracks really stand out where, according to Feliciano," Jools sings like Fats Waller, you might say…" And that track is Honeysuckle Rose: -
'Every honey bee fills with jealousy
When they see you out with me
Goodness knows,
You're my Honeysuckle Rose'
The bluesy instrumental combination on this track really shines. Following a good trumpet solo, the lively solo by Feliciano bounces off the strings with verve. The backing of the superb R & B Orchestra helps to make these recordings fresh with Jools genuinely relishing the honky-tonk piano solos. It was all on tape in one take, everyone loved it and it just had zing from the start.
To prove great songs really never die, Jools and Feliciano have included a few more in the mix, like Midnight Special, Hit the road Jack and even In My Life of the Beatles. Midnight Special is an old and much-loved traditional song, the first text lyrics were recorded by Howard Odum as early as 1905, but it was Leadbelly (Huddle William 'Leadbelly' Ledbetter) who brought it to the world and made it the popular song it has remained till today. Hit the Road Jack, a massive hit for Ray Charles, was actually written by Percy Mayfield, an R & B musician, who first recorded it in 1960 on a simple 'acapella' demo. It is almost impossible to imagine that now! Ray Charles was a hero for both Jools and Feliciano, so it was a given that this song would be included on the album. Ruby Turner shares the limelight on the vocals with panache, there is plenty voice there, and the backing singers from the R & B Orchestra, clearly compete successfully with the Raelettes! The Feliciano Latin touch and the Jools piano gives it a twist and helps make it new.
It is no surprise that among the best tracks on the album are some songs written by Feliciano himself, including Let's Find Each Other Tonight. He first recorded this terrific track for his album 'Romance in the Night' on the Motown Label in 1983. It immediately made the Country charts and was picked by the Coen Brothers for their film FARGO (1996).
This is one of those catchy melodies that you find yourself humming, great track and this version with Jools and his R & B orchestra is special, one of the highlights of this album. Other tracks written by Feliciano include the ballad One More Drink (bartender) and a ska makeover for his hit Felíz Navidad. Feliciano has often said that he considers himself a guitar player first and foremost, rather than a singer. Not all of us would agree, but at one point he had aspirations to play classical guitar, as he says:
"…there was a time in my life when I thought I could be an Andrés Segovia but then I found out I could only be Jose Feliciano…" Just as well, as all his vast collection of Grammy's shows, we would all be the poorer for it!
The title song, 'As You See Me Now' written by Jools Holland is a good tool for the ageless Feliciano's voice. It has all the hallmarks of Jools Holland at his best, bluesy, with a great beat and a great arrangement for the orchestra. Jools Holland's piano consistently adds some spectacular solos that complement the crisp and distinctive acoustic sound of the Feliciano's Guitar. Another song by Jools is Just to be Home with You, a number that has seen many incarnations in very different styles, like Shane Macgowan's very country style in one of Jools Holland's Hootenanny shows. Now Feliciano gives it a strong beat, a neat guitar solo and with his distinctive voice, it is once again, a really moving ballad.
As You See Me Now is on release through East West Records and available on CD, vinyl and digital formats here: https://lnk.to/JoolsandJose.
The Rhythm & Blues Orchestra:
Gilson Lavis Drums
Mark Flanagan Guitar
Dave Swift Bass/Double Bass
Chris Holland Organ, Mellotron
Phil Veacock Saxophone
Lisa Grahame Saxophone
Michael 'Bammi' Rose Saxophone
Derek Nash Saxophone
Nick Lunt Baritone saxophone
Roger Goslyn Trombone
Fayyaz Virji Trombone
Winston Rollins Trombone
Jason McDermid Trumpet
Jon Scott Trumpet
Chris Storr Trumpet
Louise Marshall Backing Vocals
Mabel Ray Backing Vocals
Beth Rowley Backing Vocals
Ruby Turner Vocals on Hit the Road Jack.