Carnival Expo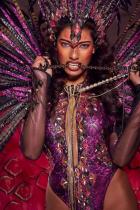 Event Date:
Saturday, May 13, 2017 - 10:30
Kennington, London SE11 5SS
2017 and year 3 of the most anticipated cultural exhibition in the UK. The event will host a gathering of Carnival creators, artists, cultural enterprises and carnival enthusiasts exhibiting all facets of Carnival including, but not limited to, the Latin and Caribbean sectors. The event is open to the public and welcomes all!
Carnival Expo is dedicated to creating opportunities for participants and visitors alike as the event will act as a spring board for creative talents in the field of Carnival Art. As per namesake, this exhibition will present ALL forms of 'Carnival' portrayed in all regions of the world. The Expo intends to educate and promote carnivals so as to provide better understanding as well as to encourage greater participation by the art community, the business sector and the public at large. The educational information will include the history of carnivals, their evolution over the years and the cultural importance of the festivals. Carnival Expo quite naturally promises to be a visual splendor and will also feature light entertainment to create a stimulating atmosphere with enough excitement for the young and the no-so-young!
With two days of celebration of the art and culture, Carnival Expo is set to be an exhilarating and fun experience from beginning to end where it will bring all its vibes to the lives of many.
Reasons to attend
Learn about the history of Carnivals
Find out how to be part of Carnival
Join in a free Seminar or two
sample some rum from around the world
Take in a costume fashion show
Satisfy yourself on some lovely Latin or Caribbean cuisine
Learn and ask questions on the creation of costumes
Visit the many stands exhibiting at the EXPO
Maybe even join in a free dance workshop
13th & 14th May 2017
The Kia Oval
Kennington, London
SE11 5SS
Saturday Session 1
12:00 - 16:00
Saturday Session 2
16:30 - 20:30
Sunday 12:00 - 18:00
In his film X500 (2016) Colombian-Canadian director Juan Andrés...
There is still a commonly held view that 'Day of the Dead' is Mexico'...