Celebrating Violeta Parra's Birth Centenary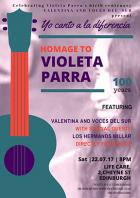 Event Date:
Saturday, July 22, 2017 - 20:00
2 Cheyne Street, EH4 1JB Edinburgh, United Kingdom
Valentina and Voces del Sur celebrate Chilean singer/artist Violeta Parra's birth centenary in the heart of Edinburgh. With special guests directly from Chile: 'Los Hermanos Millar'.
Valentina and Voces del Sur pay homage to renowned Chilean singer/songwriter and artist, Violeta Parra. This year sees 100 years since Parra's birth and this is the first event to celebrate it in Scotland. The evening is presented by Valentina Montoya Martínez's band Voces del Sur with special guests directly from Chile, the much loved Chilean group 'Los Hermanos Millar'. The programme includes many of Violeta Parra's own songs as well as songs that she collected during her many voyages throughout Chile (which she made in order to preserve the country's cultural heritage, against a backdrop of a systematic attempt to erode local culture). There will be Chilean poetry too!
Chilean singer Valentina Montoya Martínez, a second generation exile from Chile, herself inspired by Violeta Parra, Víctor Jara, Mercedes Sosa and tango song, is a chief exponent of these traditions in Scotland and has a profound love for the folk music of Latin America. Much of her own work is a synthesis of her experience of exile and Chile's recent history and also pays homage to Latin American female activists, poets and dreamers. Valentina has a unique quality to her voice and a profound love and commitment for the musical traditions of her country of birth and Latin America.
Tickets can be paid on the door. For more details go to our FB event page
You can hear Los Hermanos Millar here
And Valentina and Voces del Sur here
Corina J Poore marvels at an enchanting documentary about the...
Discover the Latin history of Hollywood, as we turn the spotlight on...