Cellist Tania Lisboa & pianist Elizabeth Mucha play Villa Lobos and Guarnieri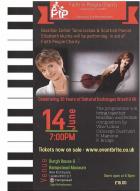 Venue:
Burgh House & Hampstead Museum
Event Date:
Thursday, June 14, 2018 -

19:00

to

20:30
New End Square London NW3 1LT
Cello & Piano concert on June 14th 2018 - 7 PM at Burgh House & Hampstead Musem
Internationally renowned musicians Brazilian Tania Lisboa on cello and Scottish Elizabeth Mucha on piano, will play Villa Lobos, Mignone, Guarnieri and Bridge in a delightful intimate venue. The concert is to raise funds for the Faith in People Charity for the homeless. Light refreshments are included.
A book which tells the story of the Amazon and its ports-towns near...