Eva Yerbabuena — Apariencias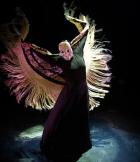 Event Date:
Friday, February 17, 2017 - 19:30
to
Sunday, February 19, 2017 - 19:30
Rosebery Avenue, London, EC1R
17-19 FEB, SADLER'S WELLS, EAST LONDON 1HR 30MINS (NO INTERVAL) 18 FEB SHOW 1530
Flamenco superstar Eva Yerbabuena is renowned internationally as being one of Spain's leading dancers. Accompanied by four dancers and her critically acclaimed ensemble of musicians, including African guest singer Alana Sinkëy, she delivers an unforgettable tour de force performance in her brand new show.
tickets here
After its hiatus, La Bomba, Europe's pioneering Reggaetón/Urban Latin...
Get inspired with ten facts about one of the world's most...