GUITARRISIMO - Nirse González: Centenary Homage to Antonio Lauro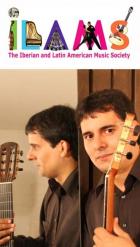 Event Date:
Thursday, September 28, 2017 - 19:00
Bolívar Hall, 54, Grafton Way, London, W1T 5DL
Centenary Homage to Antonio Lauro in London
Antonio Lauro (Venezuela, 1917-1986), was one of the 20th century's great guitarists and one of the instrument's most iconic composers, best-known for his colourful, folk-inspired valses. To mark the occasion of Lauro's 2017 centenary, the Venezuelan virtuoso guitarist Nirse González will perform a programme of his best-loved works complemented by the music of his greatest mentors and collaborators.
This event is part of Echoes Festival 2017 and the guitarrísimo series organised by ILAMS and the Instituto Cervantes in collaboration with Lisa Peacock Concert Management and the Embassy of the Bolivarian Republic of Venezuela, with the kind support of Wines from Spain and Amigo Month.
A finely curated "best of" and a great introduction to the world of...
Flamenco Festival London, Sadler's Wells' renowned annual season of...
Eliane Elias breathes new life into samba in her latest album - a...