Maite Hontelé - Live Colombian/Cuban Salsa Music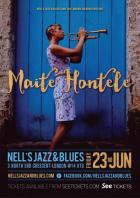 Event Date:
Friday, June 23, 2017 - 19:00
3 North End Crescent, London W14 8TG
Maite Hontelé comes to London on June 23rd!
MAITE HONTELÉ brings her unique style of Cuban and Colombian flavoured Salsa music to Nell's Jazz and Blues on June 23rd. Nominated for a Latin Grammy Award in the category of "Best Salsa Album", trumpeter Maite Hontelé is transforming the role of women in music and subverting macho stereotypes. Born in Holland, but Colombian at heart, Maite's music is a perfect mix of European elegance and tropical joy, which is reflected in her four albums: Llegó la Mona, Mujer Sonora, Déjame Así, and Te Voy a Querer, the last two pressed to vinyl. Also known as 'Mujer Sonora', Maite has collaborated with artists such as Rubén Blades, Buena Vista Social Club, Chocquibtown and Oscar D´León among others, all of them lured by her style.
"She is the best the world has to offer, enjoy her! The ways she plays is extraordinary, outstanding!" - Oscar D´León
Maite is releasing a new album in 2017 - 'Cuba Linda' which was recorded in La Havana, Cuba with an all star Cuban band.
In his film X500 (2016) Colombian-Canadian director Juan Andrés...
There is still a commonly held view that 'Day of the Dead' is Mexico'...