Masquerade Party at Exilio LGBT Latin Dance Club to celebrate Valentine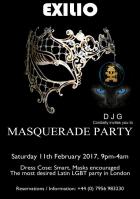 Event Date:
Saturday, February 11, 2017 - 21:00
23 Frifth Street, London W1D 4RR
Exilio LGBT Latin Dance Club proudly presents,The Masquerade Party, a Valentine Special. Mask are not required, but highly recommended. Mask and dance competition at Midnight. One hour extra of Latin crossover music by resident D J G. Be our Valentine, wear your masks and let's see where the night takes us!
Exilio's theme parties are to be desired.
The month of February is the month of Love, Lust, and surprises.
Come cautiously and be entice by D J G's phenomenal Latin music, the charm of Exilio's Staff and be prepared to be swept off your feet.
It's a masquerade party, and masks are hugely encouraged.
D J G will be playing romantic Latin music for the loved ones, and toxic ones for the ones that don't believe in love.
Surprises installed throughout the night.
Dress Code: SMART, MASKS HIGHLY ENCOURAGED
Reserve your booth/table.
GROUPS OF 10
Bottle of Aguardiente MUST book in advance at
www.exilio.co.uk
Have any questions?
Call us on 07956 983230.
Que no te lo cuenten!