N6 Zumba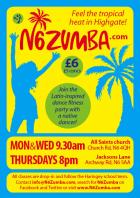 Event Date:
Thursday, June 29, 2017 - 20:00
269a Archway Road, oposite Highgtae tube
Zumba classes with a difference, UK, London N6 5AA
Join the fitness party. Authentic Latin beats with a native dancer. Feel the tropical heat in Highgate! Ladies only (sorry guys).
A gorgeously animated 3D musical fantasy, based on an original idea...
Flamenco Festival London, Sadler's Wells' renowned annual season of...
In a world of media hype, it is rare to be shocked and awed by talent...