N6 Zumba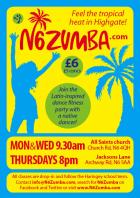 Event Date:
Thursday, June 29, 2017 - 20:00
269a Archway Road, oposite Highgtae tube
Zumba classes with a difference, UK, London N6 5AA
Join the fitness party. Authentic Latin beats with a native dancer. Feel the tropical heat in Highgate! Ladies only (sorry guys).
A brave piece of theatre, using sensitivity, humour and music, to...
Jan Rocha reports on the attempted impeachment of Dilma and fears of...