Zoukfest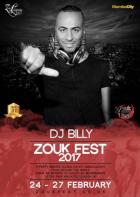 Event Date:
Friday, February 24, 2017 (All day)
to
Monday, February 27, 2017 (All day)
Bath Road, Sipson, Heathrow, UB7 0DU
The Zouk Fest in an event organised by Joseph Koniak and Solange Dias of Zouk Lambada UK and Robert and Jean White of Mambo City.
A superb collaboration between Lina Tur Bonet, the renowned baroque...
The fabulous annual ceremony, honouring The LUKAS 2017 winners in...
A superbly crafted film exploring the politics of desire and...