Spanish Tapas
"Pae-lah and chor-itzo for me, matey!" Yes strange sounding impressions of Iberian cooking seem still to pervade the British psyche. Many people will have heard of tapas (difficult to go wring with that pronunciation), the ubiquitously familiar way of presenting Spanish food to the public, but enquire as to a person's favourite, and a blank stare may often cloud her face. Here's Latinolife's guide to Spanish tapas.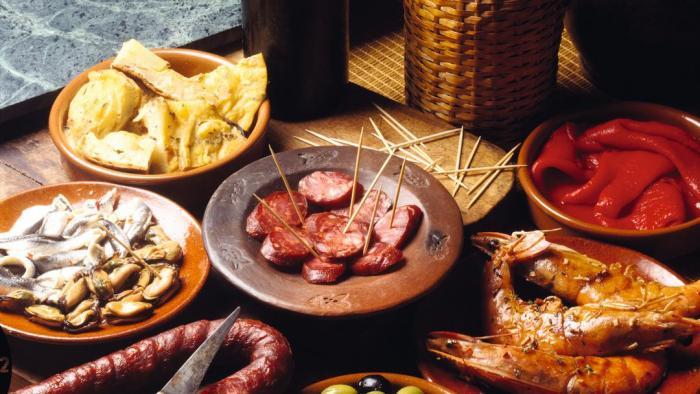 1. First, the basics. Tortilla (pron. tort-eeya) is not an omelette. It is a tasty solid slab of potato and onion, gelling beautifully together in cooked egg. The key? Simmering the potatoe and onion mix (already fried in loads and loads of top quality olive oil) in loads and loads of top quality olive oil and seasoned generously with salt. It should never, ever be dry, always thick and moist. A favourite as a snack or as part of a main meal, this Spanish delicacy is a warming treat as we approach winter. Just don't expect to overindulge and keep a trim waistline.
2. Cold soup may not sound that apetizing, but with this simple concept - tomatoes, cucumber, celery, onion, garlic, pepper and bread - all thrown in the blender - tapas can verge on the sublime. Having been introduced to the world of tapas, gastronomes will invariablly veer towards a cup of Gazpacho. Can include exotic offerings, adding wild strawberries to the mix.
3. In the cold soup vein of things, gracing Spanish kitchens is the thicker, creamier Salmorejo, served with diced hard-boiled eggs and salty Serrano ham. Much more appetising to this author's palate, as is its close relation, the garlic-basedAjoblanco, both hailing from the culinary paradise of Andalucía.
4. For seafood lovers, the Galician preparation of Pulpo a la Gallega has begun making increasing appearances in bite-sized form in tapas bars. Octopus is boiled until it achieves a soft springy consistency (definitely not chewy), and it is then soaked in spicy paprika, olive oil and salt. One for strong stomachs. But addictive if you aquire the taste.
5. Even tougher cookies may find they have a penchantfor a Spanish carnival speciality, to be found in the darker and dingier corners of the country's bars: tripe. Deep-fried and seasoned to sodium levels previously unreachable, this dish is not for the faint-hearted.
6. A veritable delight, and a superior alternative to a good English cheddar, Queso Manchego is an intense, creamy cheese. To be enjoyed on crusty bread accompanied by a drizzling of oil, or perhaps served fried on skewers alongside a scrumptious redcurrant conserve.
7. Any rundown of top tapas would be incomplete without mentioning a hearty Spanish staple, Croquetas (or Croquettes in plain Engliahs). Simply irresistable. A haute cuisine reinvention of a family favourite made, not with potatoe as is commonly mistaken but white sauce, hence the soft runniness. Whilst traditional versions of this indulgent snack usually incorporate ham and cheese, more ambitious chefs are attempting to reinvent the croqueta, developing spinach and seafood flavours, and even an accompanying quince sauce.
8. And to spice up gatherings with family or friends, one can't go wrong with Pimientos de Padrón. These small green peppers test the steeliest of nerves; some are deliciously sweet, whilst others are burning hot. Consider this Russian roulette for foodies.
9. Whilst not considered a dish in itself, rather a component of larger tapas, the trend for Espuma, or foam, has not gone unnoticed by Spaniards, who openly joke about the dubious influence star chef Ferran Adrià, of El Bulli restaurant, has had on ordinary Spanish cooking. Whether or not a flourish of foam adds anything to other dishes is the subject of fierce debate, yet foam flavoured with foods as polarising as melon and cod is a contemporary addition to many tapas kitchens.
10. Finally, let us not forget another tapas mainstay, Patatas Bravas. This dish has undergone a makeover in recent years, with a special 'brav-ioli' variation – the traditional spicy bravas sauce is balanced by garlicky ali-oli.
This tasty list should satisfy most palates, and aims to demonstrate the wealth of experimentation revolutionising Spanish tapas cuisine at the moment. So next time a would-be visitor to Spain is looking for a way to broaden their culinary horizons on holiday, let's try and look beyond paella and sangria.
Corina J Poore marvels at an enchanting documentary about the...
Discover the Latin history of Hollywood, as we turn the spotlight on...